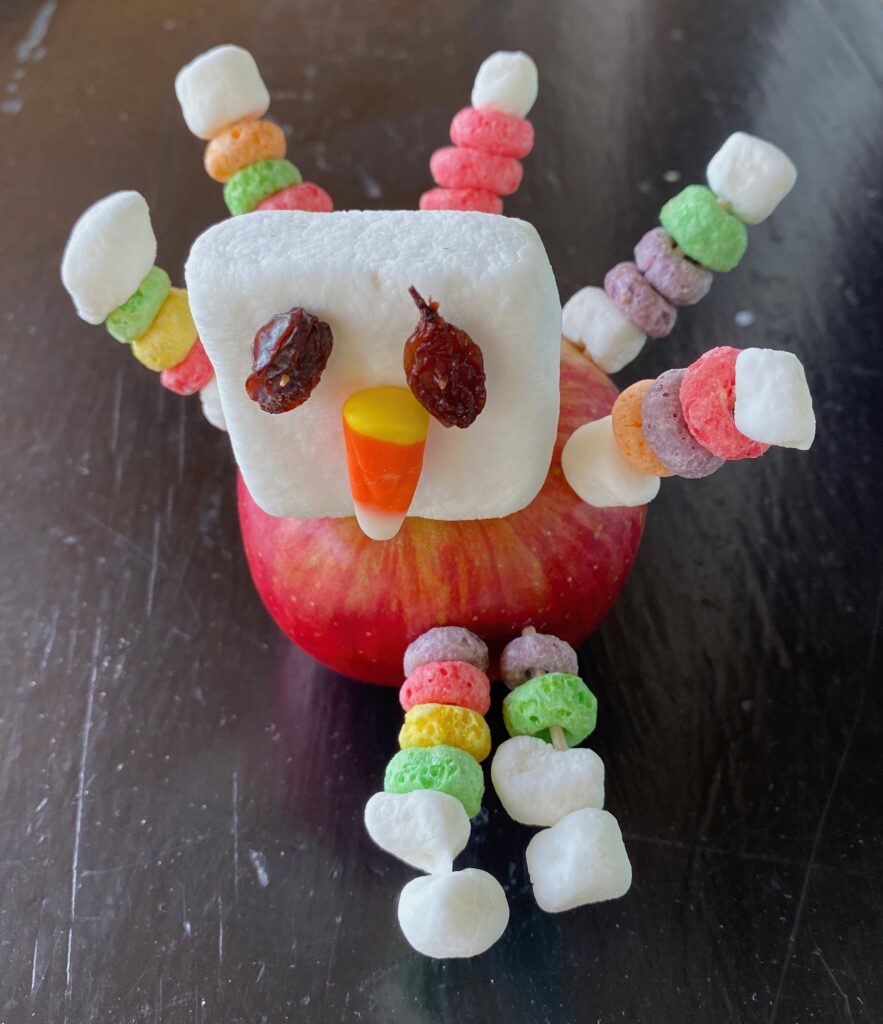 Since the weather has turned colder lately, we've been spending a whole lot more time inside than we did in recent months. As a mom of two little boys, that means it's important to have lots of activities planned to keep them occupied. A few libraries have had some fun take-home crafts, and I remembered a craft of an edible mini turkey that my son did in preschool not too long ago with Miss Linda (who many of you know from pick-your-own and the years that she ran our Read 'n' Pick Story Time).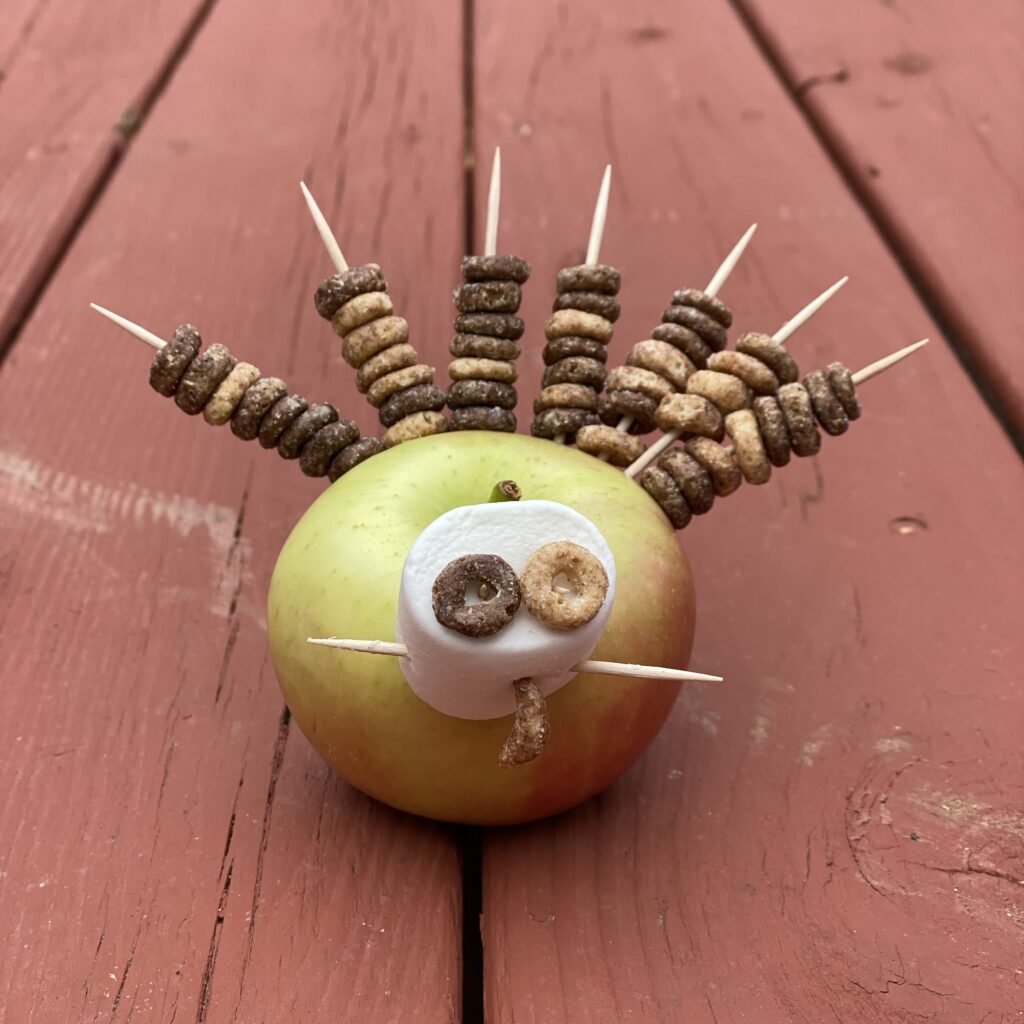 Thanksgiving Kids Craft #1. Homemade Edible Turkeys
For this craft, you need:
– Some apples
– Toothpicks
– Marshmallows
– Cereal (such as Cheerios, Fruit Loops or Apple Jacks)
– Raisins or Craisens
– Candy corn.
(If you don't have all that, you can get by with just an apple, toothpicks, a marshmallow and cereal. When we recreated them today, we used just the latter ingredient list.)
1. Wash and dry your apple. You can choose any variety you like! I knew my 2-year-old would want to eat his afterward, so I chose a good eating apple variety: Fuji. My 5-year-old however, wants to keep his turkey intact as long as possible, so although I did use a good Fuji apple, I probably could have used a #2 apple that I cared less about, since it may never get eaten!
2. Arrange the toothpicks in the back/top of the apple to make the "fan" of its wings. Place the cereal on the toothpicks, then place a mini marshmallow at the end.
3. Place a toothpick in the front/top, and add a big marshmallow to that. Stick the raisins into the marshmallow as eyes and the candy corn in as its nose. You can also use only cereal if desired!
4. Make feet for the turkey: place toothpicks in the front, and repeat adding cereal to it and finishing it off with a marshmallow.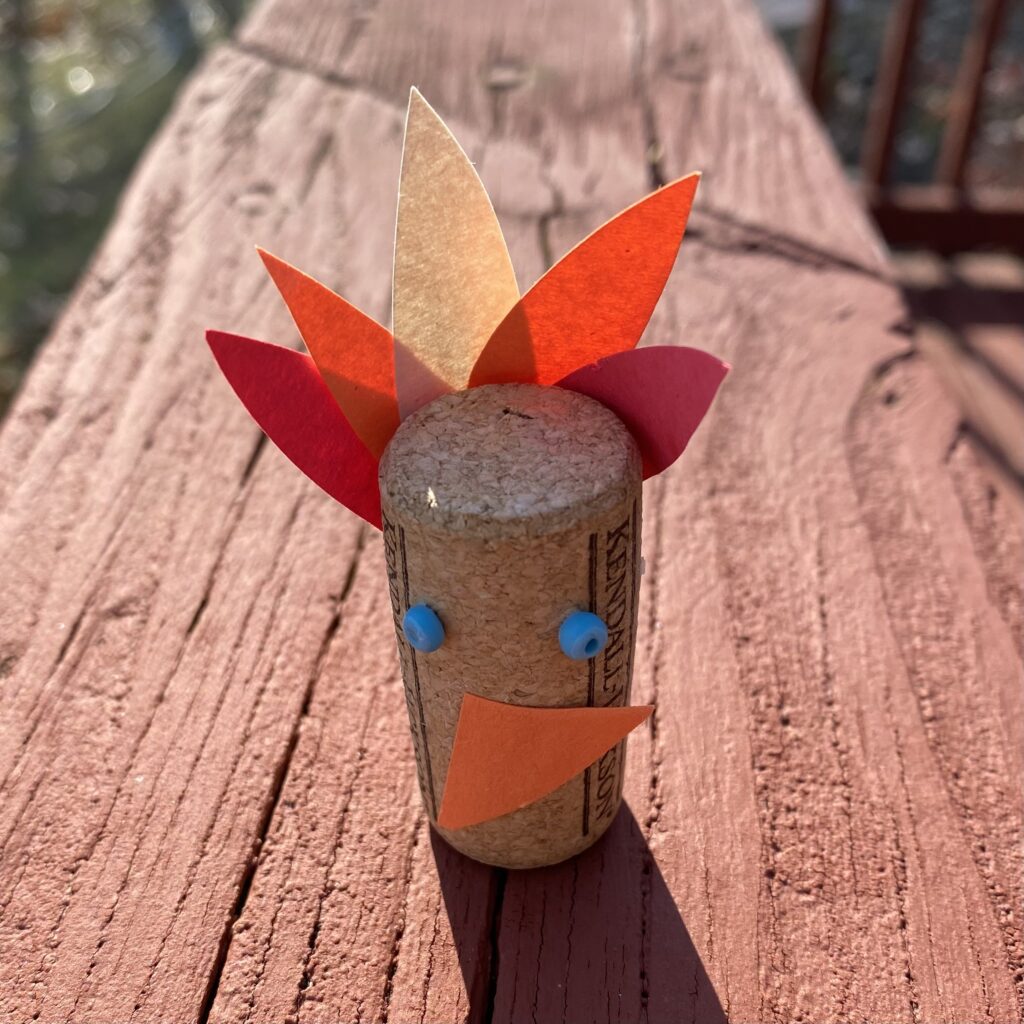 Thanksgiving Kids Craft #2: Wine Cork Turkeys
The other Thanksgiving-themed craft we recently did was making turkeys out of wine corks. Our library had all the supplies for these as a fun take-home craft, but they said they were almost out of the items! If you want to re-create this at home, you'll need:
– A wine cork
– 5 pieces of colored construction paper cut into 1″ pointed ovals and one piece cut into a 1/2″ triangle
– Beads or googly eyes
– Elmer's glue or hot glue
To make it, first cut out the pieces of construction paper in pointed ovals – 4 should be roughly the same size and one should be smaller, for the nose). Glue the construction paper pieces onto the back of the cork in a fan. Glue the eyes and nose on the front.
Use it to decorate your Thanksgiving table! For extra fun, have your kids make one for each place setting around your Thanksgiving table!
In addition to these crafts, we've also done lots of coloring pages about the harvest, turkeys and fall leaves. We've checked out books from the library about Thanksgiving and we're starting a Thankful Tree. We've done this in past years: we make a tree trunk out of brown paper and tape it to the wall, and then we fill it with construction-paper leaves that we write something we are thankful for on.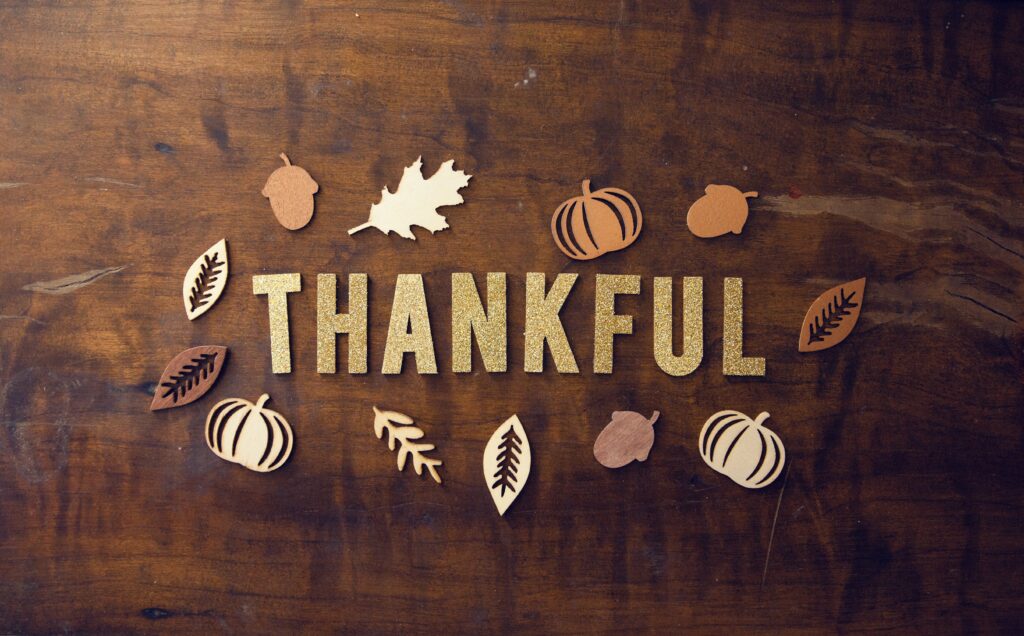 There is much to be thankful for and gratitude is an important exercise to do not only in November, but throughout the year!