As a working parent, the time I have from the moment I get home from school until dinner is served has become a sacred balancing act. I want to spend time with my children. I do my best to give my wife some time to work without distraction or to just relax, and I am fully aware that at any point the dreaded phrase, "Dad, I'm hungry" will in fact be made.  If your children are like mine, once they make that declaration it is already too late and food better come — and fast! 
This recipe was inspired by trying to reinvent a favorite dinner in a way that my kids could help, didn't require a lot of time or skill to put together, and wasn't from a box.  We like a good burger night, but it's too cold to stand outside and I knew my kids wanted to help. So, rather than standing over the grill, we brought the chair over to the stovetop and made our burger base into browned beef. My daughter helped by flattening the burger rolls with a rolling pin, and pushed them into a greased muffin tin.  After the beef had browned, we added it by the spoonful into the bun-lined muffin tins, and topped each with 2 quarters of cheese.  By the time the cheese was melted and bubbly, the buns had crisped up nicely, making a sturdy cheeseburger cup. We each grabbed one and dressed it with our favorite toppings.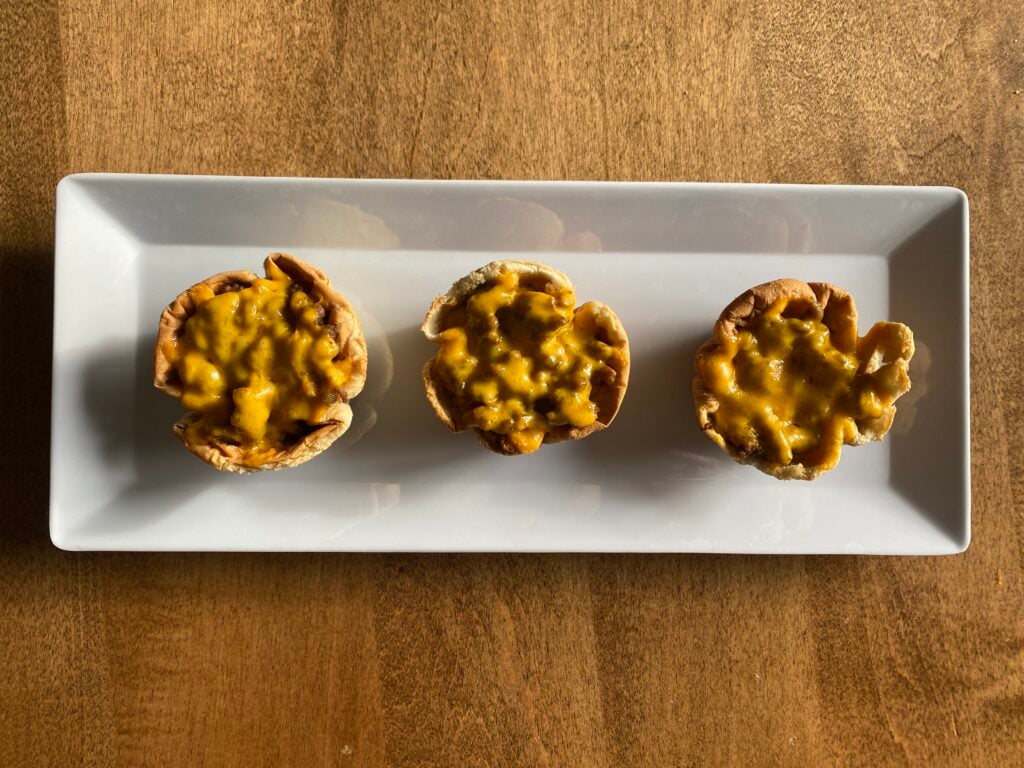 The meal came together quickly, was homemade, and is now a weeknight go-to. The potential this recipe has for hosting friends and family is also super high with its simple preparation and just how easy it is to customize for everyone's tastes.  Take this as your sign to host an indoor loaded cheeseburger feast!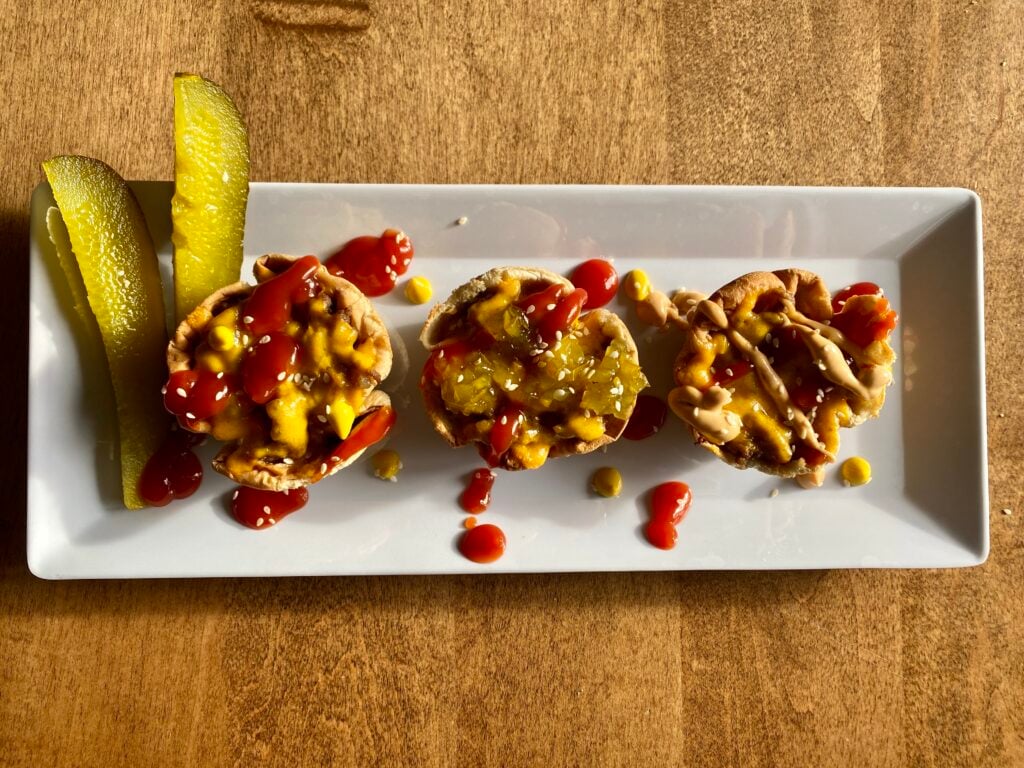 Print
Loaded Cheeseburger Cups
6

burger buns – split in half

1

medium onion, diced or grated

1

lb. ground beef

1

–

2

tsp. garlic powder

½ tsp

. dry mustard

½ tsp

. salt

¼ tsp

. pepper

2 Tbsp

. pickle juice

1 Tbsp

. Worcestershire sauce

1 Tbsp

. flour

3

slices of cheddar cheese, quartered

Sides for serving – crumbled bacon, ketchup, mustard, sesame seeds, shredded lettuce, pickles, avocado, barbecue sauce, onion crisps, a fried egg, or whatever you'd like.
Instructions
In a large bowl, mix ground beef, garlic powder, dry mustard, salt, and pepper. If using a grated onion, incorporate it here as well.  I have found that grated onion is a great way to use onion in a dish, but allow it to be less conspicuous and harder to detect for picky eaters.

In a large skillet, begin to brown the seasoned beef and onions (add diced onions here if using rather than grated) over medium to medium-high heat. Do not disturb for the first few minutes to get a nice browning effect. Break up and flip the meat until everything is cooked through.

While the beef is browning, set your oven to 350 and roll the halved burger buns flat. Spray the muffin tin with nonstick spray and press each flattened burger bun with the cut side up into the tin.

Combine pickle juice, worcestershire sauce, and flour into a slurry. Add directly to the skillet and allow to cook for a few minutes. This will both flavor the beef and provide a thickened sauce.

Spoon the beef mixture into the buns and top with 2 quarters of cheddar cheese.  Bake until the cheese is melted and the buns are golden, for roughly 8 minutes.

Dress each cheeseburger cup with sesame seeds and finish off with your favorite toppings or sauces.