Apple season is in full swing, and a new school year is underway. It's a perfect time to turn a love for apples into a learning experience. Whether you're teaching school, homeschooling, or just looking for activities to do with children, the apple orchard is a great place to start. The Pennsylvania Apples website offers lots of free resources, including ready-made lessons for teachers, printable activity sheets, and videos about apples. And there are plenty of recipes to try out too.
A unit study on apples makes a delicious way for students to start the year. A unit study is a hands-on method that incorporates many disciplines under a single topic. It is a natural way to learn, capitalizing on the child's innate curiosity. Valuable learning takes place as children engage with the subject matter, ask questions and discover answers together.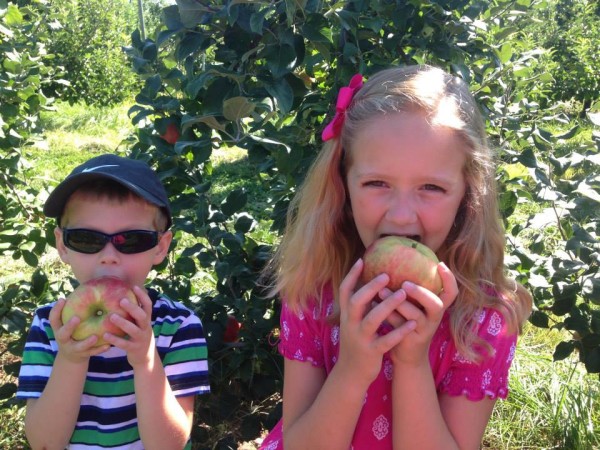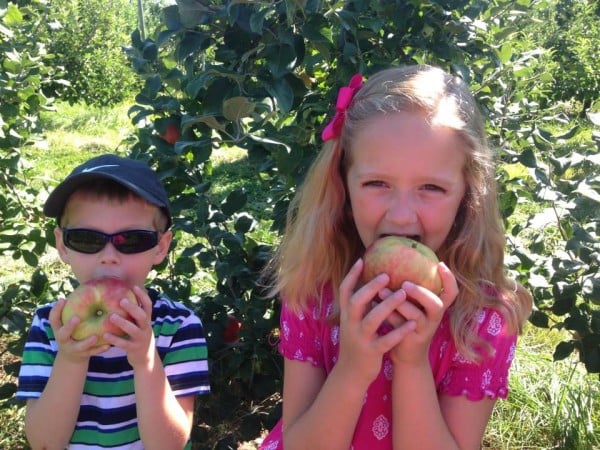 Apple-Themed Unit Studies for Elementary School
Here are some ideas for an apple-themed unit study for elementary aged students. A unit can last a couple of days or several weeks. If you have time to plan activities, you can incorporate many subjects at once, making the most of the opportunity while interest is high.
First, take a trip to the orchard to pick several varieties of apples.  Bring some bags, labels and a marker so you can remember what kind they are. After that minimal preparation, just enjoy the day—the sights, the sounds, the smells, the tastes of a crisp fall day in the orchard.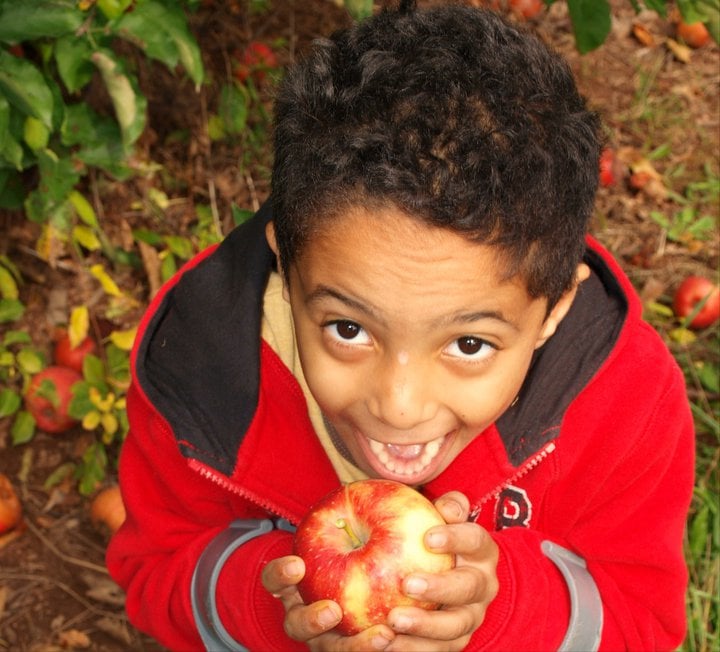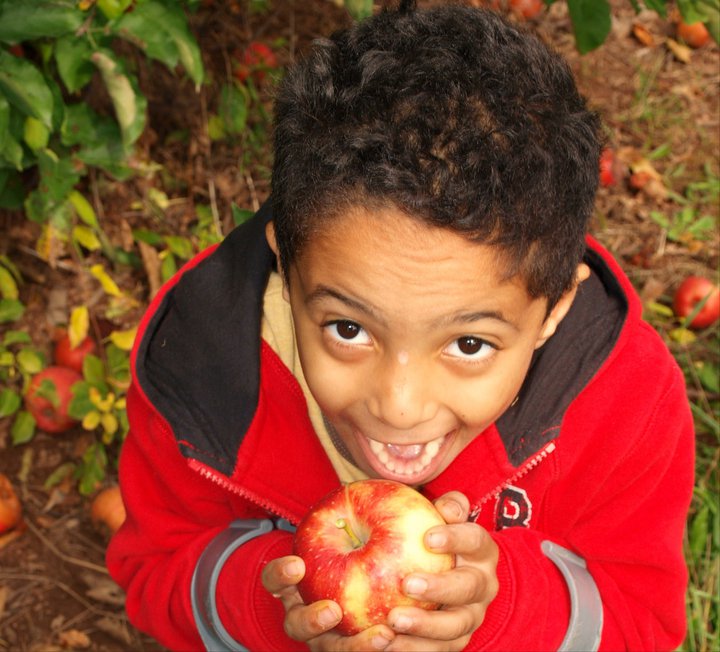 When you get home, have your children reflect on and write about the day. A simple narrative paragraph is a valuable exercise. Encourage use of descriptive language by brainstorming and writing down adjectives, metaphors or similes describing the experience. Keeping their written memories, along with pictures, in a special journal or scrapbook preserves them. It also looks great in your homeschool portfolio or displayed in your classroom. For a creative angle, students might do an imaginary newspaper article, create an advertisement, or make a poster. A day in the orchard is such a sensory experience, it might also inspire them to use their imaginations and write a poem or original story.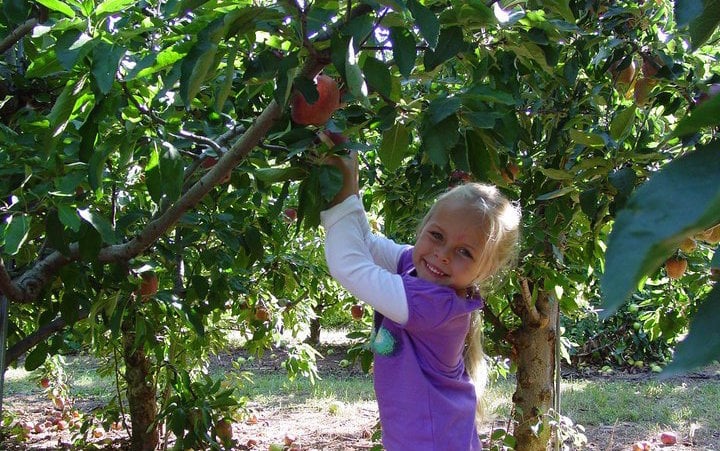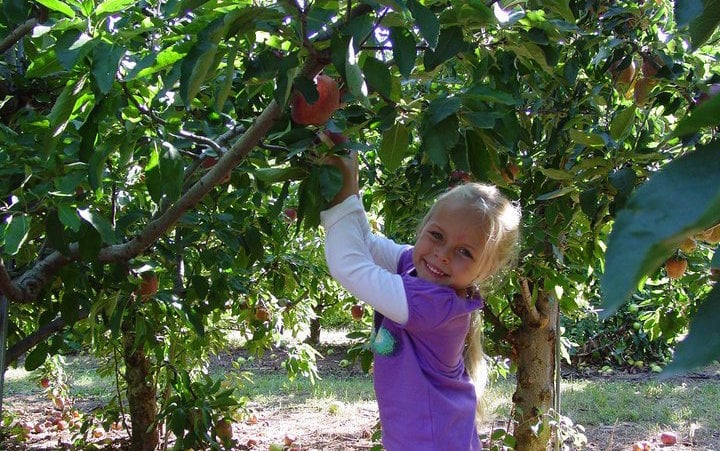 After your excursion, you'll have an abundance of apples, so cooking projects are in order. As they prepare apples in different ways and compare the tastes, smells, color and feel of different varieties, they will naturally want to snack on them. So you'll be promoting healthy food choices, too.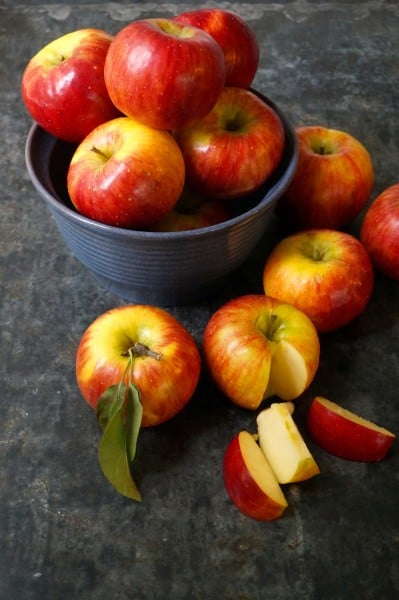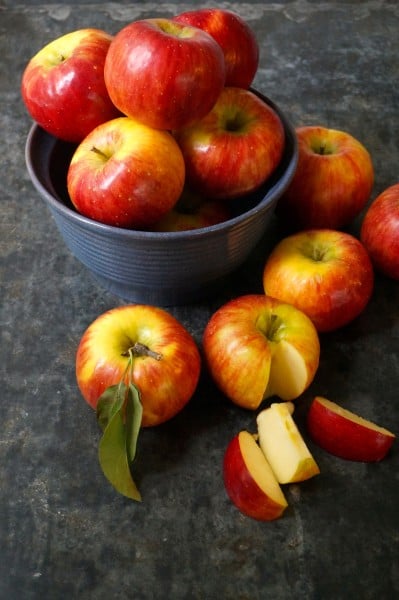 To incorporate writing into cooking projects, they might copy recipes onto cards and or even put together a cookbook. In addition to copying recipes, they could rewrite the directions in their own words or write some commentary about the recipes–using descriptive language of course! Your young artists might enjoy illustrating these or taking pictures of their creations. Grandma and Grandpa would probably love getting a cookbook or recipe cards from their grandchildren for Christmas!
Cooking is also a great way to incorporate math into your unit study as you count, measure, use fractions, double or halve recipes, carefully follow directions—even shop and pay for ingredients. And you can always make up a few word problems to reinforce the concepts they've used.
And of course cooking involves science, so it's easy to work scientific fact, methods, or even experiments into your cooking. Science starts with observation and questions. Use your children's questions as a basis for reading and simple research. Use their observation skills to compare different varieties of apples. Asking them questions also stimulates thinking. Why are apples so juicy? Why are they good for you? How is cider made? Why does it ferment? The questions are almost endless!
Incorporating history into your unit study is easy. Again, answering their questions and asking some of your own is a great way to spark interest. Are apples native to America? Did Johnny Appleseed really plant apple trees all across the United States? You can find out on the website!  Many bullet points on this website could be springboards for additional reading and research.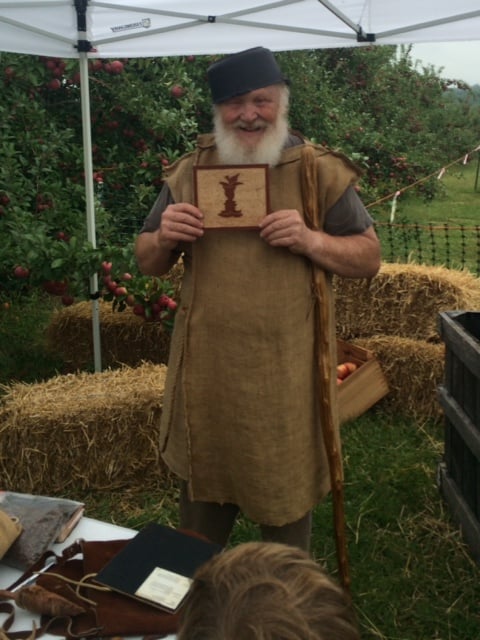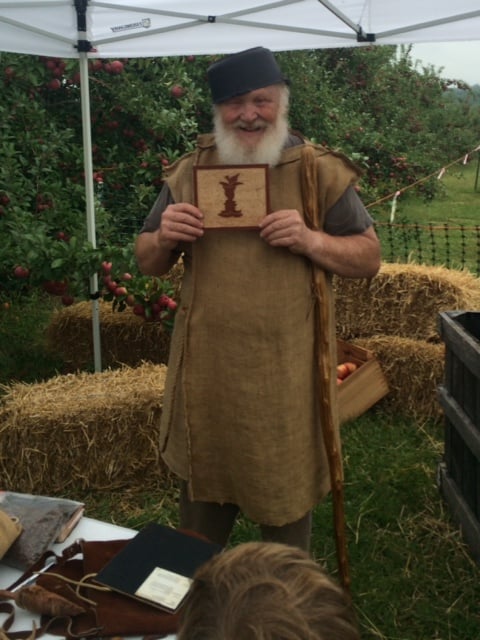 A study of local history should definitely include a trip to Hopewell Furnace, not just to learn about early industry, but also to visit the orchard and sample more than 30 kinds of apples, including some historic varieties. A day at Hopewell is sure to pique children's interest in early American life. Their website is also filled with interesting information, including facts about apples and orchards.
Finally, great books are an essential part of any good unit study. The Little House books are some of my all-time favorites. Whenever we read historical fiction, I encouraged my children to imagine they were living in the era. They played dress-up, re-enacted scenes from the books, made historic crafts, watched demonstrations, did baking and cooking, and listened to traditional music. Reading books like this always led to learning more about the time period as the children asked questions and we looked for answers.
Classic Pioneer Apple Recipes
Since the Little House books are such a treasure from my own childhood and my children's, I recently made two recipes from The Little House Cookbook by Barbara M. Walker. The first was Birds' Nest Pudding, featured in Farmer Boy by Laura Ingalls Wilder. Farmer Boy paints a realistic picture of farm life in the nineteenth century, told through the eyes of a young boy, Almanzo Wilder.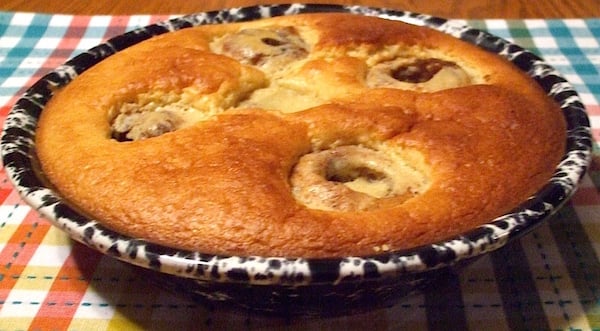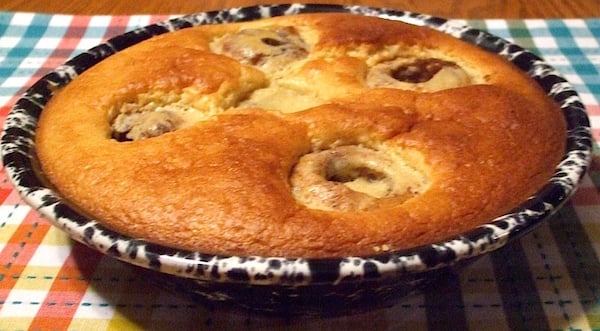 Print
Birds' Nest Pudding
Adapted from The Little House Cookbook by Barbara M. Walker.
This dessert is like a fluffy cobbler, with sweet and tangy apples baked inside it.
It is very important that the apples bake 25-30 minutes before you pour the batter around them. My first batch was very soggy after it cooled. I think the apples released too much juice because they hadn't baked long enough. Also, for the life of me, I could not whip eggs till they were no longer liquid, so I have provided a more modern alternative below.
Author:
Yield:

6

1

x
Category:

Dessert
1⁄2 teaspoon

butter

6

tart apples (about

2

pounds)

1 cup

brown sugar, divided

1⁄2 teaspoon

ground nutmeg, divided

1/4 teaspoon

cinnamon

3

eggs, separated

1 cup

milk

2 teaspoons

maple syrup

1 cup

flour

1 teaspoon

cream of tartar

1⁄2 teaspoon

baking powder

1⁄2 teaspoon

salt

½ cup

powdered sugar

1 pint

heavy cream
Instructions
Preheat oven to 350° F and butter a deep-dish pie plate or 2-quart baking pan.
Peel and core apples and place them in the dish. A traditional metal peeler works well for coring, but is very sharp and could be too dangerous for children to try. Turn the apples upside down, so they have a wider base as you cut out the cores.
Fill the cut-out centers of the apples with as much brown sugar as will fit, pressing gently. You won't use it all. You'll add some to the pudding batter.
Sprinkle ¼ teaspoon nutmeg and the 1/4 teaspoon cinnamon over the apples.
Start baking the apples while you prepare the batter, letting them bake for a full 25-30 minutes.
To make the batter, separate the 3 eggs, putting the yolks into a larger bowl. To beat the whites the old fashioned way, place them on a platter and beat with a fork or whisk until they no longer slip from the tilted platter. If you want to resort to electricity, pour them in a bowl and use an electric mixer to whip them into soft peaks.
Beat the yolks until they become a lemony yellow. Stir in maple syrup and milk.
In smaller bowl, mix flour, baking powder, cream of tartar, salt, and any leftover brown sugar. Stir this mixture quickly into the liquid. Blend well. Fold egg whites into batter (it will be thin).
Pour batter evenly over and around the partially baked apples. Return dish to the oven, baking until the crust has browned, another 45-60 minutes.
While the pudding bakes, stir the powdered sugar and remaining nutmeg into a pitcher of heavy cream.
Serve immediately. Take the finished pudding directly to the table before it falls, and turn each serving onto a plate so the apple is nested in the fluffy crust. Pour sweetened cream over each serving.
Dried Apples
Dried apples are a tasty snack and a traditional way to enjoy the flavors of fall throughout the winter. My children and I felt like real pioneers when we strung thinly sliced apples on a thread and hung them above our wood stove to dry.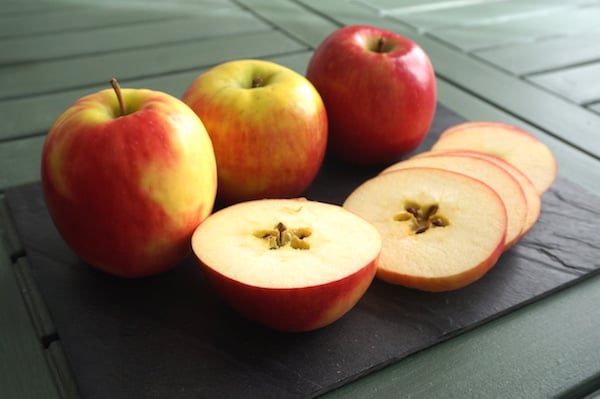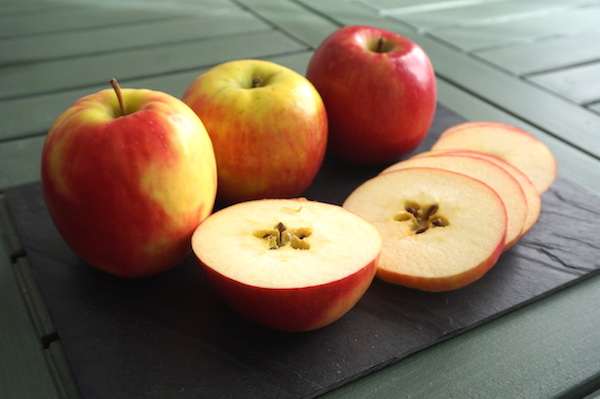 The Little House Cookbook recommends freshly picked, tart, firm apples for drying. Older apples turn dark when dried. Peel them only if the skins are tough. If you don't have a wood stove, you can dry apples overnight in a 150 degree oven. Core them, slice them into 1/8 inch slices, and lay them out on a cloth-covered cookie sheet. The apples are ready when they're leathery and release no juice when squeezed. Store them in sterilized jars or sealed plastic bags, with as little air space as possible.