I've always loved Thanksgiving. Stuffed turkey sputtering in the oven, warming the whole house with spicy scents. Pumpkin pie cooling on the table, tempting me to take a fingerful. (I can smooth it over… no one will notice.)  These are the sensory delights that fill my memories of Thanksgiving Day.
Helping my mom polish silver, dig out the good china and fold napkins made the time pass more quickly as I awaited the highlight of the day—the arrival of my cousin Cathy.   When my aunt and uncle pulled in, my domestic duties ended and Cathy and I scurried down to the basement to play hide-and-seek and other games. One year, we had the brilliant idea to use the wooden stairs like a giant sliding board. We bumped down the slippery steps from top to bottom, over and over, shrieking with raucous giggles, until our parents tired of the racket and insisted we settle down and find a more civilized activity. It was the best Thanksgiving ever.
So if you're looking for activities to make this a kid-friendly Thanksgiving, I don't recommend offering your stairs as a sliding board. But the following activities might keep little visitors busy and provide some healthy snacks while dinner is cooking.
THANKSGIVING VEGGIE TRAY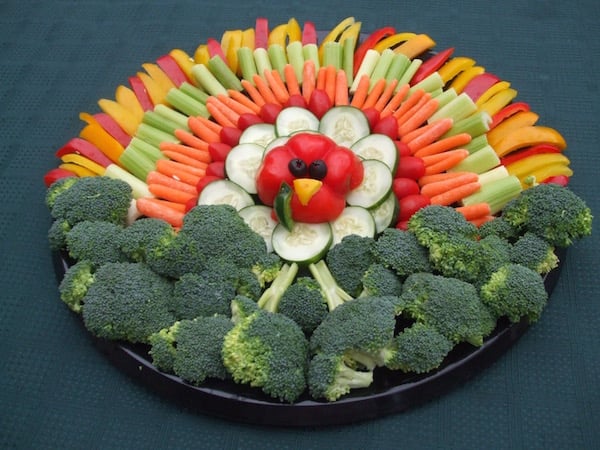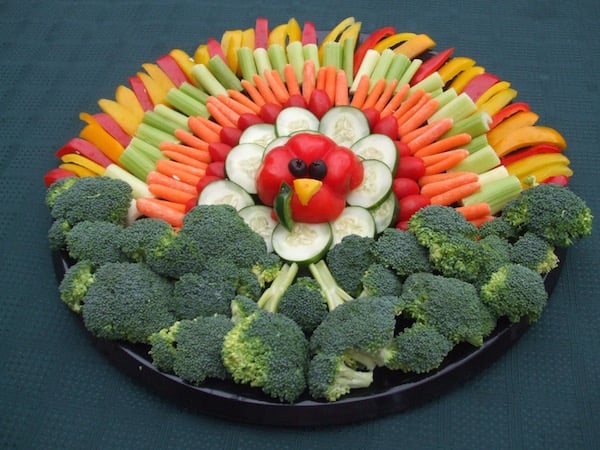 A few years ago, a friend posted a cute picture of a turkey on Facebook. It was made of raw vegetables, and since a veggie tray is standard fare at our Thanksgiving gathering, I knew my nieces and nephews would enjoy this. Now every year we create some version of the veggie turkey to snack on at my house before dinner.  All the kids who spend Thanksgiving with us love raw vegetables, so this activity provides wholesome snacking as well as entertainment. And no matter what they actually eat at dinnertime, we know they've filled up on healthy food and not junk.
If you want to serve the tray with dip, skip the supermarket brands and you'll avoid the chemicals and preservatives they can contain. Weaver's carries a variety of mixes that pair perfectly with any vegetable tray. Or try this tasty homemade ranch dip!
Print
Buttermilk Ranch Dip
Author:
Prep Time:

5 mins

Total Time:

5 mins
½ cup

sour cream

½ cup

mayonnaise

1/3 cup

buttermilk

½ teaspoon

each: chives, parsley, dill weed

¼ teaspoon

each: garlic powder, onion powder, salt, lemon juice

1/8 teaspoon

black or white pepper
Instructions
Mix sour cream, mayonnaise and buttermilk. Add remaining ingredients. Whisk all ingredients together and chill for 30 minutes.
SWEET POTATER TOTS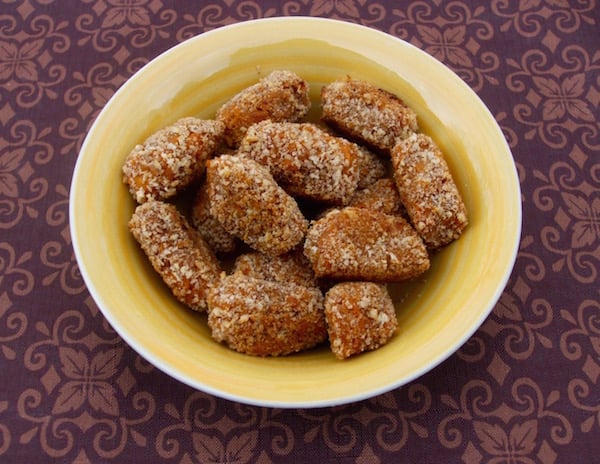 Here's a dinner treat that's slightly sweet and slightly salty and lots of fun to make. Any child who loves play dough or clay will enjoy shaping these orange tots, then rolling them in the coating mixture. And they're just as delicious as they are fun to make! You can prepare the sweet potato filling and the coating the day before you plan to bake them.
Print
Sweet Potater Tots
Makes 12-15 tots; recipe may be doubled.
FILLING:
2

large sweet potatoes, peeled

1/4 teaspoon

ground cinnamon

1 tablespoon

sugar
COATING
1 cup

plain panko bread crumbs

1 tablespoons

sugar

1/4 teaspoon

salt

1 teaspoon

ground cinnamon

2 teaspoons

cornstarch

1 tablespoon

butter, melted
Instructions
Bring water to a boil. While the water heats, peel sweet potatoes. Cut them into fairly large pieces that will fit in your food processor for grating. Cook them for approximately 10 minutes. If you're planning to grate them by hand, leave them whole and cook about 15 minutes. Drain and cool them. If you plan to bake these right away, preheat oven to 375 degrees.
While potatoes are cooling, make the coating mixture. Combine the dry ingredients in a food processor or blender and process until mixed. Melt butter in a microwave safe bowl. Pour dry coating ingredients into the bowl and mix with the butter. Set the coating mixture aside.
Grate potatoes. (I found it easiest to use the food processor). Scrape the grated potatoes into a bowl. Add cinnamon and sugar and mash it into the potatoes. It won't be exactly like mashed potatoes. It will be a lumpy mixture that you can form with your hands. If you're saving the mixture for the next day, just put it in a sealed container in the refrigerator.
Use about 1 tablespoon sweet potato mixture to form each tot. Shape the mixture into rounded oblong shapes about 1 inch long. Roll the tots in the coating.
Spray a baking sheet with non-stick spray. Place tots on the sheet and bake at 375 degrees for 20 minutes. Take them out, turn them over and bake another 15-20 minutes.
Another recipe for a sweet potato dish that is Tirrell family favorite can be found here.
DECORATING THE TABLE
Making a centerpiece is another way to exercise some creative energy. My grandchildren are fascinated with gourds. This year I found so many with curved necks and beak-like stems—they were just begging for someone to draw eyes on them and make them come to life. Four-year-old Paisley loves "projects." So she enjoyed putting a fan tail on one gourd to make it look like a turkey. Surrounded by some fall decorations, this could be a simple centerpiece.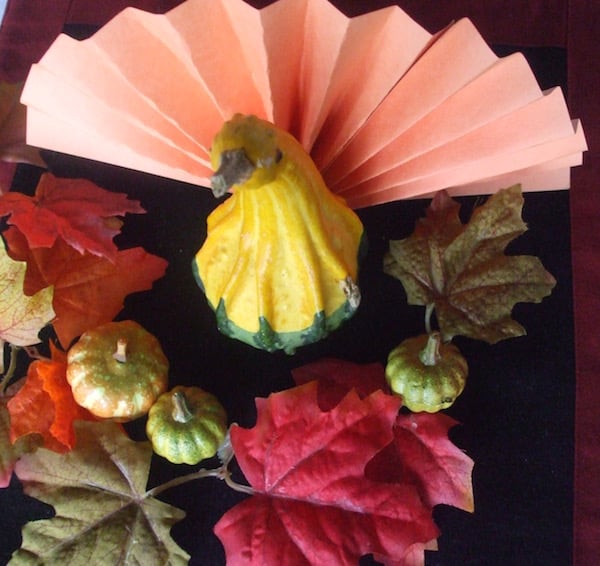 Here's another idea. Let the children arrange the "birds" in a basket nest and embellish the arrangement with leaves or other decorations.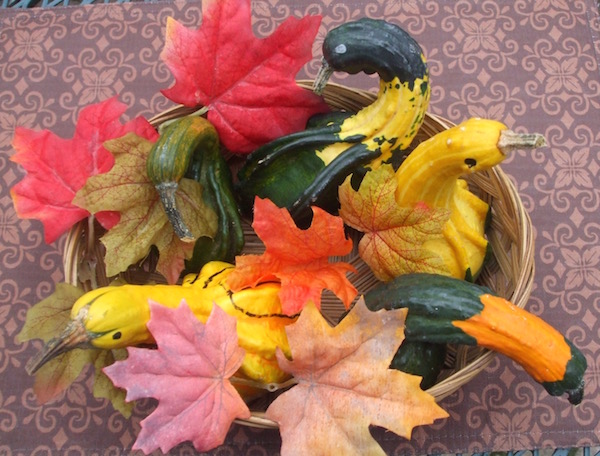 HELPING OUT
When the turkey's out of the oven, and the feast is almost ready, our little visitors look forward to setting the table. We gather the extra chairs, dig out the good china and put the crew to work carrying things from the kitchen to the dining room. When it's all set, we give thanks, pass the serving dishes and savor each one. And then, before the children disappear to play, we each take a turn explaining what we're especially thankful for. It's never hard to think of something when family is gathered and the table is overflowing. It's only hard to choose which of our blessings means the most.