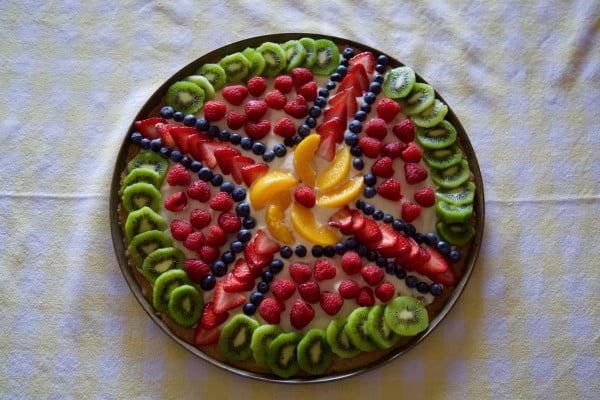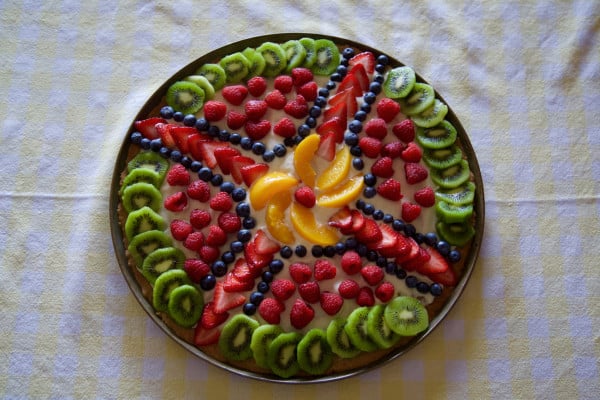 Brighten up your Easter dinner table with these festive appetizers. Not only are they fun to make, but they're also fun to eat– and kids will love helping make them come to life!
Print
Easter Egg Veggie Platter
This is a simple activity that just might keep kids busy in the afternoon while they wait for dinner.
Black olives
Your favorite veggies
Instructions
On a large oval platter, make the outline of an egg with black olives. (I had to cut my olives in half so they wouldn't roll down the slanted sides of my platter.)
Fill in the outline with rows of pre-cut raw vegetables. There's plenty of room for creativity here, and children can help design a unique "egg."
I made zigzag rows of carrots and celery, with ruffled rows of cucumbers. I filled in spaces with chopped colored peppers and broccoli, adding cherry tomato polka dots. Any raw vegetables can be used for this—and multicolored olives would make festive polka dots.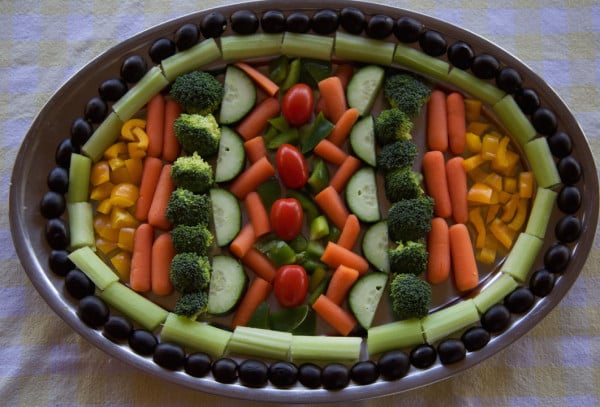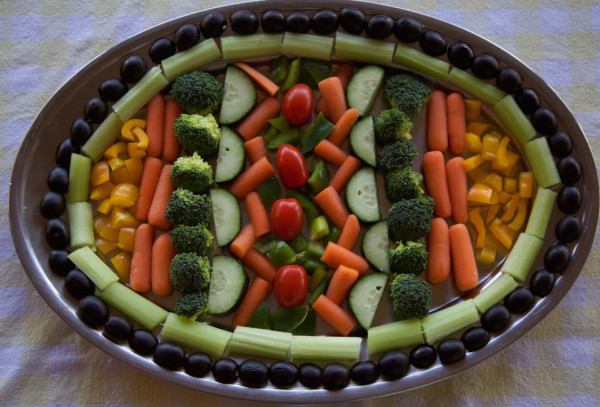 If several children want to be part of the fun, give each child a heavy-duty paper plate (oval ones work nicely), and let them make their own creations. As I put together the platter in the picture, my three year old granddaughter sat beside me, making enthusiastic comments on how it was turning out. When I gave her a plate to make her own, she was thrilled. Apparently though, she is not convinced it's spring, so she designed a snowman face with a carrot smile, carrot nose and olive eyes—then she ate her creation almost as fast as she put the decorations on. She and her brother were so excited about all the ready-to-eat veggies, they devoured the entire egg I'd created as soon as we took the picture—no dip required.
For Easter, though, I plan to serve the platter with a sour cream dip, using one of Weaver's mouth-watering dip mixes.
Print
Cheese Ball Chicks
These are so cute and bite-sized, they might be even more popular than traditional marshmallow chicks! You can use any cheese ball recipe. I used one of the ready-made mixes from Weavers. Adapted from Hungry Happenings.
Shredded yellow cheddar cheese
Sliced yellow cheese or carrot slices for feet and beaks
Pieces of black olives or black beans for eyes
Shredded sharp white cheese for "straw"
Round crackers
To make the cheese ball, I combined:

2

8-ounce blocks of cream cheese, softened

2 tablespoons

butter

1

package Wildwood BLT Dip and Cheese ball Mix (delicious!)
Instructions
After I mixed up the cheese ball ingredients, I rolled it into small balls and covered these with shredded cheese. Then I added eyes, feet and beaks.
I set each chick on a round cracker, arranged them on a plate, and covered the plate with white shredded cheese to look like straw.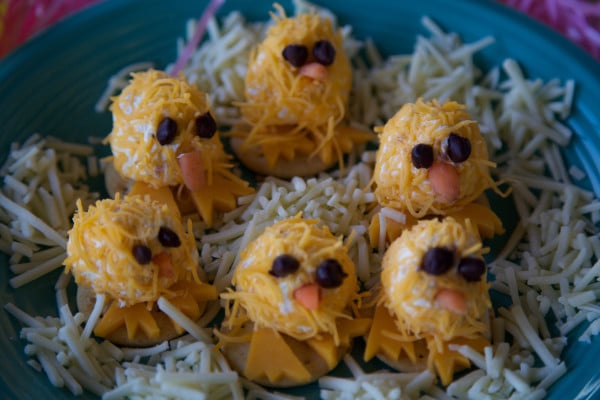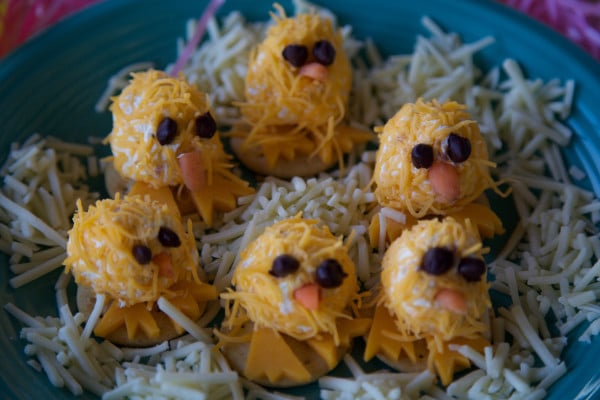 My granddaughter giggled as she watched these little chicks come to life. She was delighted to see each one take on its own personality—and couldn't wait to pick her favorite and eat it!
These are sure to be a hit on Easter Sunday!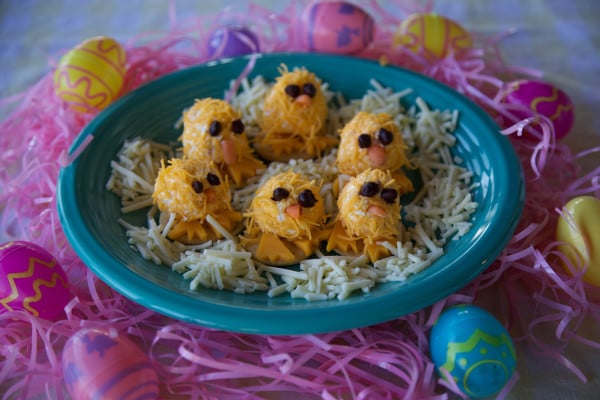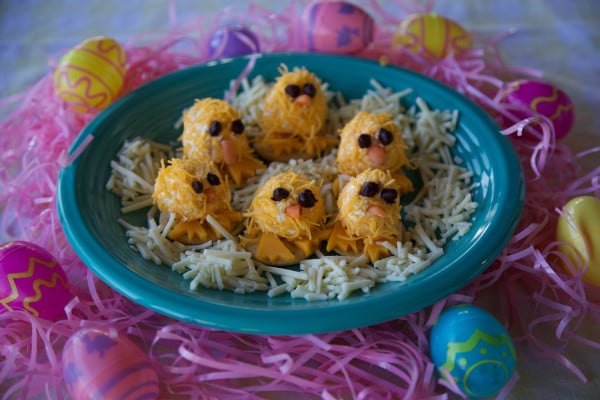 Print
Perfect Easter Dessert Pizza
To top off your dinner, this fruit pizza is colorful and delicious–and it's also a reminder of the true meaning of Easter. I used my own fruit pizza recipe, with an image patterned after thewhoot.com.au to create the cross pattern.
For a

16

inch pizza pan:
Cream Topping
Mix and chill:

1

can sweetened condensed milk

½ cup

sour cream

¼ cup

lemon juice

¼ tsp

vanilla
Crust
Beat till fluffy:

3/4

c. softened butter

½ cup

packed brown sugar
Mix in, to form soft dough:

1 ½

c. flour

¼ cup

+

2 Tbsp

quick oats

¼ cup

+

2 Tbsp

ground walnuts
Instructions
Oil a 16" pizza pan and press dough onto it. Prick. Bake 10-12 minutes at 375 degrees. Cool. Pour cream on top and garnish with sliced fruit and berries. Refrigerate till just before serving.