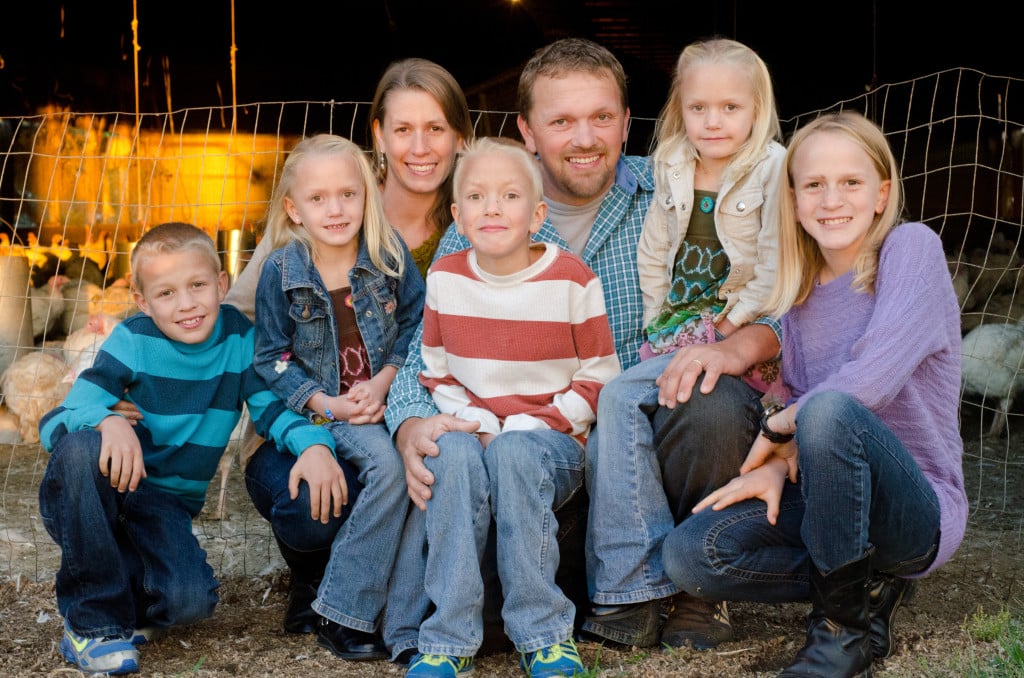 If you want to know about Weaver's Thanksgiving turkeys, just ask David Howe, Weaver's Meat Department Manager.  He grew up on the turkey farm that now supplies Weaver's with fresh Thanksgiving turkeys.  On Howe Farm in Downingtown, David's brother Nathan and sister-in-law Julie now raise the 3400 turkeys that come to farm markets like Weaver's and provide the main dish for your Thanksgiving feast.
As the meat department manager for Weaver's, knowing farmers on a personal level is important to David because it means he will also know their farming practices.  When it comes to Nathan and Julie, David knows that they and their five kids eat these turkeys themselves and that they raise these turkeys without hormones, antibiotics or anything "that will hinder or hurt their bodies," says David.  They raise all-natural, all-vegetarian fed birds.
Julie Howe adds, "Being all natural means that the feed we give them is a fruits-and vegetables-based protein and instead of giving them antibiotics when they are sick, we give them a probiotic, which promotes good health."
Julie and the kids feed the turkeys this fruit and vegetable protein three times a day.  "The children and I enjoy going out and feeding," says Julie.  "The hard work is something we thrive on! I count it a huge privilege to raise my children in an environment that teaches them a good hard work ethic, and that working together as a team can accomplish many things!"
David remembers the daily work of growing up on the turkey farm, which was then called Little Washington Farm.  He says it was "fun, always busy, and there was always something to do."  He says knowing that life would change with the seasons at the farm "helped me get ready for life."  He says this prepared him for his work at Weaver's, where the daily work is in tune with the seasons.
Some things, even beyond the farm's name, have changed since David grew up there.  This generation of Howes, for instance, has scaled down the turkey operation.  David remembers that when he was growing up, they raised as many as 10,000 turkeys per year.   Now, Nathan and Julie raise only 3400 per year because the smaller flock allows them to process the turkeys and deliver them fresh.  If they raised more turkeys, they would have to freeze some after processing.  By working on a smaller scale, they can sell the turkeys right away.  The turkeys will be on your table two to three days after processing!  Fresh turkeys, which have a much better flavor, are not available at most supermarkets, which tend to rely on larger farms.
Processing thousands of turkeys so that they are available fresh is quite an operation!  Nathan takes a few weeks off of his construction job in November and they round up a committed group of 20 friends and family members.  "We have 20 workers on the line," says Julie, "starting at 7 a.m. until 4 p.m., with a hot lunch and 2 warm snacks throughout the day! We have a packing crew that starts at noon and stays until the day's birds are packed and ready to go out the next day (sometimes that can be between 9-12 p.m.!). We have a great work crew and appreciate all the hard work they do to make our business a success!"
Those days of hard work bring you fresh, all natural turkeys that come straight from this lively family farm to your family's kitchen.  Once they are in your kitchen, though, you might be wondering how to cook a fresh turkey.  It's true, the process is different from cooking a frozen one.  A few years ago, David Howe gave us his tips here.  Follow his advice, and treat your family to a wonderful local Thanksgiving!