We all know the lure of comfort food beacons us too easily in the heart of winter! Despite it being the middle of winter, the influence of the holiday food scene is still my go-to when I make dinner. Butter, red meats and cheeses, as well as anything with umami seems so much more attainable than the fresh, crisp, clean foods of the spring, summer, and fall. The thing is, fresh nutritious options are still well within our reach, the lack of abundance is what makes their presence feel more fractured. I do my best to give my wife and daughter the best of both worlds when we sit down for a meal; warmth and satisfaction as well as crisp and bright!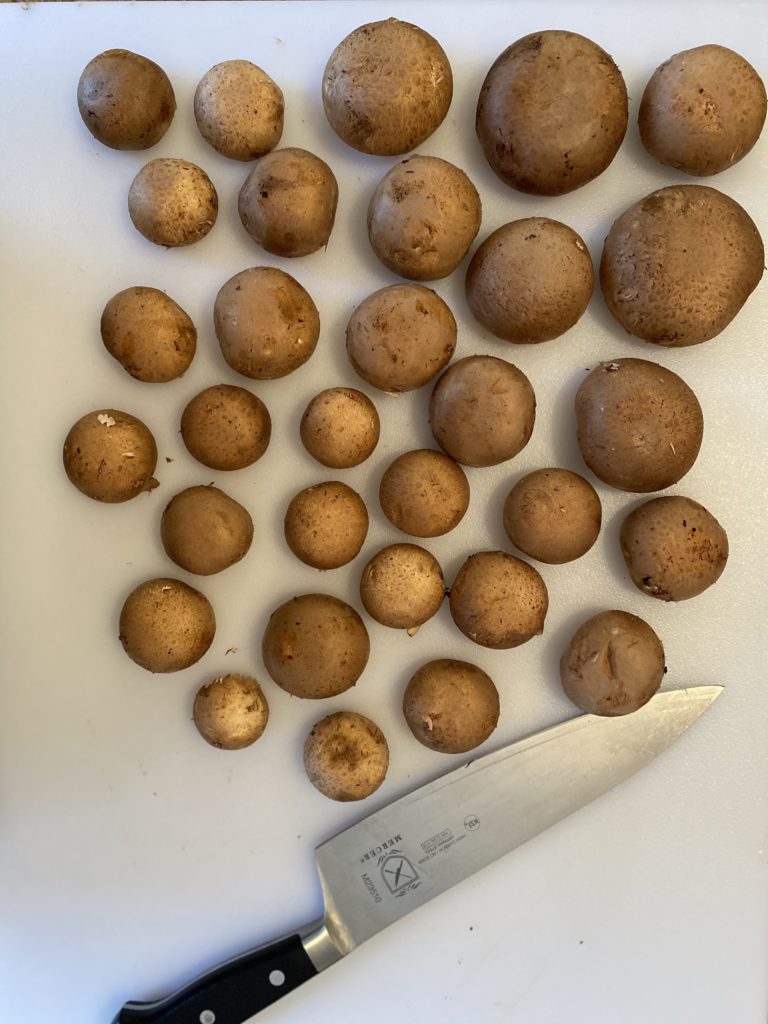 We love going to Longwood Gardens in Kennett Square any time of the year. With the expansive grounds, beautiful conservatory, and something new with each visit, I can easily get my green fix! Gardening has always been a hobby of mine, and the beauty of Longwood is something I was able to introduce my wife to while we were dating. She, on the other hand, added her own tradition to our trips, Longwood Gardens Kennett Square Cream of Mushroom soup! Located in the Mushroom Capital of the World, they make a great bowl of this earthy, creamy soup.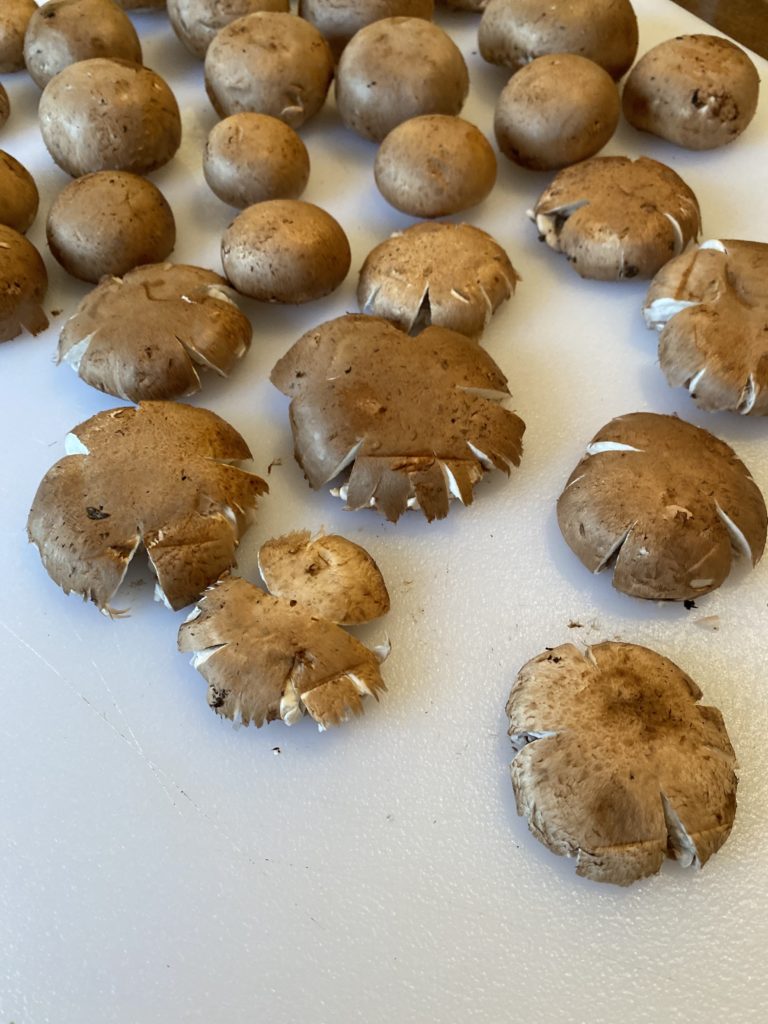 We have been on a chase to make our own version and after a lot of researching, the recipe below is what we've settled on. There are a few tips, tricks, and suggestions. They will add time to your overall process, but I guarantee if you embrace them, you will end with a fantastic depth of flavor that I promise will satisfy!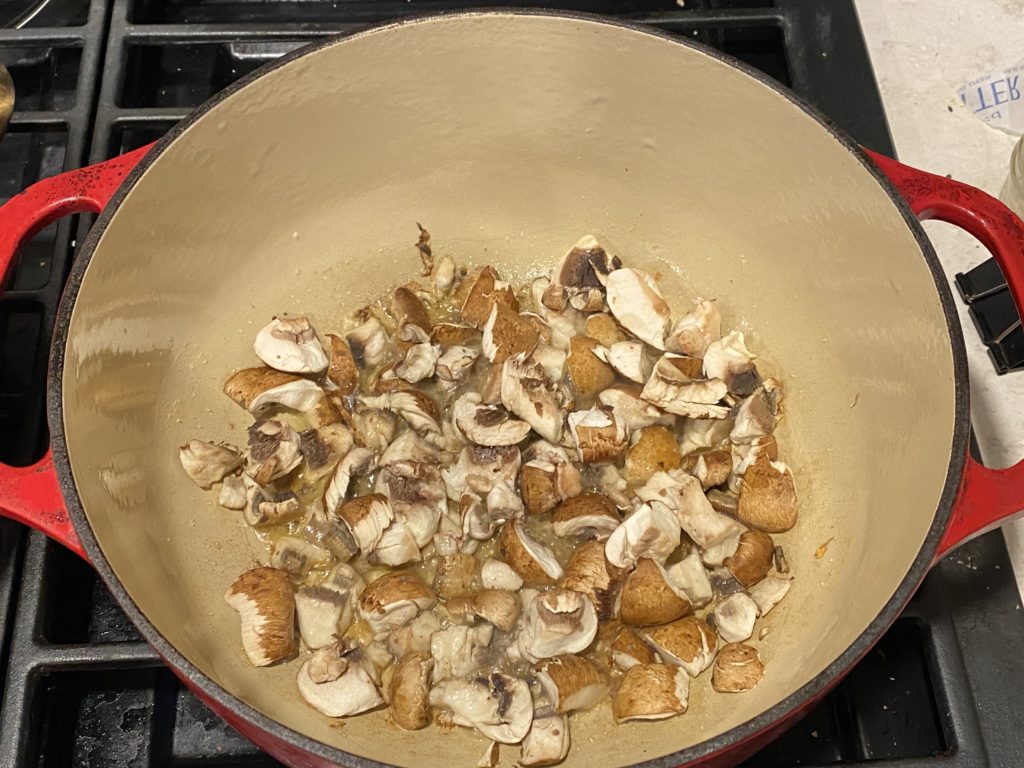 On the side I created an easy crostini that offers a little bit of texture, brightness, and expands the nutritional pallet, while not going too far in the healthy direction :). The two make a fantastic meal that is easy enough to pull together on a weeknight! Shop Weaver's Orchard's farm market in-store, or shop the online store to place your order for curbside pick-up or local delivery.
Find these items featured in the recipe in our online store!
And more! Browse our online store for your shopping convenience!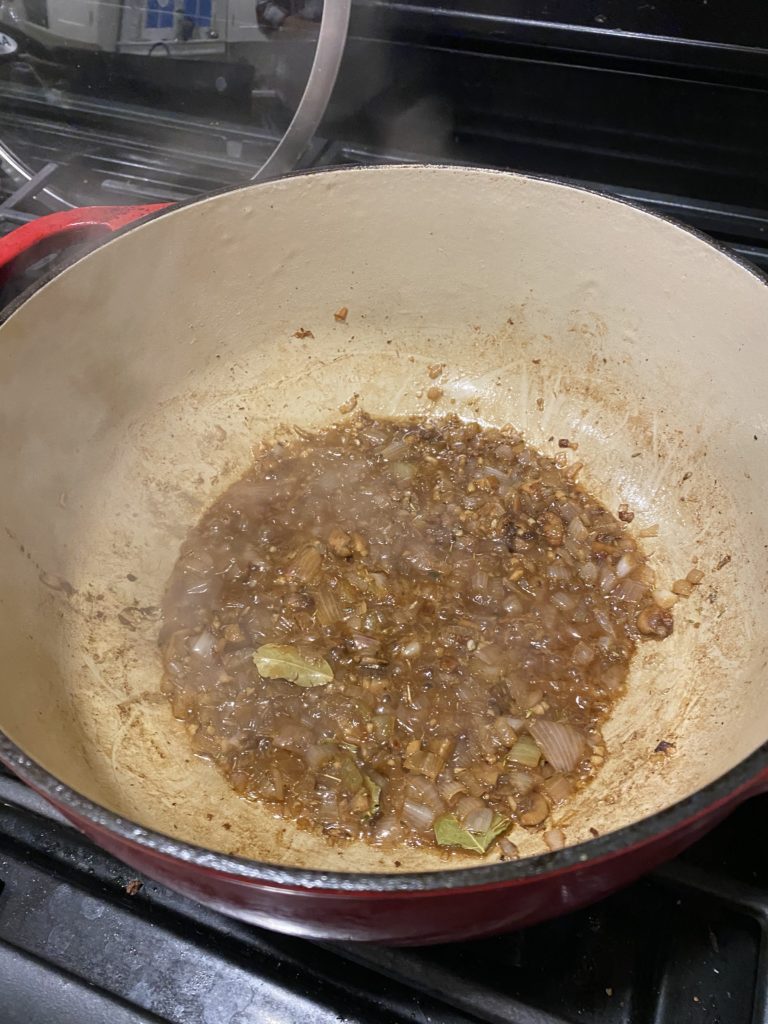 Print
Creamy Mushroom Soup
Author:
Prep Time:

5 mins

Cook Time:

45 mins

Total Time:

50 mins

Yield:

6

servings

1

x
1/2 cup

(

1

stick) Troyer's butter, divided

2

lbs. of fresh cremini mushrooms

4

medium shallots, finely chopped

3

–

4

garlic cloves, diced

⅓ cup

white wine

½ cup

flour

5 cups

beef broth

1 ½ cups

Krieder's heavy cream

1 ½ cups

Krieder's whole milk

2 Tbsp

. worcestershire sauce

1 tsp

. salt

1 tsp

. soy sauce

2

bay leaves

½

–

1

tsp. oregano

¼ tsp

. thyme crushed between your fingers to break down
Instructions
Begin by de-stemming all of your mushrooms. If they are in need of cleaning, do so with a damp paper towel or cloth. Do not submerge under water, or rinse with water. This will cause your mushrooms to turn to, well mush!
On a cutting board, use the widest part of your chefs knife to smash each mushroom to flatten it. Do this to roughly 75% of the mushrooms. After flattening them, chop them up.  With the remaining mushrooms, tear them with your fingers into larger, bite size chunks. The tear will result in a rather rustic appearance, but this will create great flavor while cooking. Keep the two size cuts separate.
Set a stock pot or dutch oven over medium heat and add 1 Tbsp. of butter and melt. Add roughly ½ of the smashed and diced mushrooms to the hot butter. Add ¼ tsp. of salt to season the mushrooms and quickly draw the water out of them. Do not mix or disturb the mushrooms for the first two to three minutes. You want a good browning on this initial surface. After the first few minutes, use a spatula to mix up the mushrooms. After a few more minutes the first batch of mushrooms should be evenly browned and most moisture should be gone. Remove the browned mushrooms from the pan and set into a medium bowl.
Repeat step 3 with the remaining half of smashed and diced mushrooms adding more butter and salt. Once browned add the mushrooms to the medium bowl.
Repeat step 3 for the torn mushrooms. Add the butter and salt. After the first set of browning, add soy sauce to the mushrooms. Stir and allow to brown. When finished, set them into a separate bowl. In the last minute, pull the heat down to low.
In the same stock pot / dutch oven, add remaining 5 Tbsp. of butter, diced shallots and half of the garlic. Stir often to not brown the vegetables. After 4 – 5 minutes add in wine, remaining garlic, oregano, bay leaves, and crushed thyme to the vegetables and cook stirring until liquid is evaporated. Stir in flour with a rubber spatula or whisk – allow to evenly coat vegetables.
Begin to slowly add in the beef broth. I like to add a bit at a time, whisking/stirring the whole time, being careful to not add additional liquid until everything is evenly incorporated. It will remain thick for most of the beef broth incorporation, which is the objective of the slow mixing.
Slowly whisk in the cream, milk, and Worcestershire sauce. Bring to a boil and then set to a gentle simmer until soup thickens into a heavy creamy consistency, 15-25 minutes.
Prior to serving, add the larger pieces of torn mushrooms. Return to a simmer.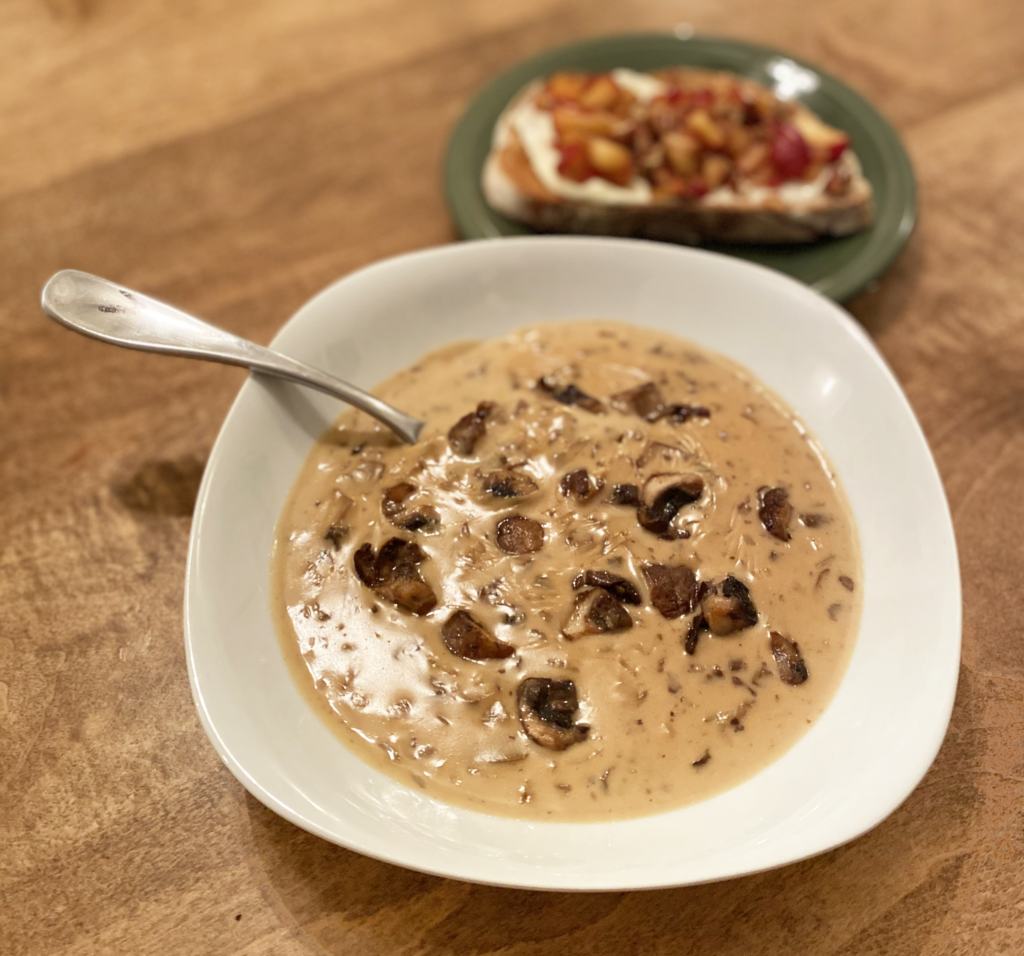 For the fruit-topped crostini, follow these instructions!
Print
Fruit topped Rye Crostini
Author:
Prep Time:

5 mins

Cook Time:

5 mins

Total Time:

10 mins

Yield:

6

servings

1

x
6

slices of Schmayer's Famous Rye Bread

2

apples / 2 pears / or

one

of each

½ cup

pecans – whole

3 Tbsp

. Stockin's Orchard Blossom Honey
The Humble Goat – Honey Chevre OR Eru Spreadable Brie – for spreading

¼ tsp

. Balsamic Glaze
salt
Instructions
Set the oven to 350. Arrange raw pecans over a baking sheet. When oven is preheated, roast the pecans for up to 5 minutes, checking every 2 minutes or so that they are not burning.
Dice your fruit, leaving the skin on for color and texture.
In a small saucepan over medium high heat, add honey, add fruit, and a pinch of salt. Stir often until fruit is cooked, but not soft; no longer than 5 minutes. Add balsamic glaze when you notice fruit is beginning to near your desired degree of doneness.
As soon as pecans are finished, turn on the oven's broiler and move the oven rack to the top position. Lightly spray the rye slices with olive oil or cooking oil and toast under the boiler.
While the bread is toasting, chop the pecans and add to honey fruit mixture.
As soon as the slices are toasted, slather brie or honey goat cheese, and top with fruit mixture and a sprinkle of finishing salt.