My wife and I were reminiscing the other day, thinking about some of our early culinary favorites from when we moved to Wyomissing. One of our early favorites in West Reading, which is no longer in operation, made a fantastic Aztec Chocolate. You could get it as an ice cream or a hot chocolate. Aztec Hot Chocolate, or Xocolatl, is a slightly bitter drink popular among ancient Aztec and Mayan civilizations. The rich, velvety drink is full of chili, vanilla, and cinnamon which could be consumed either hot or cold.
It's been years since we had one of these beverages, and we think of it often and after talking about it, I couldn't get it off my mind. I started rummaging around my pantry, and saw chocolate, coconut milk, and ginger and figured I could make an Asian inspired version of our favorite beverage. It really was a smooth, velvety treat full of plenty of bold flavors. As an aside, the recipe is vegan too as long as you use a milk-free chocolate bar.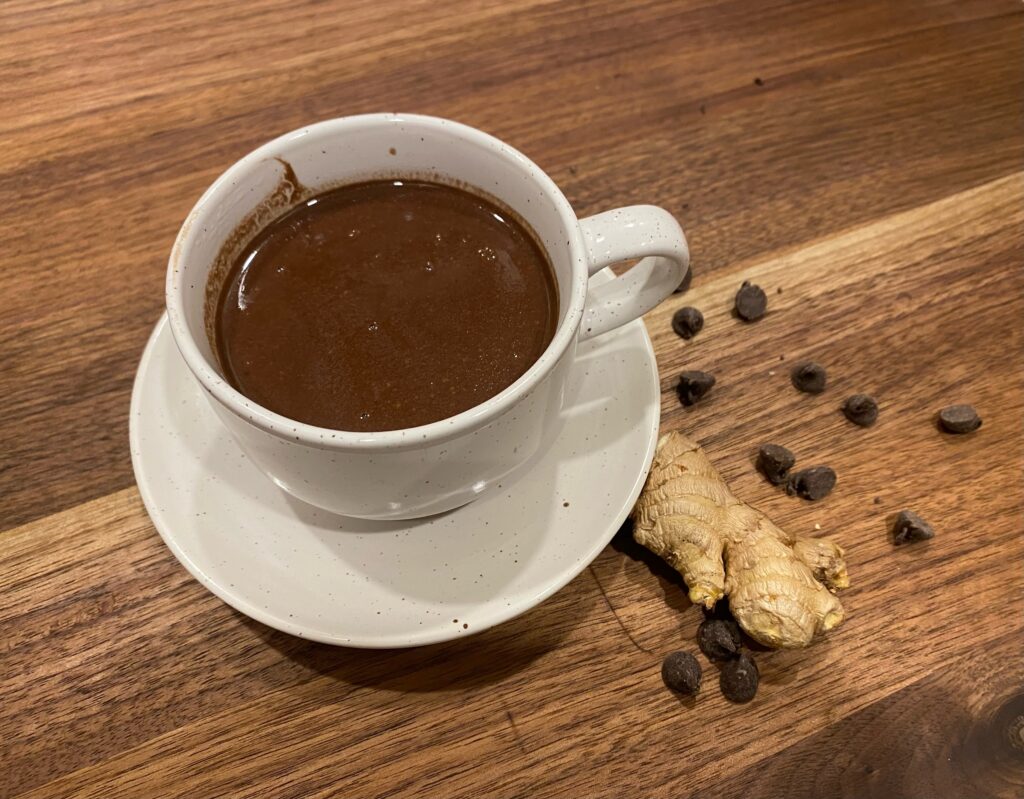 You can find fresh ginger root and chocolate at our farm market as well as several kinds of milk such as almond milk and cow's milk.
Print
Coconut Ginger Hot Chocolate
2 Tbsp

. cocoa powder – I prefer extra brute or another high quality cocoa powder
1 oz

. 70% Chocolove XOXO Chocolate or other high quality bittersweet chocolate – chopped roughly into

¼

c.
1 tsp

. molasses *See note
1

inch knob of fresh ginger – peeled and thinly sliced
Pinch of freshly ground black pepper
*Note: You can add 4 Tbsp. of dark brown sugar if you prefer to not use molasses.
Instructions
Chop chocolate into small pieces. This will allow the chocolate to easily melt into the hot chocolate when incorporated.
Pour ⅓ c. of boiling water into a glass measuring cup. Add 2 Tbsp of cocoa powder into boiling water and whisk until smooth.
Add chopped chocolate to hot water and cocoa powder. Whisk until smooth.
Pour coconut milk, sliced ginger, brown sugar, molasses, cinnamon, and a pinch of salt and freshly ground black pepper into a medium saucepan. Heat over medium, stirring gently until it reaches a simmer and becomes smooth.
Add hot water, cocoa, and chocolate to the coconut milk mixture. Turn heat to low and continue to whisk for a minute or two. Add vanilla at the end. 
Ladle into serving mugs. Strain as you pour to ensure ginger slivers do not get into the mug if preferred.