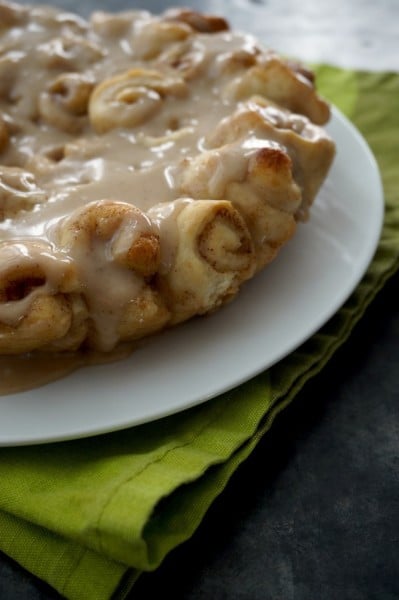 I have fond memories from when I was growing up of visiting my grandparents in Ohio at Christmas. They lived in a large white house that once had a store in the front room. Their house was always full of people and laughter with the sound of college football games playing in the background.
One thing I also remember about their home was that that the scent of Grandma's famous cinnamon rolls usually lingered in the air. She knew her cinnamon rolls with their gooey caramel icing were a hit among the grandchildren. She always had some either in her freezer or fresh out of the oven. It didn't matter what time of day, it seemed that they would magically appear when, as children, our bellies were always looking for a snack!
As the years have flown by, we don't usually make it to Ohio for Christmas anymore. But whenever we would drive out for a visit or my grandparents would drive out to visit us, grandma would ask us what we wanted her to bring along and the usual request was cinnamon rolls!
This Christmas season I whipped up a batch of these famous rolls on the day we got our Christmas tree, in honor of my sweet Grandma. Grandma is still going strong and as spunky as ever, but unfortunately she is in rehab this holiday season recovering from a major surgery. While she might not be baking this year, her cinnamon rolls are something I want my children to have in their memories of Christmas—and from the delight on their faces as they enjoyed this sweet treat, I'm sure I won't have to work too hard to make that happen!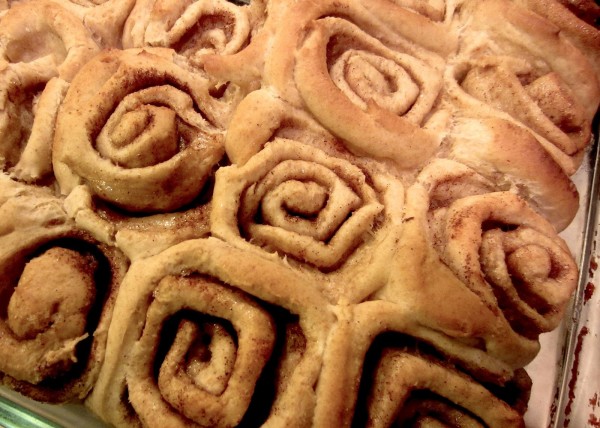 Have a Blessed Christmas everyone. May you be surrounded by family and friends as we celebrate Christ's birth!  (Be sure to try out Grandma's recipe below!)
Print
Grandma Cora's Cinnamon Rolls with Carmel Icing
Author:
Category:

Breakfast

Cuisine:

Traditional
FOR THE ROLLS:

2 cups

very warm water

3/4 cups

sugar

½ cup

canola oil

1 tsp

salt

1

egg beaten

6

–

8

cups flour

2 tablespoons

instant yeast

1

stick of butter
Cinnamon
Brown Sugar
FOR THE CARAMEL ICING:

¼ cup

butter

1 cup

brown sugar

¼ cup

water

1

–

1 ½

cups powdered sugar

½ tsp

vanilla
Instructions
For the rolls: Mix sugar, oil, salt and water in a large bowl and add beaten egg. In 2 cups of flour, add the instant yeast and mix well. Add this to the water mixture and continue adding flour one cup at a time. I use a stand mixer with a bread hook attachment for this step. You can also use a spoon and hands. Keep working in flour until the easy to handle. Don't work in too much flour, just enough to get the dough into a large workable mound.
Grease your mixing bowl and let the dough rise until doubled. It's good to punch it down and let it rise again. This gives the rolls a nice texture. To make the rolls, divide the dough into two parts. Roll out in oblong pieces approximately 8"x 14." Spread about 2-3 T of softened butter on the dough. Then sprinkle with brown sugar and cinnamon. Roll them up and cut into 1 1/2 " widths. Place them in a 9×13 inch baking sheet. Bake at 350 until lightly browned (about 30 minutes in my oven). Do not over bake. Frost when slightly cooled.
For frosting: Melt butter on medium heat in large saucepan, stir until it starts to bubble, then add water. Stir until all the sugar is dissolved and it begins to boil. Remove from heat and cool well before adding powdered sugar and vanilla. Add the powdered sugar until it's just the right consistency for spreading. This tends to be a runnier icing so be careful not to add too much! Enjoy!