Recently, I've been inspired by various frozen yogurt bark recipes on my Instagram feed. With blackberries in season, I decided to make a delicious blackberry yogurt bark with pistachios. My kids loved it and even asked for seconds. It's a perfect, easy, and healthy snack after a long afternoon of swimming since it's sweetened only with blackberries and honey. The added chopped pistachios provided a delightful crunch, and the protein content from the pistachios is always a bonus!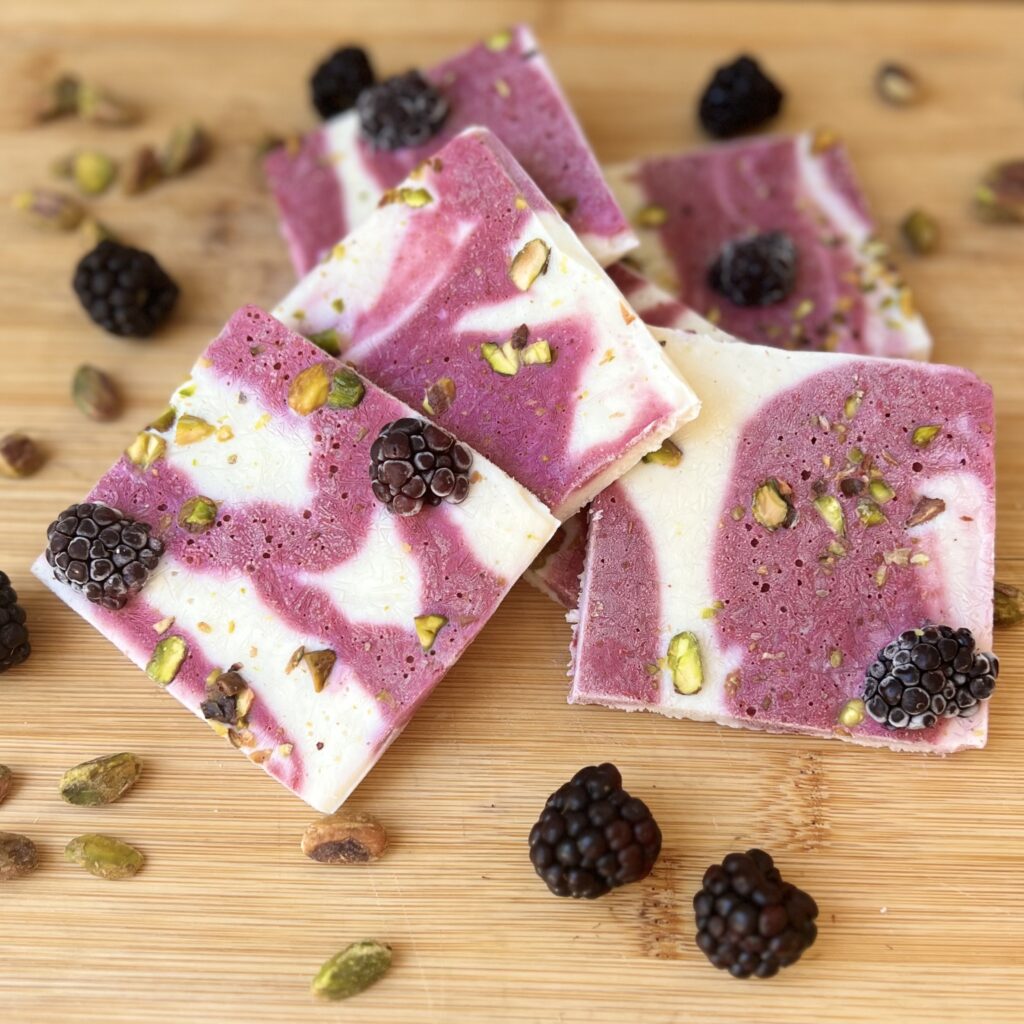 This July, blackberries are in their absolute prime at Weaver's Orchard. They are about 2-3 times the size of a cherry or a quarter! These blackberries are sweet, juicy, large and delicious. They'd be great for making jam, baking a cobbler, making homemade ice cream or this tasty yogurt bark. Update: As of August 9th, blackberry picking is fair to good.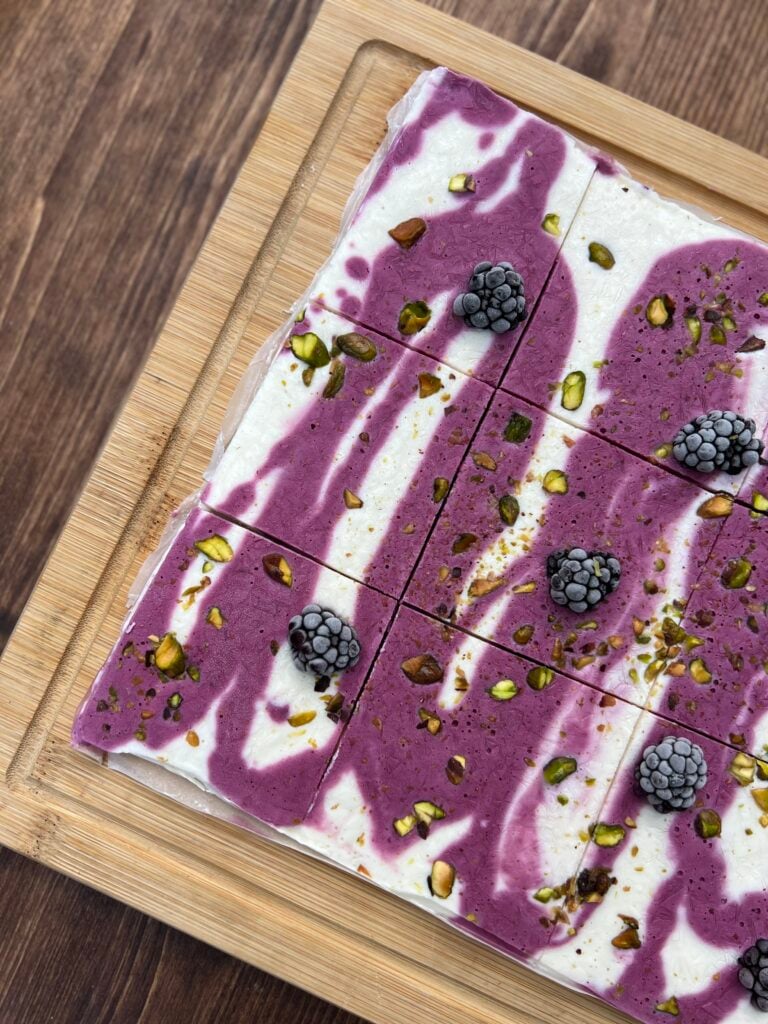 What is yogurt bark?
Yogurt bark is a frozen yogurt dessert with things mixed into it (in this case the honey and berries). It's spread thin and then cut into squares, and it's often topped with something crunchy such as nuts or granola. Yogurt bark is meant to be served frozen, but you could let it thaw a little bit and eat it in a bowl if you prefer.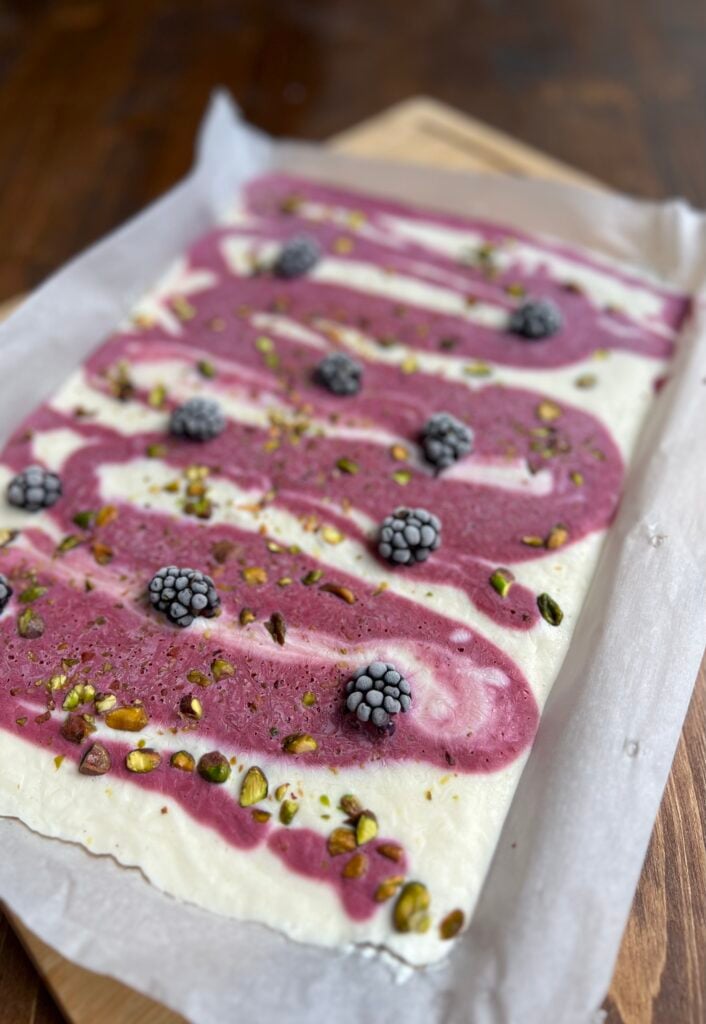 Is this kid-approved?
YES! I'm always looking for healthy, clean-eating recipes for kids. My kids thought the bright purple color of the yogurt bark was so fun, and even my child who doesn't love nuts enjoyed this so much!
Is this a healthy recipe?
The answer to that will be fairly subjective, but if you're looking for recipes that are refined sugar free, clean eating, whole 30 approved or south beach phase 2 approved, this is a good go-to dessert or snack!
Greek yogurt has 17 grams of protein per cup and is a good source of calcium, potassium, zinc and vitamins A and B12.
Honey has a lower glycemic index than sugar, meaning it won't spike your blood sugar as quickly as regular sugar will.
Blackberries are an excellent source of Vitamin C, E and K. Like most berries, blackberries are a superfood because of all the vitamins and minerals they contains, plus they are low in carbs and fat.
Pistachios contain antioxidants, fiber and protein.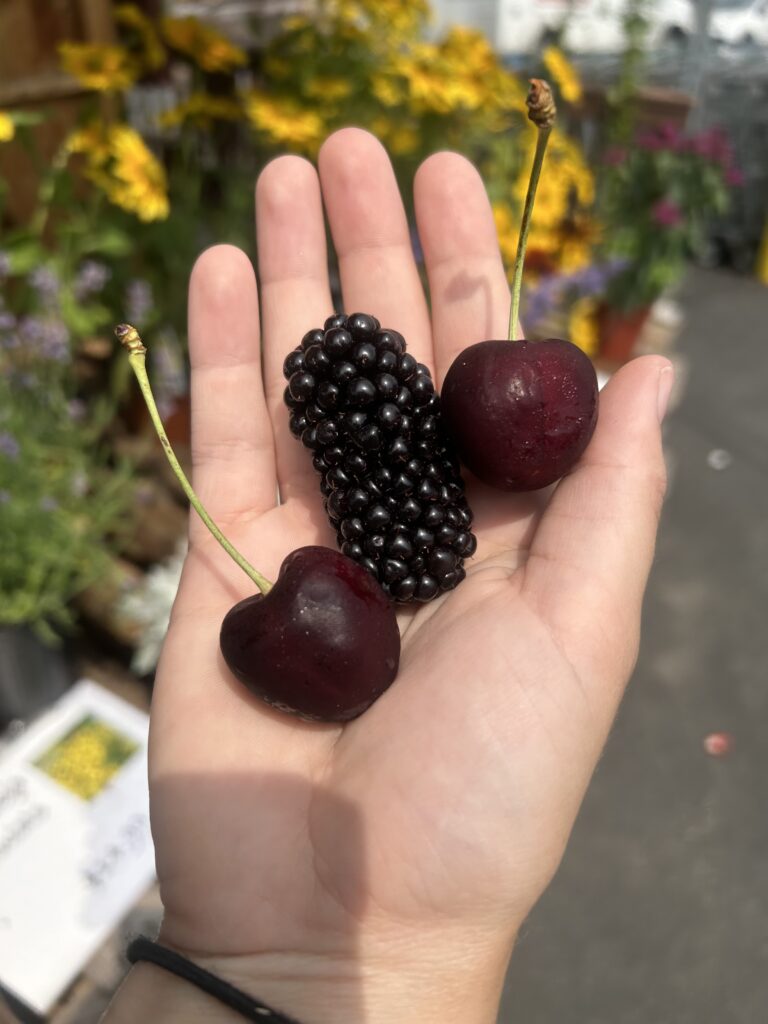 Eating real, whole foods is so important for our short-term and long term health! The team at Weaver's Orchard works hard to cultivate these superfoods, so swing by and pick some fruit and make some good healthy clean eating recipes! To your health!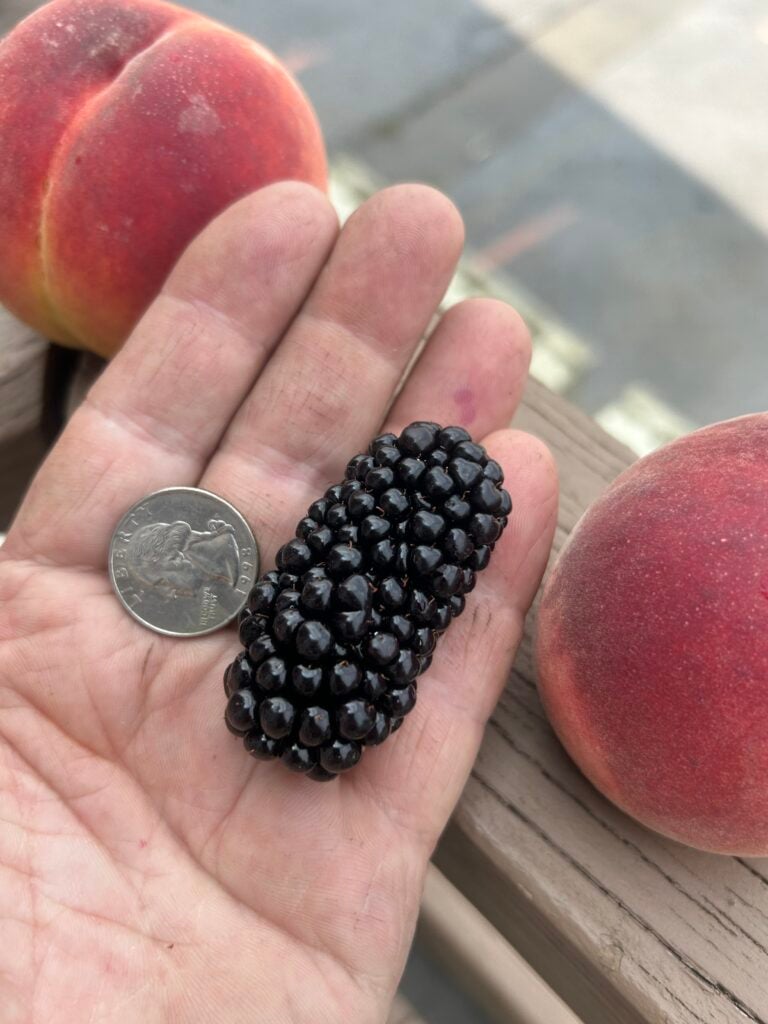 Print
Blackberry Pistachio Yogurt Bark
Author:
Prep Time:

10

Cook Time:

4 hours

Total Time:

4 hours 10 minutes

Yield:

12

servings

1

x
2 cups

Greek yogurt 

1/4 cup

honey 

1 tsp

vanilla extract 

1/3 cup

blackberries 

1/2 cup

pistachios 
Instructions
In a medium bowl, combine the Greek yogurt, vanilla and honey.
Separate out 3/4 cup of the mixture and pour into a blender with the blackberries. Pulse until well combined.
Line a 1/4 sheet rimmed baking pan with parchment paper. Spread the vanilla-honey yogurt mixture evenly onto the baking sheet first. Then pour the blackberry yogurt mixture on top and swirl around, top with more blackberries and pistachios. Transfer to the freezer and freeze for 4 hours. Serve immediately and transfer any leftovers to an airtight container. Consume within a few days for best results.