It's that time of year when winter is starting to last too long, and you just want more flowers in your life. That's why I caught up with Vonda Stolzfus, Weaver's Orchard event coordinator, for this week's blog. Vonda makes beautiful flower arrangements and has great advice for anyone who is just getting started or who wants to take bouquets to the next level. Here are her tips.
1. For people who have never tried their hands at flower arranging before, can you recommend the flowers you find to be the easiest to work with?
I find it's easiest to use "filler" first to get the shape of the arrangement, and then add in flowers. So I often start by adding my greens or baby's breath, for example, and then I add in my flowers. A nice "sturdy" filler makes a world of difference!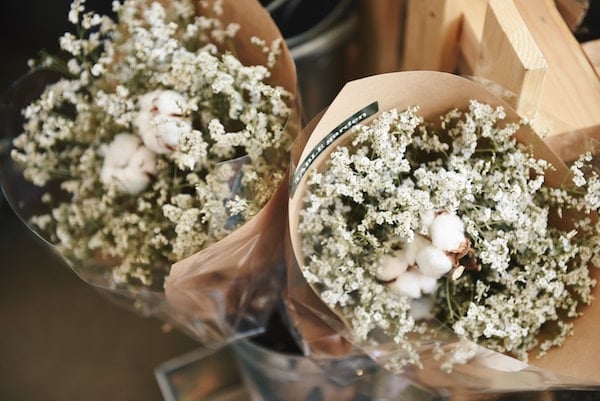 2. What tools should a good flower-arranging kit include?
For starters, a pair of sharp clippers or scissors. Other things that are helpful are:
Another fun trick is to save the mesh bags that onions or avocados come in, stretch it over the opening of a canning jar and screw the jar ring over top of it. This gives a framework to hold your flowers at the right angles.
Save the mesh bags that onions or avocados come in, stretch it over the opening of a canning jar and screw the jar ring over top of it. This holds your flowers in place.
3. What kinds of vases and containers do you like to have on hand?
A few bud vases of various sizes are wonderful, along with simple canning jars.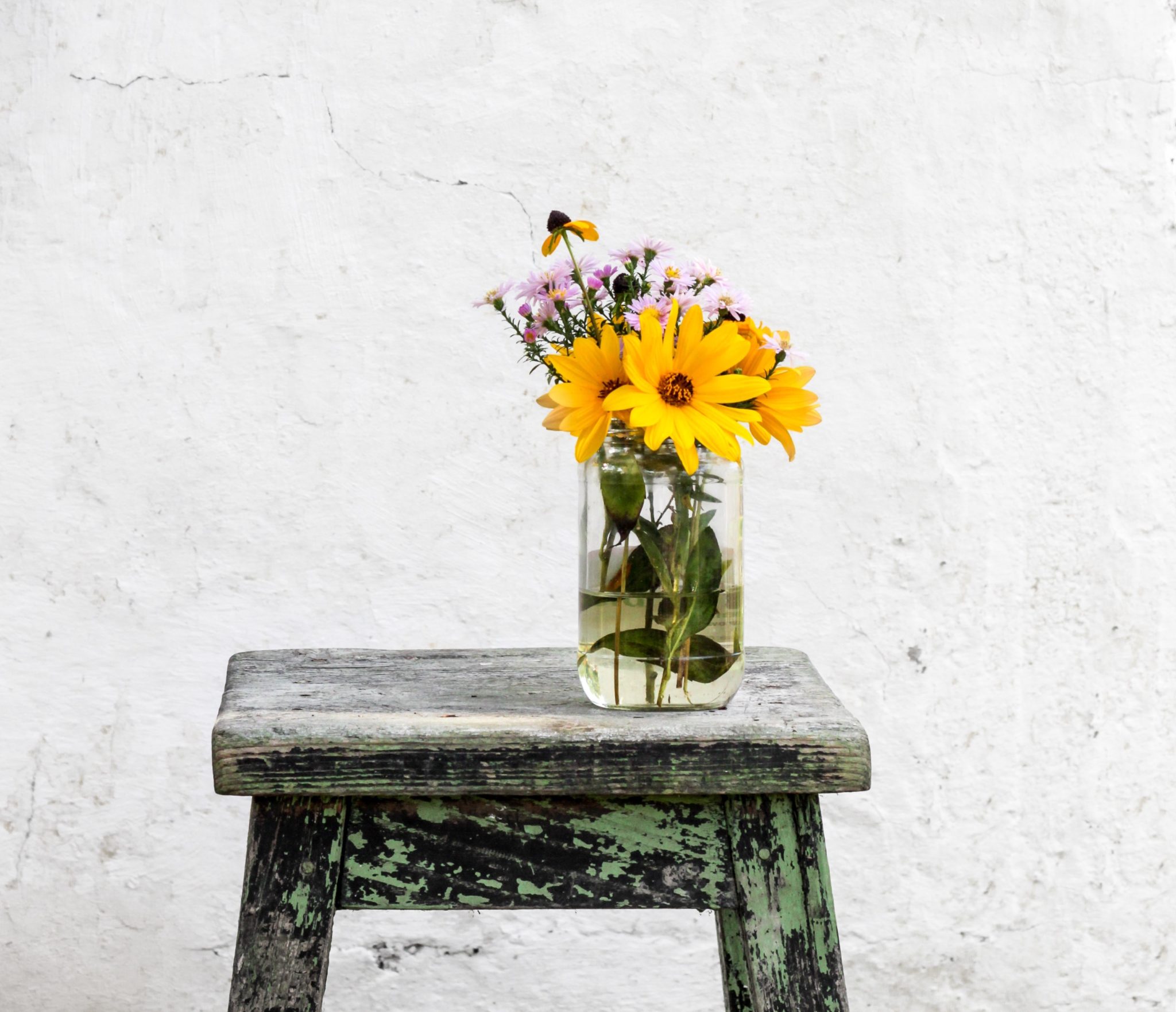 The easiest kind of vase to work with is one with a neck that narrows down and then flanges out at the top – this allows the flowers to form a nice "circle" shape.
Get creative, though! When you use Oasis foam, MANY things can become a vase. I love unique containers like layering simple deli containers inside of wooden berry boxes, and using teacups or tea pots. For my son's wedding, we hot glued small glass dishes onto glass candlesticks found at thrift shops and soon had elegant footed vases… for pennies!
Choosing a vase that is one-third the height of your total arrangement often produces a look that "feels" right.
4. What are some easy ways to make a bouquet or centerpiece look full and textured?
Choose flowers of different sizes and textures. Sometimes if I think there's not enough "drama" in an arrangement, I'll cut a few dried or green grass heads and add them in to get some contrast.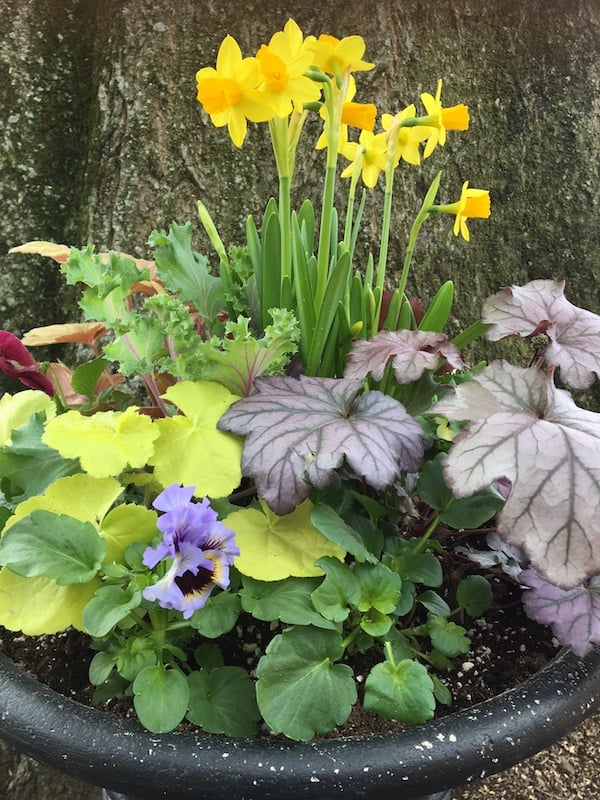 5. Let's say you only have the budget to buy one kind of bouquet. How can you make it look as inviting and beautiful as possible? What should you do, beyond just sticking it in a vase?
Anything can be beautiful.  If your budget is limited, shop your yard for greens or the side of the road for things to add in to "bulk up" your precious flowers.
Queen Anne's Lace growing wild by the side of the road is a free version of baby's breath that works great!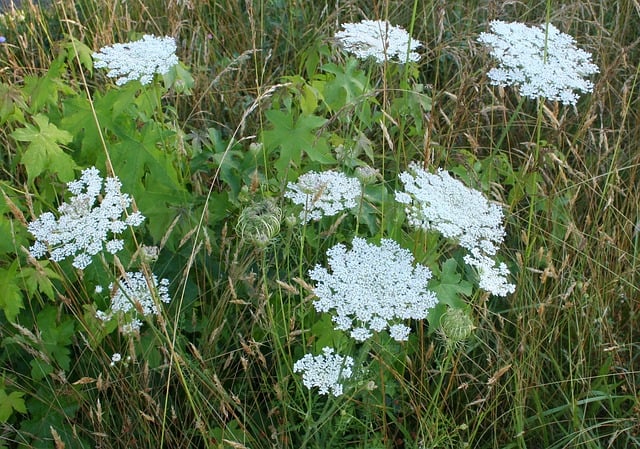 Pick wild Queen Anne's Lace to use instead of baby's breath.
Often if I buy a bouquet in a store I will arrange the flowers in my hand, tallest in the center then working to shorter at the edges. Keep turning your bouquet in your hand so you don't have a "bad side" and a "good side." While you're still holding the bouquet, trim all the stems to the same length, and then put it into the container.  Often I'll even set the vase on the kitchen counter so I can visually eye up where I want the stems to hit at the bottom of the vase before trimming. If I don't do that, I never cut the stems short enough and it all falls apart when I put it into the vase. And if you end up with a "bad side" (which happens to me more often than not!) just display it in a spot where it's only viewed from one side.
6. Let's say you wanted to buy two or more types of flowers to mix and match. What should you think about in terms of mingling colors and textures?
Pulling two colors from opposite sides of the color wheel creates a vibrant arrangement!
If you're going for a more soothing look, pick two that are close to each other on the color wheel.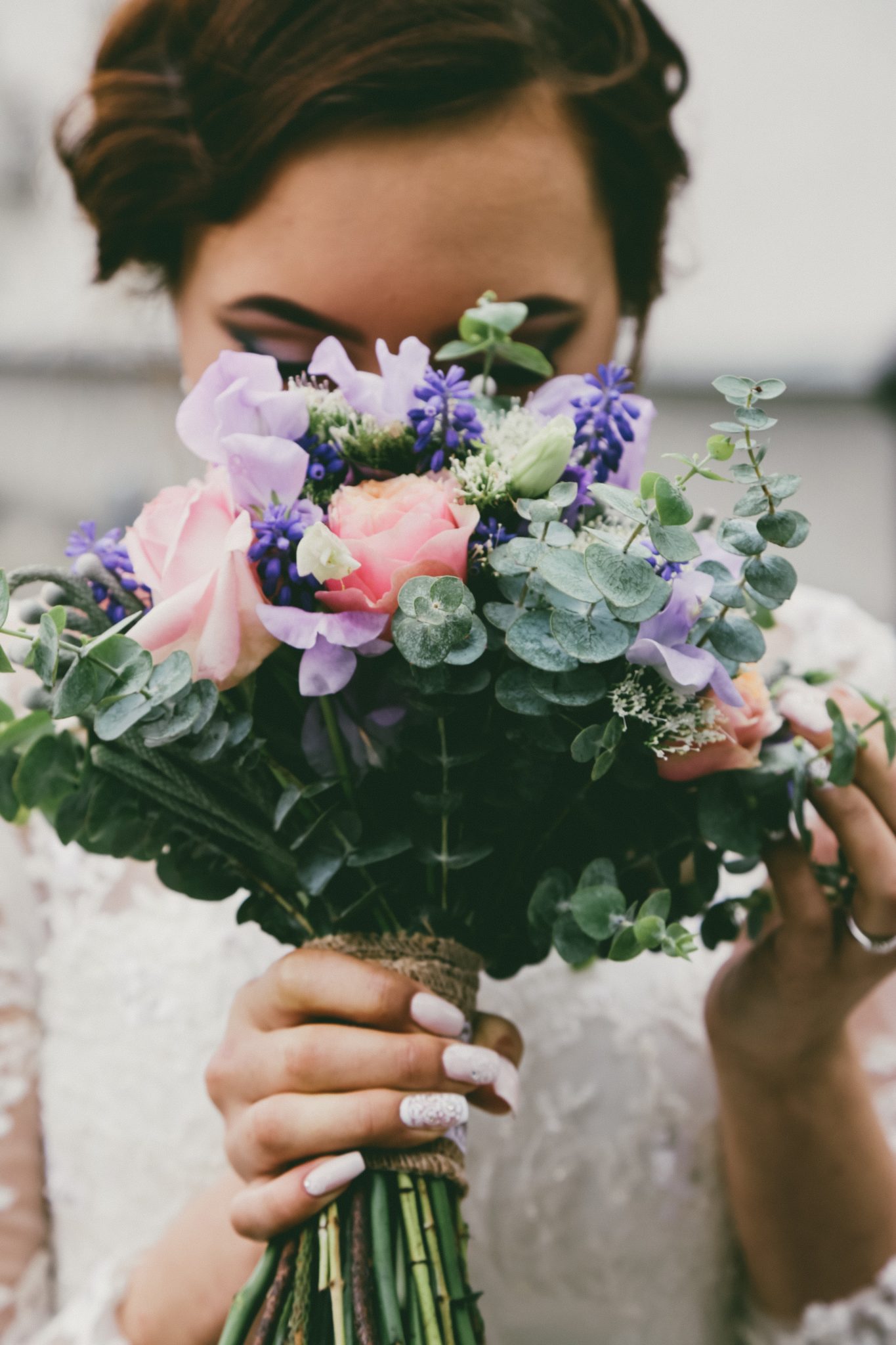 I tend to love purples, blues, pinks and burgundies, so those are the colors I plant a lot of. It's really a personal preference as to what colors to put together.
7. What's your favorite floral arrangement you've ever made?
That's like asking what your favorite food is – there are so many and can change with my mood!
My son got married this past fall and we did all of the flowers except the hand-held arrangements, corsages and boutonnieres.  My daughter-in-law has exquisite taste in flowers and chose a theme of burgundy and blush pink for their October wedding.
We used 75% locally sourced flowers and I was on pins and needles watching the forecast praying that frost wouldn't kill the dahlias that a lot of the arrangements featured.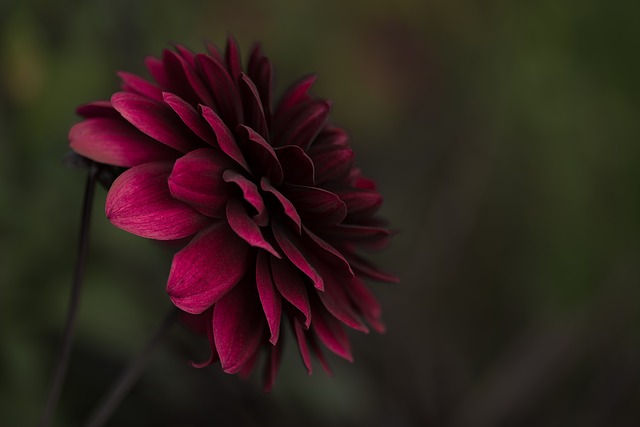 Two days before they were to be cut, cold weather came upon us. I later talked with the Amish lady I was buying them from and we realized we both fell asleep praying that God would protect the flowers that night. The next morning she awoke to find that frost came within several YARDS of the flowers.
Needless to say, THOSE arrangements are my favorite ones because of the memories attached to them!
8. When did you begin creating floral arrangements? What were some of the first ones you made?
I've always enjoyed being creative– sewing, painting, gardening etc.– so I'm not even sure when I started! I've never had any formal training, although it's something I'd love to do at some point in life.
A few years ago, a close friend of mine and I started doing flowers for the weddings of our friends' children. Neither of us want to make it into a job but enjoy the challenge of figuring out what a bride is envisioning and helping her get the look she's going for, using mostly locally sourced flowers (which helps to keep costs a lot lower). During the weeks leading up to a wedding, a bride and I can spend hours talking, scheming and dreaming!
9. What do you enjoy about arranging flowers? What do you like about the process, and the end product?
Arranging flowers gives me a chance to be creative. It's therapeutic for me and an easy way to bless others around me.
10. What words of encouragement do you have for people who are brand new to flower arranging?
My arrangements VERY rarely turn out exactly like I envision them in my head or like I see on Pinterest or elsewhere. Allowing them to be unique instead of stressing out about them being exact is key.
So often I'll start an arrangement and since 95% of what I arrange with is flowers that I've grown myself, I don't start out with an armful of flowers to choose from like the online pictures show.    Making the most of what I have is the fun part. It's like keeping the mindset of "a cheap girl's fix" for redecorating the house – move around the furniture and make the best of what you have instead of just buying the look you want.
Other random tips:
Always cut stems on an angle – this gives more surface area for the flower to drink in water.
Cutting flowers in the morning before it gets hot is ideal – for you and the flower!
Take any leaves off the stems that would end up below the water line. Leaves below the water disintegrate quickly making the water murky and then the flowers die faster.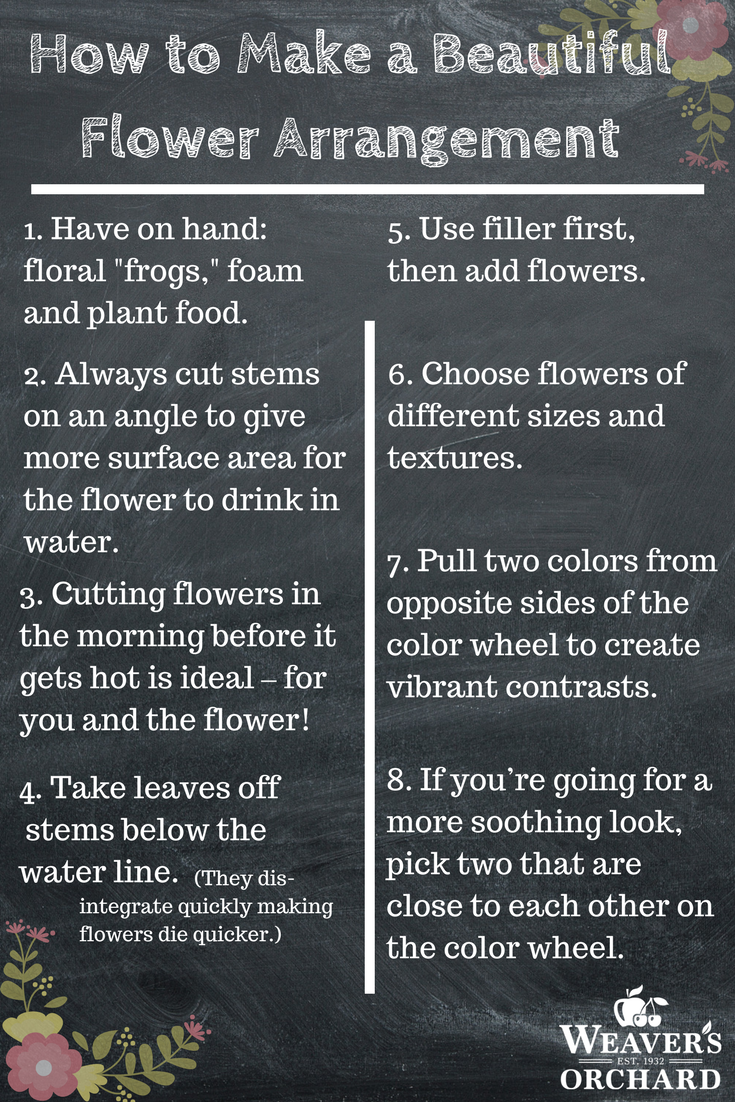 SaveSave
SaveSave
SaveSave
SaveSave
SaveSave
SaveSave
SaveSave
SaveSave
SaveSave
SaveSave
SaveSave
SaveSave
SaveSave