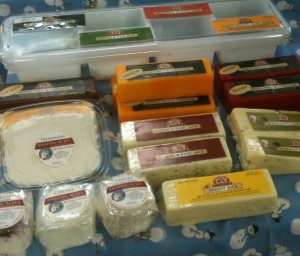 In recent years, there has been a resurgence in artisan cheese making in Southeastern Pennsylvania, particularly from farms in our neighboring Chester County. We certainly can't complain about this new venture from nearby farms! We have jumped on the bandwagon in our own small way – by selling cheese from several of these local farms, including Amazing Acres Goat Dairy and September Farm Cheese. We just added several handcrafted farmstead cheeses from Honeybrook's September Farm Cheese to our product offering!
We currently carry eight different varieties including four cheddar cheeses and four jack cheeses. Come in for a free taste! The cheddars we sell include sharp, medium, smoked and muffalletta. Jack varieties include tomato basil, garlic and basil, pepperoni and chives and dill. We also carry several of Amazing Acres Goat Dairy's Chevres and their Fromagina in our market.
The folks at Amazing Acres take pride in their healthy goats, which are treated very well and are never given artificial growth hormones. These cheeses taste delicious spread on artisan breads from our bakery, baked into an appetizer with nuts and berries or tossed into a fresh salad. We're proud to be partnering with these great local farms and glad to support this new movement in artisan cheese making. Stop in for a free taste of September Farm's Cheese today!