Anna Brown was off to an orchard when she answered my call on Monday, July 3, 2017. When we rescheduled our call and started talking later that day, I began to get the impression that Anna is off to an orchard most days—and hauling back 12-13 baskets of apples to make 25-30 quarts of applesauce like she did on Monday is exactly how she likes to spend her time.
Anna, aged 82, is a Weaver's Orchard regular, and has been for fifty years, coming to pick once or twice a week.
And she never misses an opening day. "I know there will be a lot of strawberries and the picking will be good," she says.
This year, on opening day of the 2017 harvest season, she noticed Ed Weaver out in the field, picking and walking down the rows to greet all the customers who came for the strawberries, Weaver's Orchard's first pick-your-own crop of the year.
"Ed, do you know that this is my fiftieth year for pick-your-own at Weaver's?" she asked.
"Well, I should take your picture!" Ed responded. A little while later he came back, took the picture, and posted it on Facebook.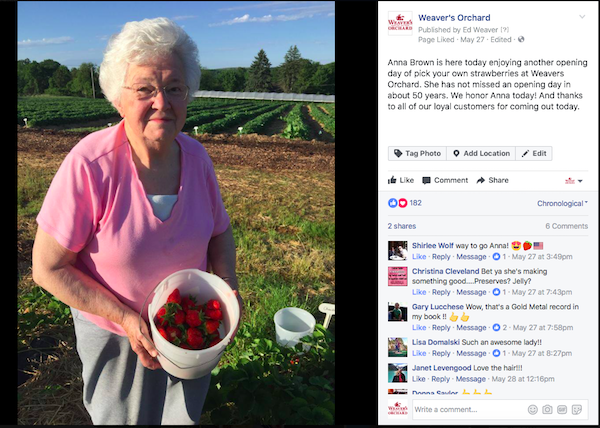 When Anna got to her church that Sunday, the congregation at St. Paul's Lutheran Church in Douglassville formed a greeting committee for her, asking for her autograph! She was famous!
What has brought Anna to Weaver's week after week for fifty summers? She's been a Weaver's regular because she believes that the Weavers are "wonderful business people," and she sees in the Weaver family what she saw her husband exemplify at FM Brown Flour. Her husband believed that "to have a successful business, you have to show friendship."
Not only has Ed Weaver shown her friendship, the pick-your-own staff members have, too. She's gotten to know Jen Higgenbottom, Lisa Domalski, Linda Hertzler and many others over the years. Now she gets to chat a bit more with the pick-your-own staff because they drive her in the golf cart if she needs to pick in a distant field. In far-flung fields or ones near the pick-your-own shed, she loves bumping into people she hasn't seen for a while and sharing recipes with new and old friends.
Having grown up on an Oley Valley farm where canning naturally followed harvesting, many of the recipes Anna shares are for jams and jellies. If you happen to be out picking and Anna shares a recipe with you, be sure to write it down. After all, her jams and jellies are so good she sells them to raise money for her church! In fact, Anna is such an expert cook that she manages the kitchen at her church now that she has retired from teaching German, Spanish and English. She treats the congregation— and those the church helps feed, like the men at Hope Rescue Mission— to pies, dumplings and other treats.
In the years Anna has been harvesting, baking and canning fruit, much has changed. She remembers the days when you could bring a ladder to pick cherries, and you could have a dog romping around the orchard while you picked. (This isn't possible anymore because of insurance, Ed explained to her one day while they reminisced.)
Though she looks back with fondness on her years of picking, it's clear that she is always looking ahead to the next crop that will ripen. She's looking forward to meeting new people and picking "wonderful, top quality fruit," she says. The fruit at Weaver's is so good, she says, because "they take good care of their orchard."
This harvest season, we hope you'll not only enjoy the delicious fresh fruit but also meet some new people, share recipes and enjoy the orchard as a place where the community comes together. That's what we love about it too, and we are grateful for people like Anna whose faithful presence makes it happen.
SaveSaveSaveSave