A picture's worth a thousand words, but this year after our 2015 photo contest, we found out more about the stories behind some of the photos, and we wanted to share those stories with you!
Last month, we announced the four winners of our sixth annual photo contest, a challenge that invited you to submit photos of your experiences on the farm throughout the harvest season. We love the way that this year's winning photos capture the joy of establishing a tradition and routine of picking fruit.
First Prize
First-prize winner Mihaela Butoi of Devon caught her six-year-old twins in action during apple picking, standing inside a large apple crate and holding the apples they picked.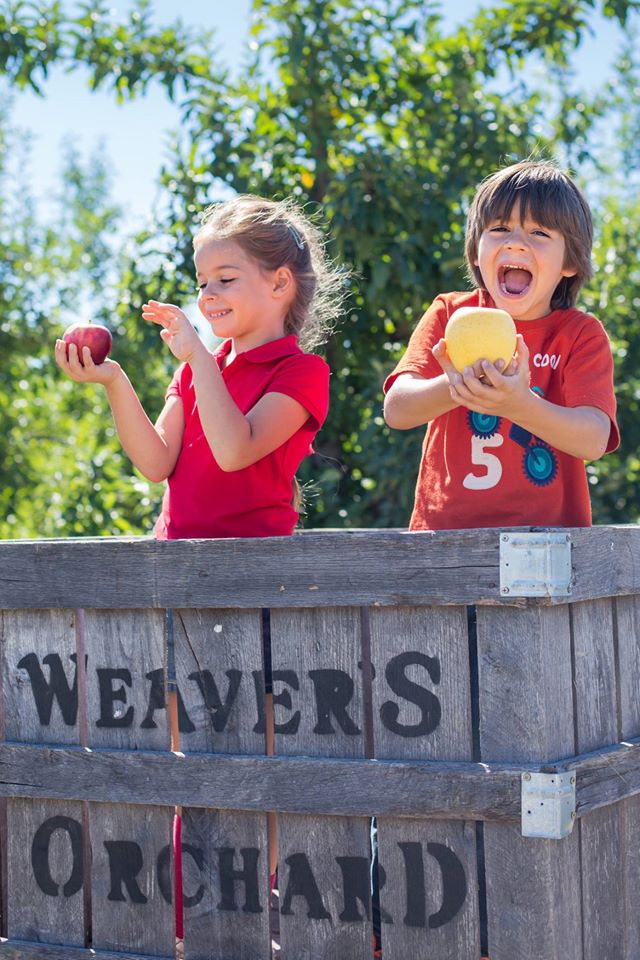 "They are always running and climbing, so I helped them up in the big containers and they couldn't be happier," says Butoi. Picking fruit at Weaver's Orchard has been a tradition for Butoi's family for over ten years. "My little ones have been coming there since they were two months old and some of the apples were almost as big as their heads."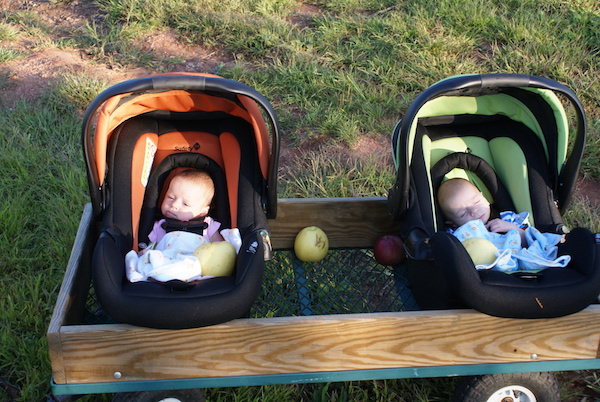 "My children love fruit," says Butoi, "any kind of fruit." The family comes to Weaver's Orchard to pick strawberries, cherries and raspberries, but "apple picking is by far their favorite." This is especially true, Butoi says, when they get to pick Jonathan apples, the twins' best-loved variety.
"What prompted me to enter this year's contest was a picture Weaver's posted at the end of the summer for Read 'n' Pick Story Time," says Butoi. See if you recognize these kids: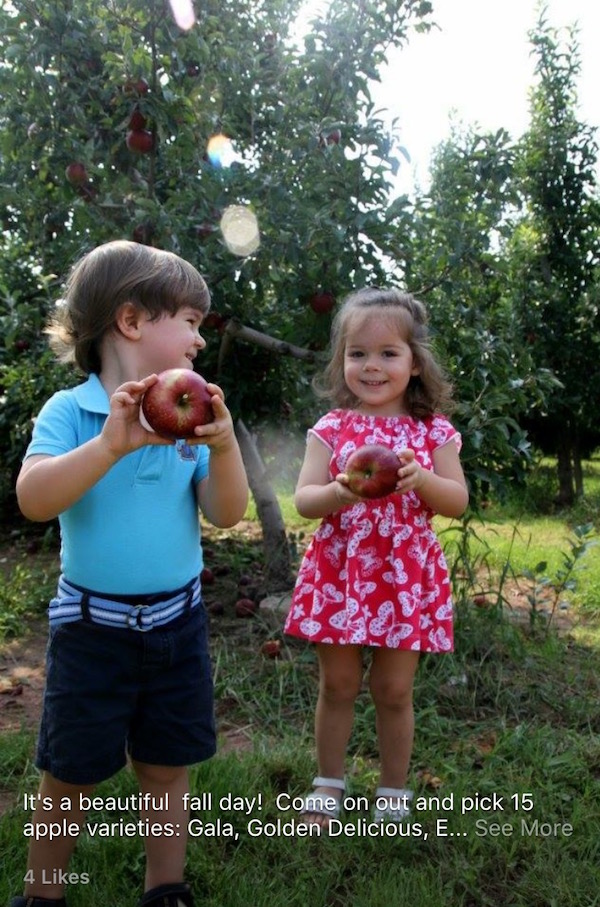 That's right! It's the Butoi twins about four years ago! Mihaela Butoi had submitted it to our photo contest and completely forgotten about it, she says. "I loved seeing it, showed it to my twins and they were super excited to be in an ad."
Second Prize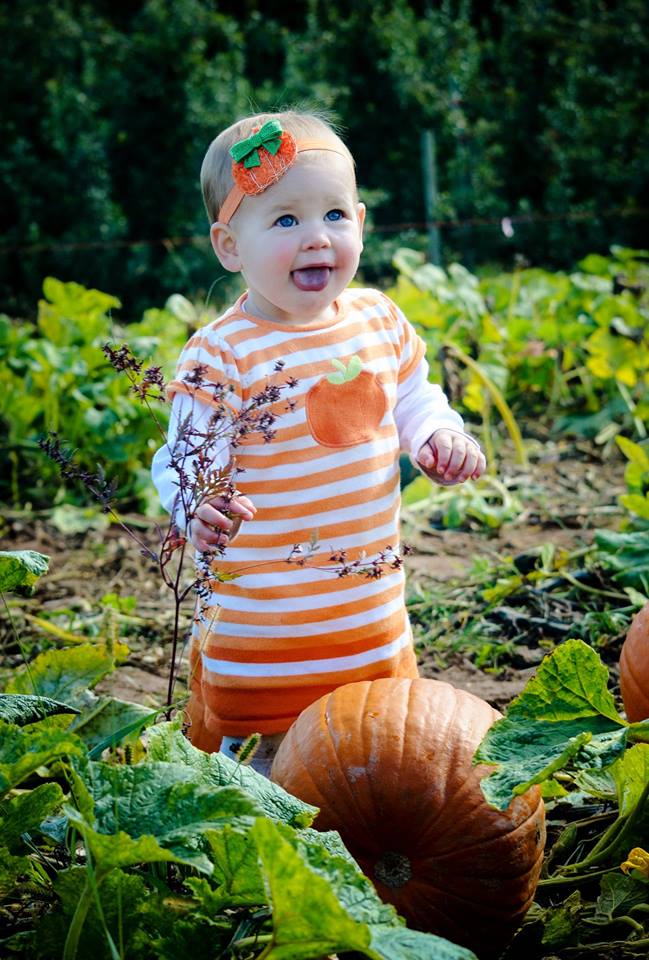 Mallory Kercher of Reading snapped the second-prize-winning photo of her one-year-old daughter Olivia out in the pumpkin patch, standing over a plump pumpkin. "Both kids were excited as we loaded onto the hayride and drove out to the pumpkin patch," says Kercher. Her older son, Owen, took off running around the whole patch, while Olivia "inspected each one carefully and happily shouted 'PUMPKIN!' with each new one she found."
Kercher notes that her family has come to the orchard for apple picking and Fall Family Fun Days every year since 2012, when they first brought Owen to the orchard. "I love seeing the kids so genuinely happy while enjoying our annual family traditions; this photo is a wonderful reminder of that!"
Third Prize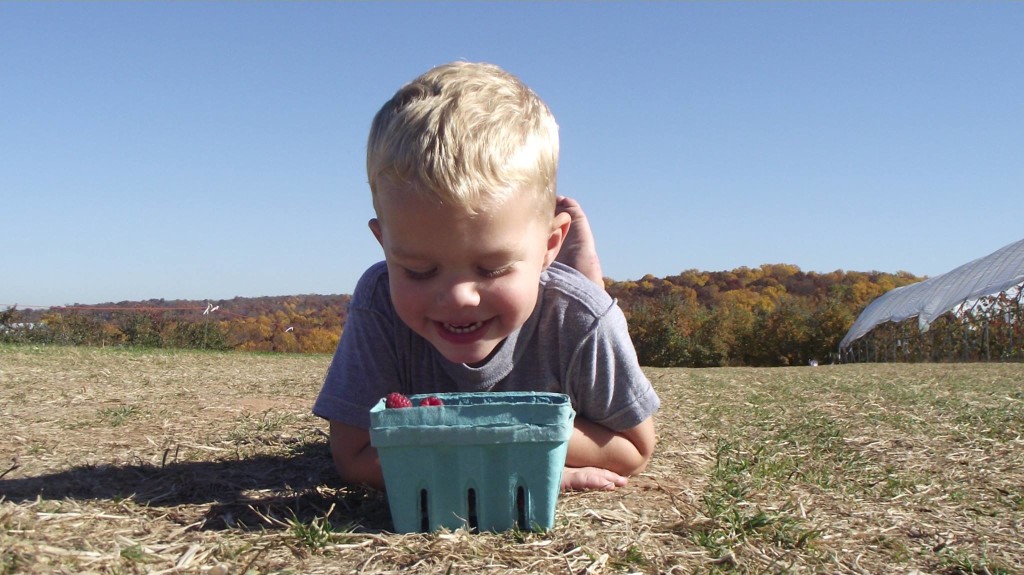 Lisa Domalski of Robesonia won third prize for her photo of her three-year-old son Jeremiah admiring his container of freshly picked red raspberries. "The orchard is a special place in our hearts," says Domalski. "We talk about going [to Weaver's] once a week. Since we live on the other side of Berks County…we limit ourselves to once a week."
Domalski confided that this well-composed photo of Jeremiah was not the whole story. Jack, Domalski's ten-month-old son, "had fallen asleep in the stroller, so just Jeremiah and I could spend some time together picking. He would walk through the rows and say, 'This one, Mama, this one, Mama, this one, Mama'…  I asked him to sit with all his berries and, a few pictures in, he was thoroughly done with it…"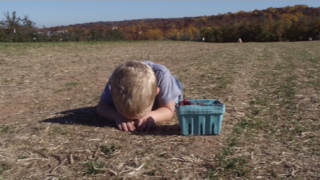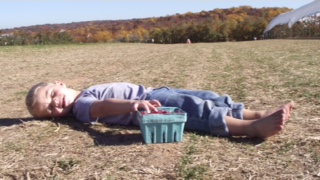 "But we did manage to get a few good ones."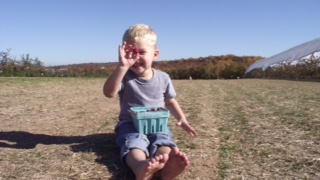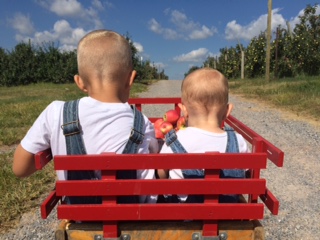 Honorable Mention
Sandy Imboden of Sinking Spring claimed honorable mention for her whimsical photo of her dog, Zena, an Australian Shepherd, sitting at a deck table and posing as if she is sipping a pint of Weaver's Orchard cider. She is surrounded by Honeycrisp apples Imboden had just picked. This was Imboden's first season picking fruit at Weaver's, and it became a routine for her as she picked pounds of blueberries, plums, cherries, peaches and apples. "I can't wait for spring to start the picking season all over again," says Imboden.
We received 33 entries in this year's contest. The contest was hosted on Facebook and all entries can be viewed at www.facebook.com/weaversorchard. We anticipate a seventh photo contest beginning summer 2016.