Spring has come to the orchard and the babies are arriving left and right!
A couple of Tuesdays ago my husband announced the raspberry and blackberry babies (he calls them plants) had arrived. Even though I was about to be picked up for my weekly Bible study, I could not contain my joy!
I grabbed my camera and rushed to the barn to take pictures of the new arrivals, only to find out that they come in boxes!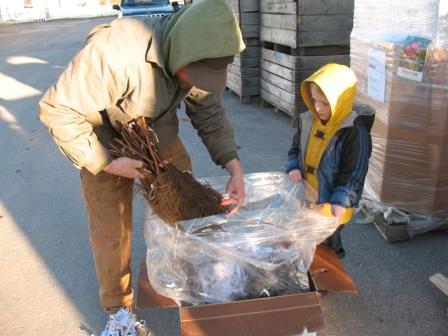 I don't know what I was expecting, but there was no way I could access those babies for a photo op with all the plastic skid-wrap around them.
Thankfully my husband came to the rescue and whipped out his pocket knife. I stood on tiptoe eager to get my first glimpse of these precious bundles of fruit…only to be greeted by a squiggly bunch of dead looking roots!?!?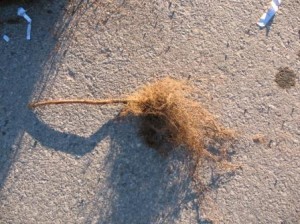 There must be some mistake!
Did they die on the trip?
"Nope, that's what they are supposed to look like."
(If you ask me, raspberries are about the ugliest bunch of babies I've ever seen!)
Thankfully that was just what the raspberries looked like.
The blackberry plants actually looked like what I had envisioned—cute little miniature versions of the real deal!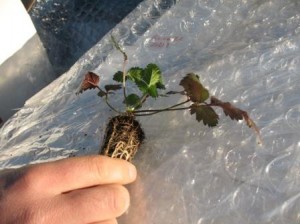 My mommy instincts crept in as I tucked my jacket around me against the chilly evening breeze and I stated that "we" –meaning my dear husband of course– should get those skids full of babies in out of the cold!
My ever patient orchard man just laughed at me and assured me that they were conditioned to actually like the chill.
Some things about Orchard living I will never understand– like leaving those precious babies out in the cold. I guess that's why he's the fruit grower and I'm not!
As I left for my study with my friend– who was not at all put off by the fact that I had to run in from the barn and made us a few minutes late—I couldn't help but worry a little about leaving our babies out in the cold.
Tonight as I was typing up this entry there was a soft knock at my door – a friend was stopping by to show us the newest additions to our orchard: baby chicks!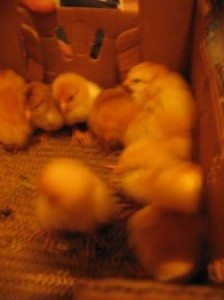 My boys were all over them!  The youngest was trying to poke their eyes out (he's only one year old) and the oldest kept touching them gingerly with one finger marveling at their soft downy feathers. Each of the boys in their own way were smitten with these cuties!
Thankfully these babies won't be sleeping out in the cold tonight! (or in my house with my one year old!) They'll be snug and warm in their own little chick chalet until they make their grand appearance this Saturday at our spring festivities!
Consider yourself invited come out and join us for the Easter Blossom Festival and springtime fun!
These babies are some you won't want to miss and I haven't even told you about the young apple trees yet…those you'll just have to see for yourself!
Mrs. E. Weaver