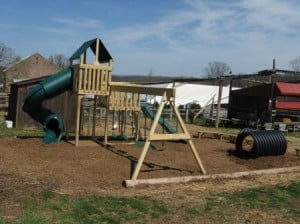 New things have been popping up around our orchard this spring!
We've recently updated our kids' play area. And it was a big deal to my boys.  The moment they saw it being unloaded from the truck– life stopped!
My three year old was convinced we had to sit in lawn chairs and watch the guys set it up!  After about five minutes of following his plan, I began to feel a bit like a hillbilly sitting in that lawn chair and wasting the day away, so I convinced him to take a break from our watching and come back later when it was finished!
Believe me – this play area has now been thoroughly tested by the Weaver boys and has been stamped with their seal of approval– bring your own kids out and see what they think!
Play areas aren't the only thing appearing around here.  My dear husband was kind enough to take these pictures of our new apple trees; to the left you can see the brand new trees and to the right you can see the holes waiting for some more trees to be plopped down inside them.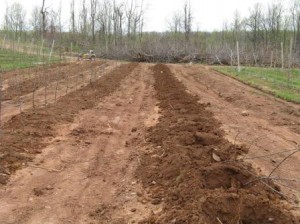 Our bees have also arrived! I have a love hate relationship with these summer guests. I love that they pollinate our flowers, and I hate that they invite themselves to all my family picnics!
I guess that's the price you have to pay for their hard work because without pollination we'd have no juicy fruit to enjoy at our picnics! So we tolerate each other,  and I'll occasionally let them get a bite of my food, but when it comes to sharing my morning coffee with them, that's where I draw the line!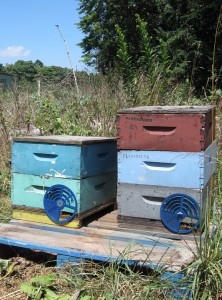 Last but not least, I just had to show you a picture of our goats– they've been going through withdrawal this winter with not having all the children to love on them and give them snacks. My boys try their best, but when you're used to having crowds of children to adore you and give you snacks, the attention of two just doesn't cut it!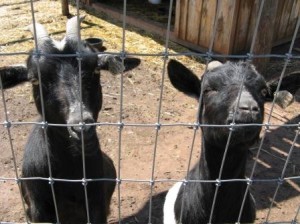 I can tell by their faces that they're just longing for your family to come by and pay them a visit and– at their request– give them a snack from the food machine! So come on out and take a peek at all that's happening around here this spring.  We'd love to have you stop by!