Welcome 2018! It's been a while since I've sat down to catch you, our dear readers, up to speed on life on the farm. This New Year has brought with it bustling activity on the orchard and in our personal lives as well. Recently the fluctuating weather has caused us to keep a nervous eye on the temperatures, and while not devastating as of yet, we'd rather see these temps drop to a more normal seasonal range—sooner rather than later—if I have any say in the matter!
The day before this 75 degree Bahama wave of weather decided to pay us a visit at our orchard, my family snuck in some snowy day fun. (That's what Pennsylvania weather is—whiplash weather—it can change so drastically in less than 24 hours). My hubby likes to say, "Welcome to Pennsylvania, if you don't like the weather just hang out a couple of days and it will change." That change has never ceased to captivate me, it feels like even though we live on the same farm, I never know what sight to expect when I step out my door.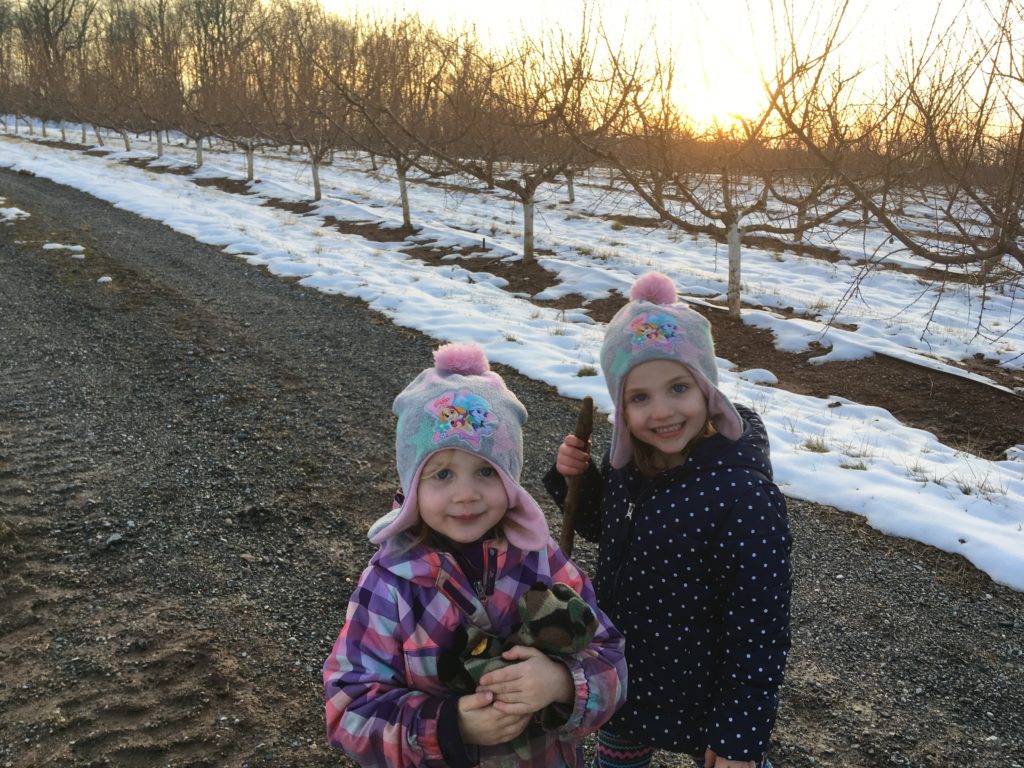 Our recent snowy day adventure began, with our always-romantic five year old daughter requesting that we take a blanket out in the snow to watch the sunset. As her totally responsible and practical parents, we convinced her to go for "a walk into the sunset with boots instead." It was the evening after a six inch snowfall, the air was frigid and I would have rather curled up indoors with my alpaca blanket, steaming coffee, and a good book. However, I was thankful for my daughter's imagination and that she talked us into this adventure. Sure I've walked that lane so many times– but never at sunset in the snow).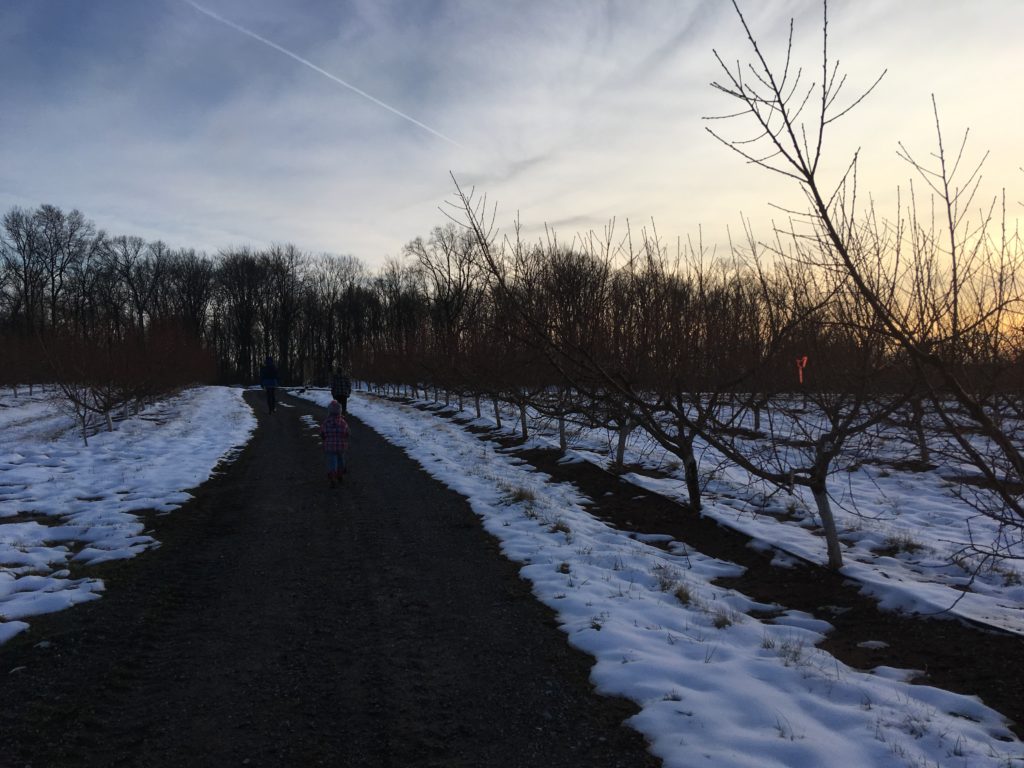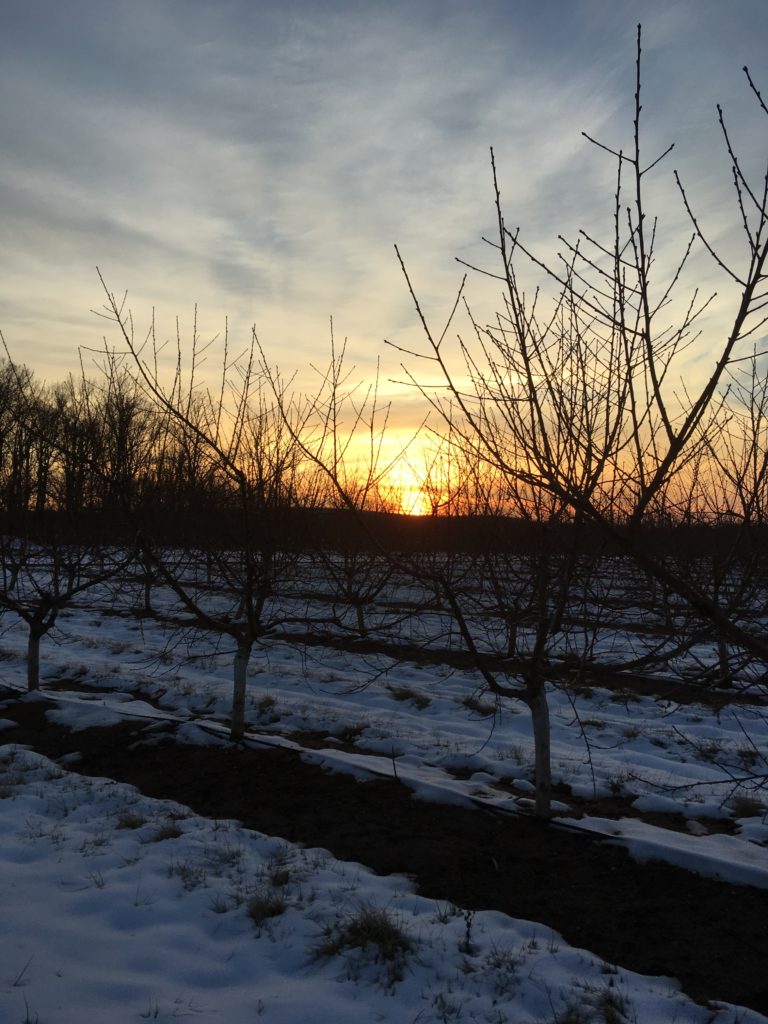 The scenery was mesmerizing. We walked by the budding peaches and pear trees. The trees, though they appear dead, begin forming the flower buds in the fall and they are busily working all winter to produce the glorious spring blossoms.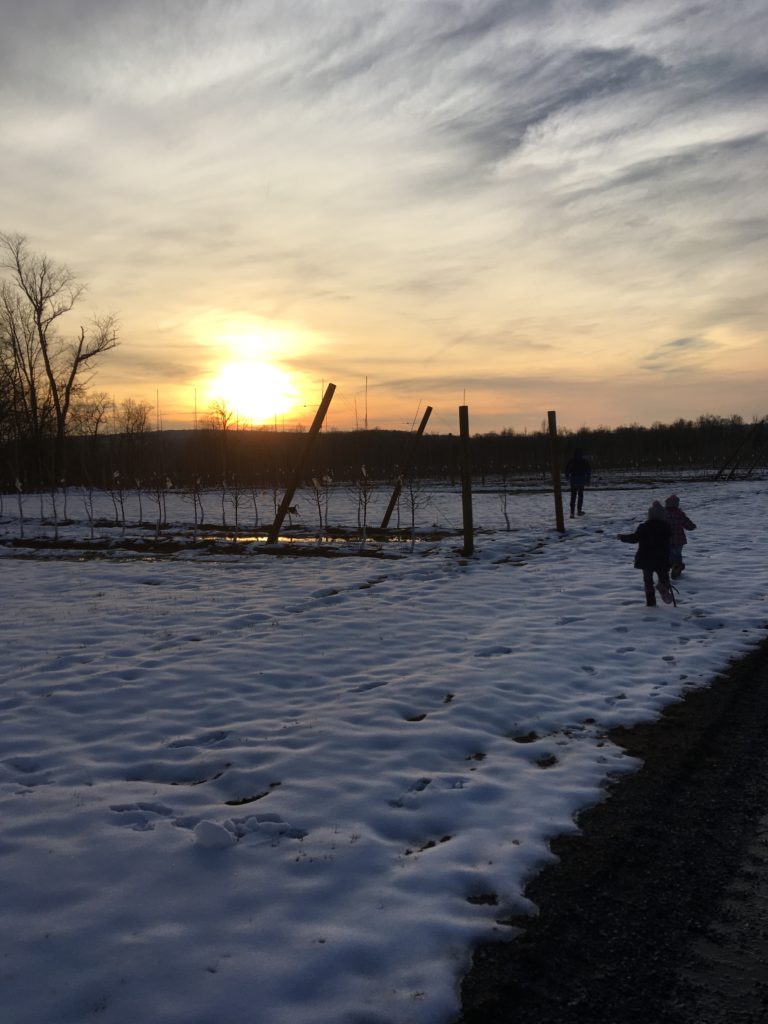 Our puppy Ruby, the newest addition to our farm, had the time of her life running in between the rows of trees with wild children chasing her for a fun game of tag.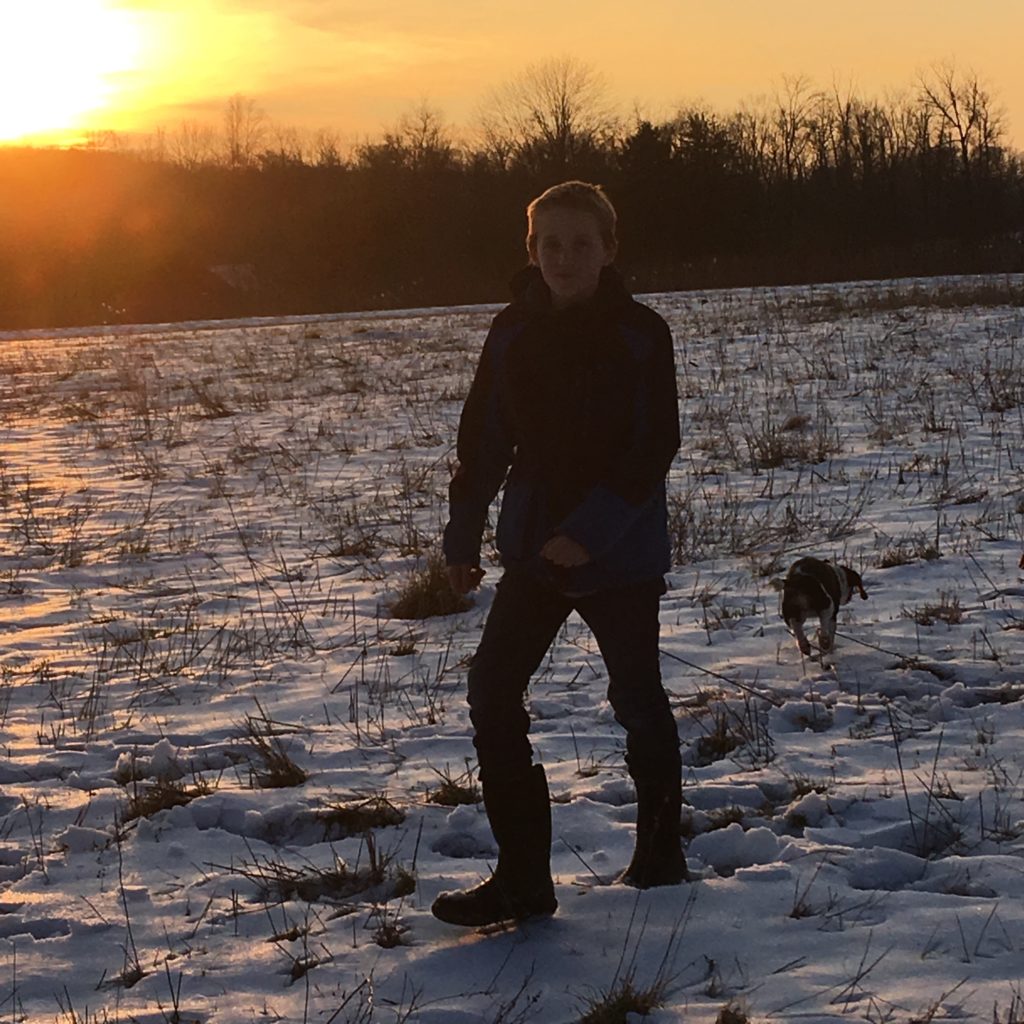 Amazingly our puppy prefers the snow to the warm sunny days. We just loved watching her playful antics. The world was glistening and you could almost imagine yourself inside a magical snow globe.
To think, I almost missed this because I was concerned about staying warm!
We were also surprised on our walk by meeting up with Grandpa Ed Weaver, who started an impromptu snowball battle with the kids.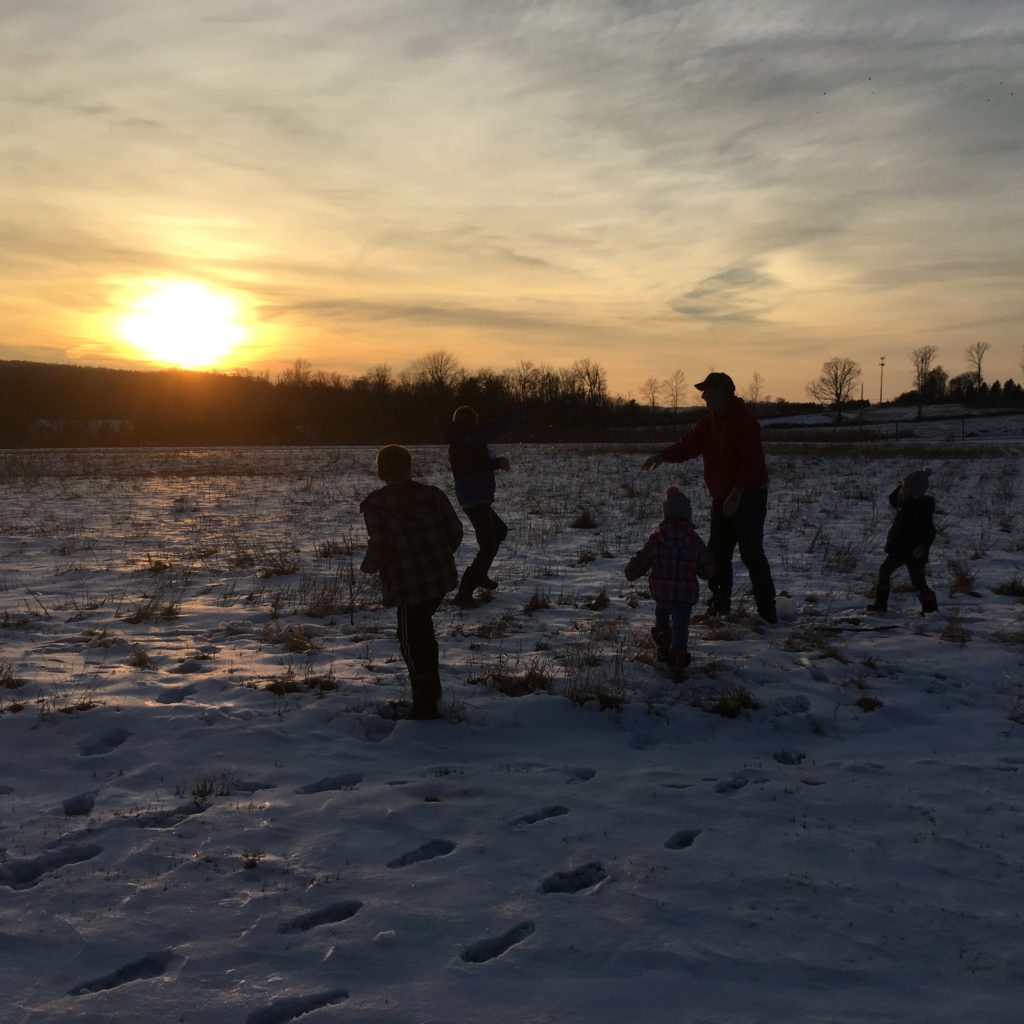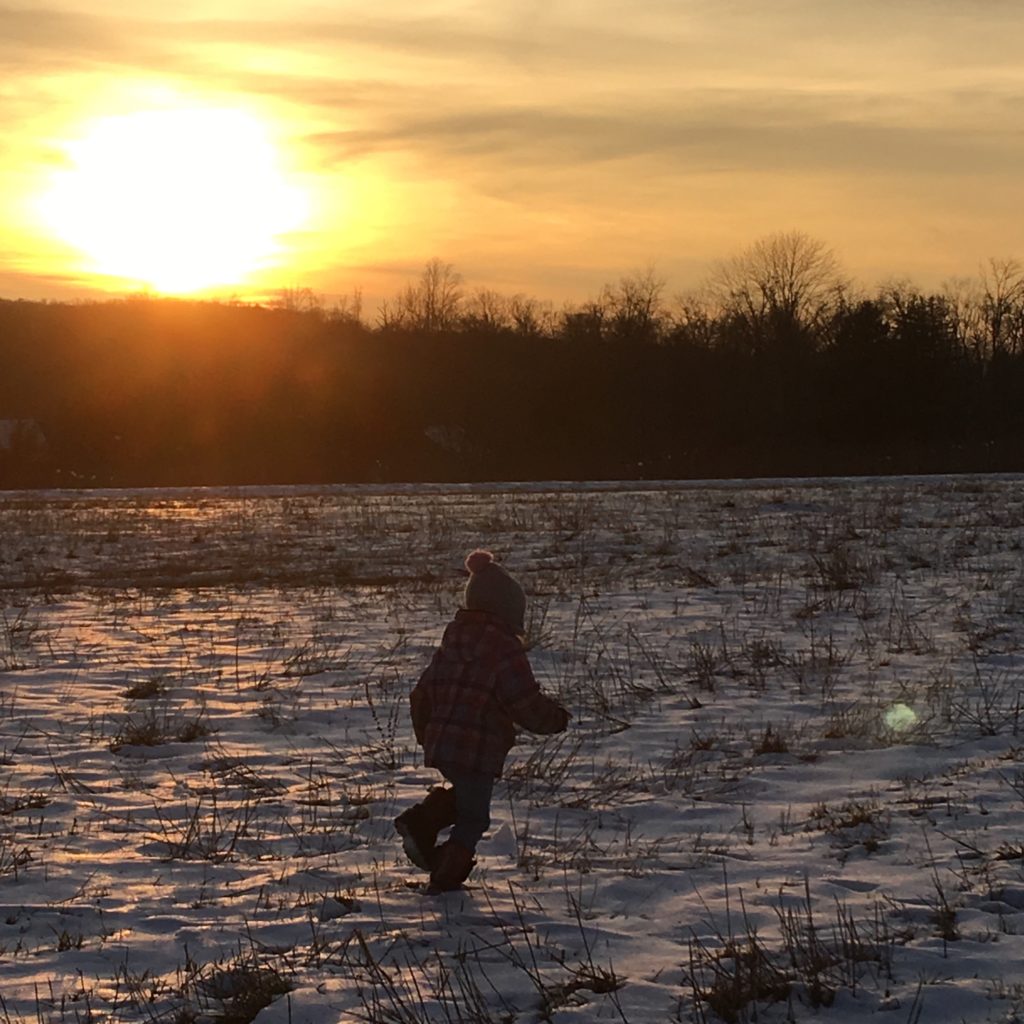 I am oh, so grateful for the privilege of living near family and seeing my children loved so well. He obligingly carried a miniature snowball home for Grandma that was specially handcrafted by our three-year-old snowball designer. I'm told it made the trip home.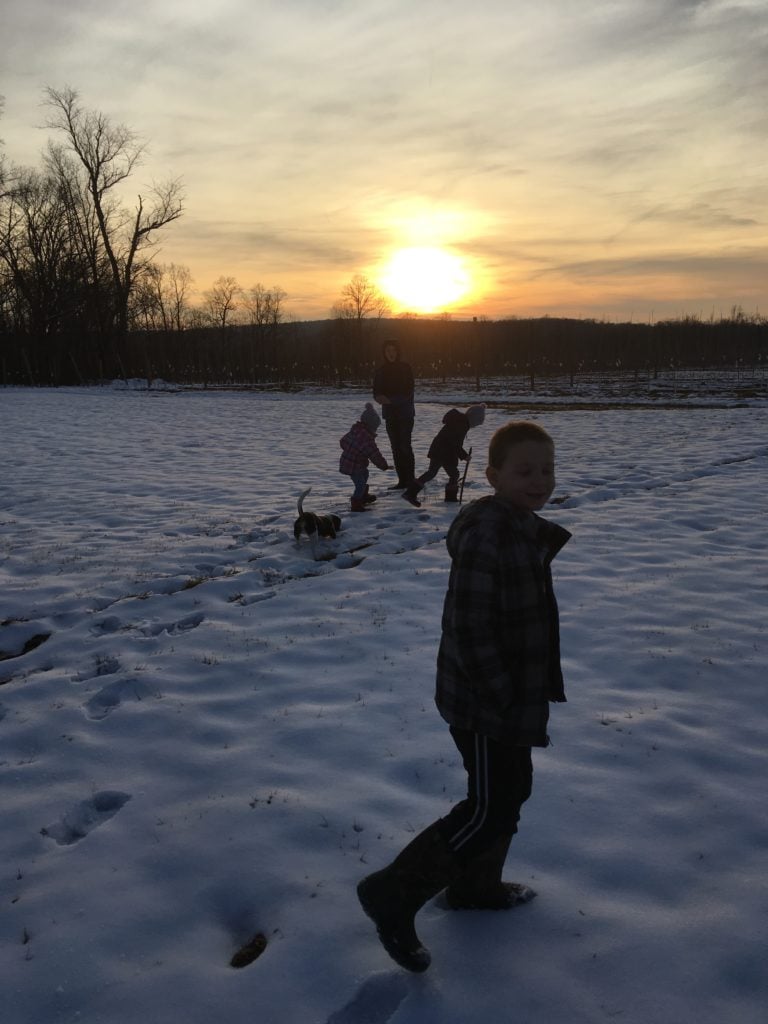 Our days can be so busy it's easy to neglect time outdoors with our children. So many adventures are missed and sacrificed to comfort. Don't let these special moments with your loved ones pass you by. I encourage you to make the effort, dress for the weather and go watch a snowy sunset or jump in some mud puddles.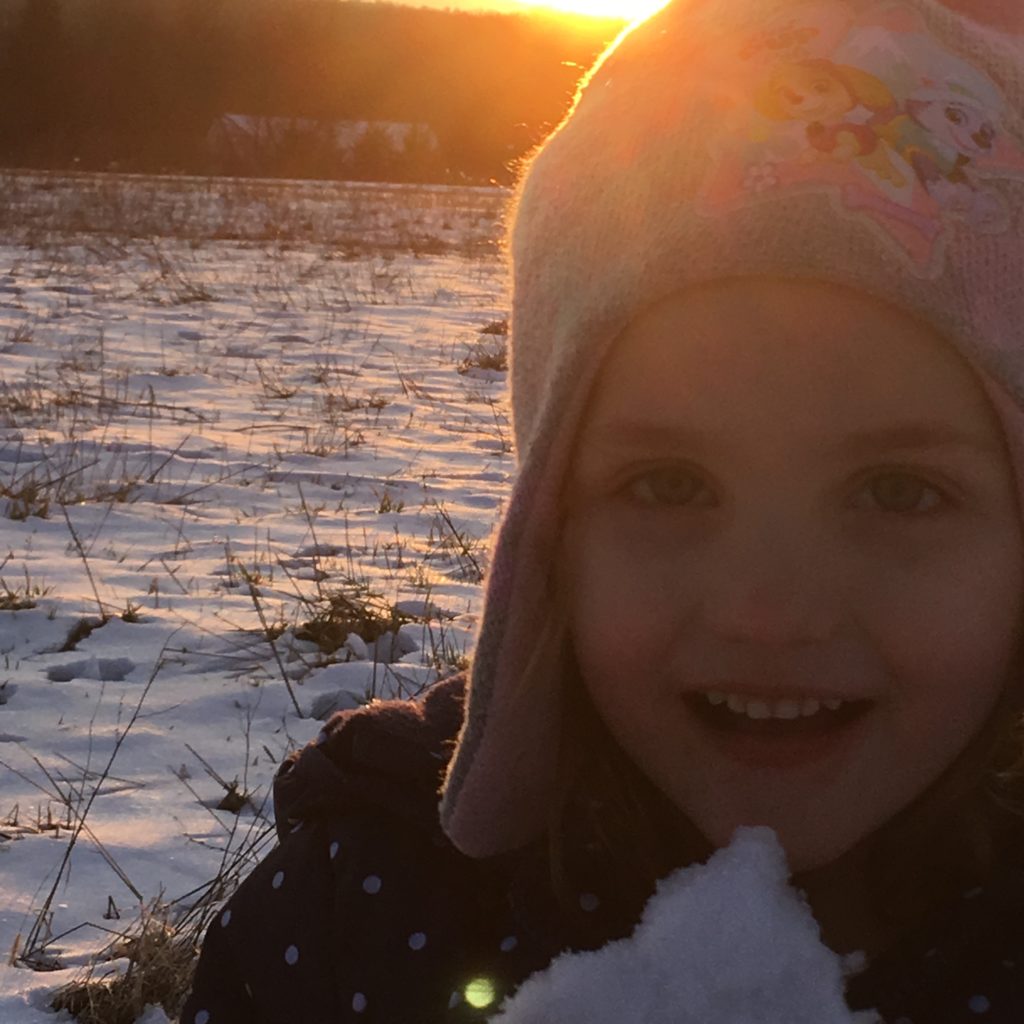 We are so excited to kick off our outdoor season here at the orchard and offer you and your family some great outdoor adventures, beginning with our Easter egg hunts on March 30 and 31. Also our talented staff are gearing up for some "new and exciting" educational and story time programs for children this summer. Stay tuned–we'll be releasing some more information soon.
We hope to see you on the farm soon!
SaveSave
SaveSave