As of early November 2018, quince is available in our market!
The arrival of quince fruit here in the orchard can easily be missed in the frenzy of the fall season with things like school tours, festivals and apples galore to easily distract you. But not unlike the beautiful view of the Berks county hills above the orchard on a crisp fall morning, for those who are aware of the little things, quince is a treasure not to be missed.
I'm in my fourth year here at the orchard, so I've seen quince season come and go a few times. This year however, a lone half bushel of quince was left sitting on the store deck outside my office and each time I walked past them, I was greeted with the most enticing aroma. It can only be described as a sweet citrusy smell with a hint of floral.
I resolved that this would be the year that I got to know them a little better. Since desserts are an intentional rarity in our home, I didn't want to get everyone in our household overly excited about the fact that mom was, in fact, baking something sweet only to have them be disappointed that it not only wasn't chocolate, but it also was some unusual fruity thing that no one liked.
Last evening, we had family over and when my stepmom kindly offered to bring an apple crisp (hers is the best!), I knew it would also be a good time to slip in a quince dessert just in case it didn't turn out to be a hit.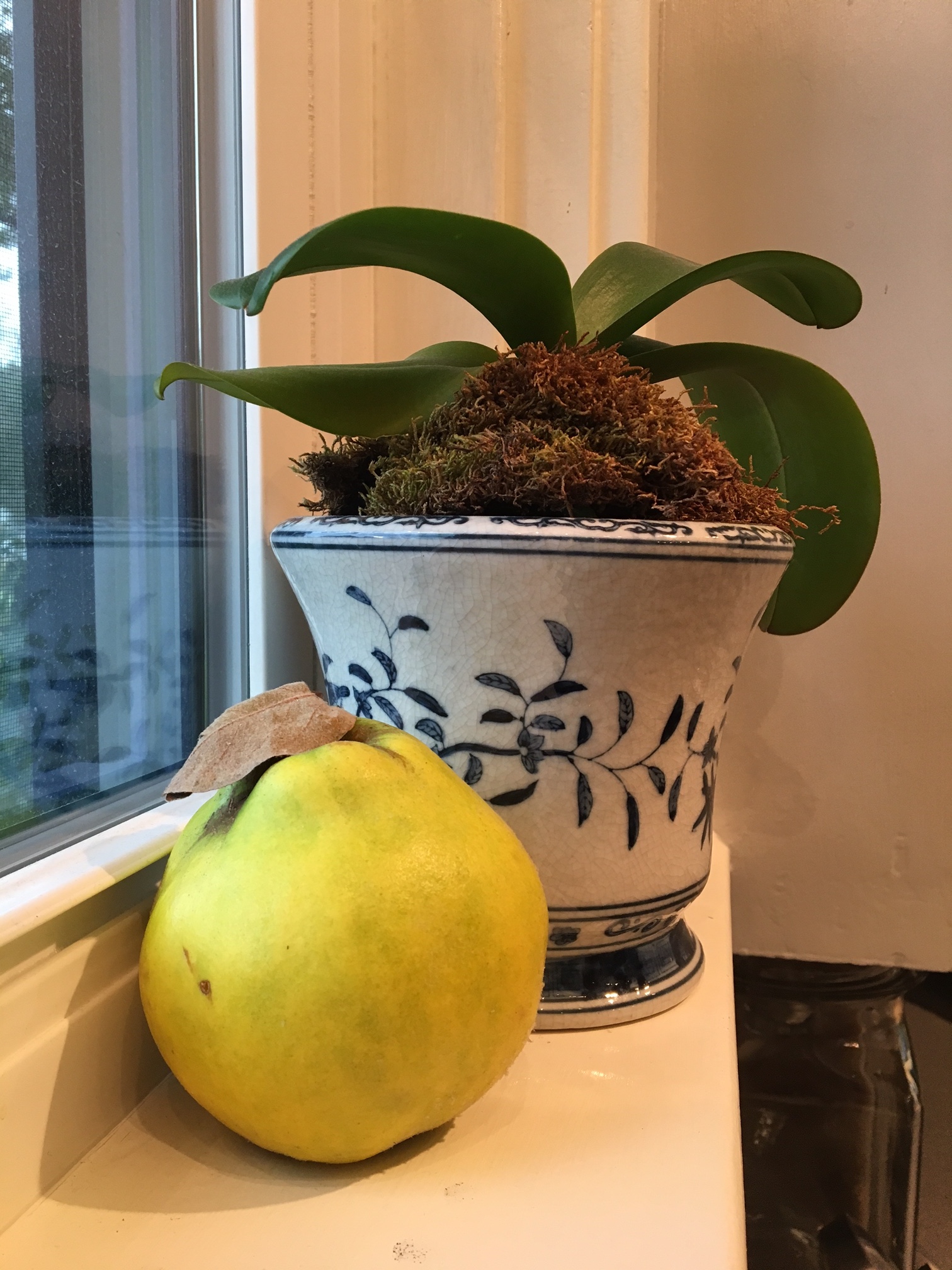 The first lesson I learned about quinces, came as I stumbled downstairs into my kitchen the morning after bringing them home from work. That lesson? Quinces will fill your whole kitchen with a lovely smell that greets you each time you come near. If you purchase quinces for no other reason, do treat yourself to just leaving one to sit on your kitchen windowsill!
As a Swiss-German girl, I had NO idea what to do with the three delicious smelling quinces, whose origins were solidly from the Mediterranean region of the world, sitting on my kitchen counter.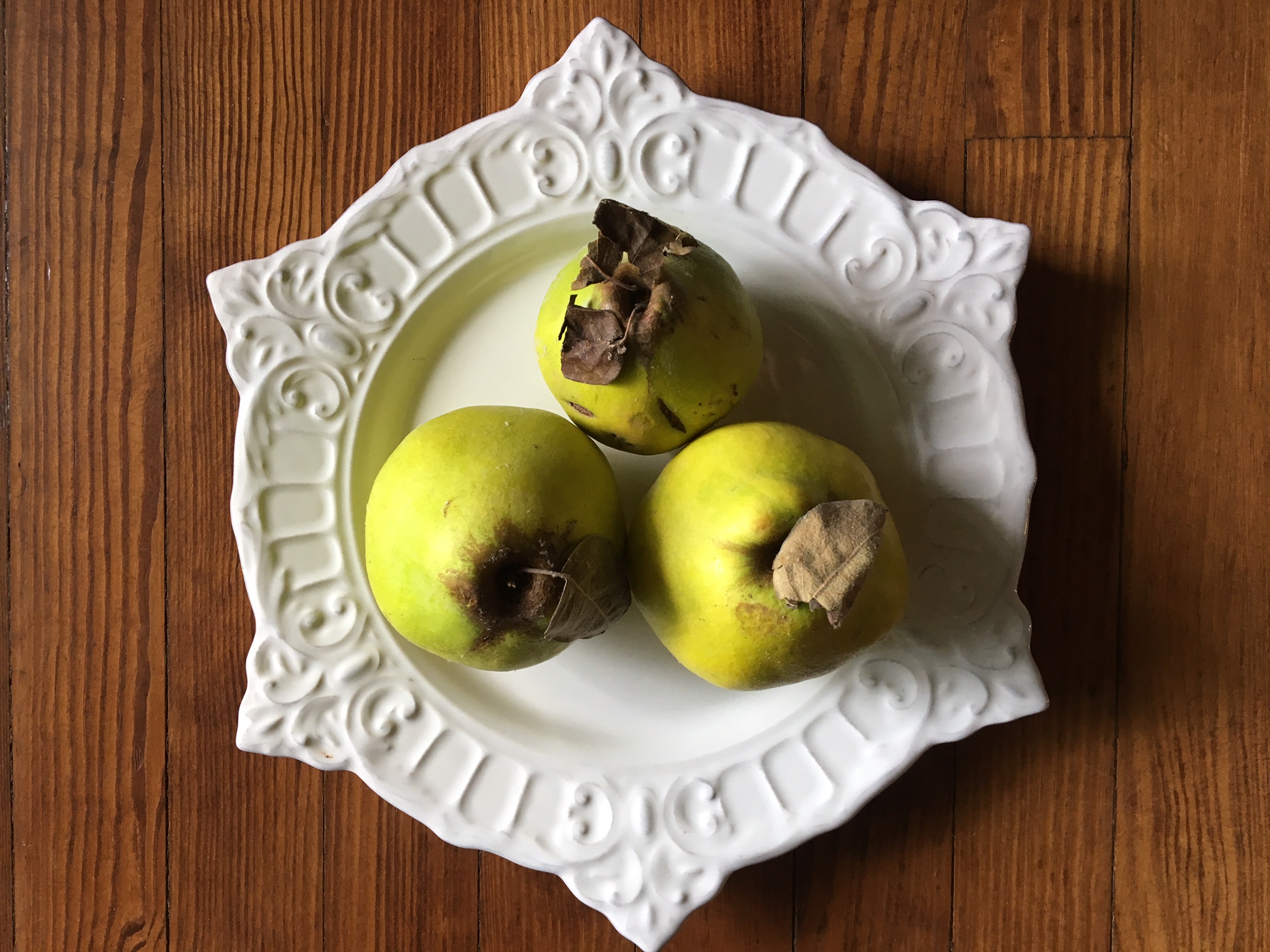 As any responsible cook in this day and age would do, I headed to the internet to learn all I could. There is not a lack of information on them. Undoubtedly the most popular thing to make with them is a jelly or jam.
I decided to make a Quince Galette.
Wanting to truly taste the quince, I opted against adding many spices and, being completely uninformed about how to cook quince, making a simple galette seemed like a relatively foolproof and forgiving method.  In perusing the internet, a few common threads emerged.
The first one is that everyone mentions how quince aren't very palatable when they are raw. Chris, our produce manager, had warned me of the same. Like a young child taking their first whiff of vanilla and thinking it just MUST taste as delicious as it smells, I nibbled at a small slice of raw quince.  My vote is cast along with the majority of others – they aren't very appealing as a raw fruit.  You will probably want to test this out as well though, just to make an educated decision for yourself.
I prepared the quince by peeling, coring and cutting them into slices.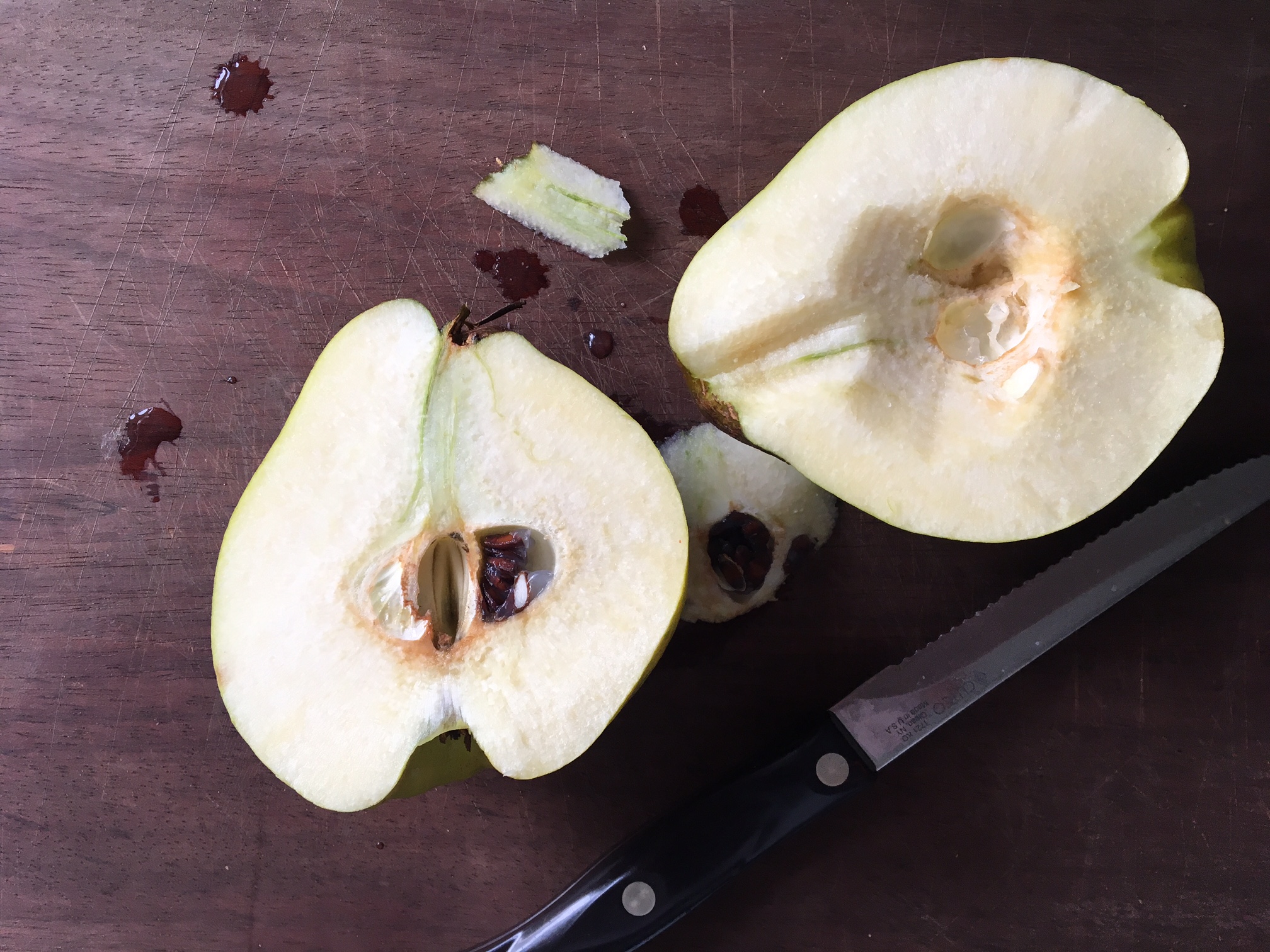 Their texture and density are similar to an unripe pear. They are also quick to turn brown, so put them immediately into a pan of water.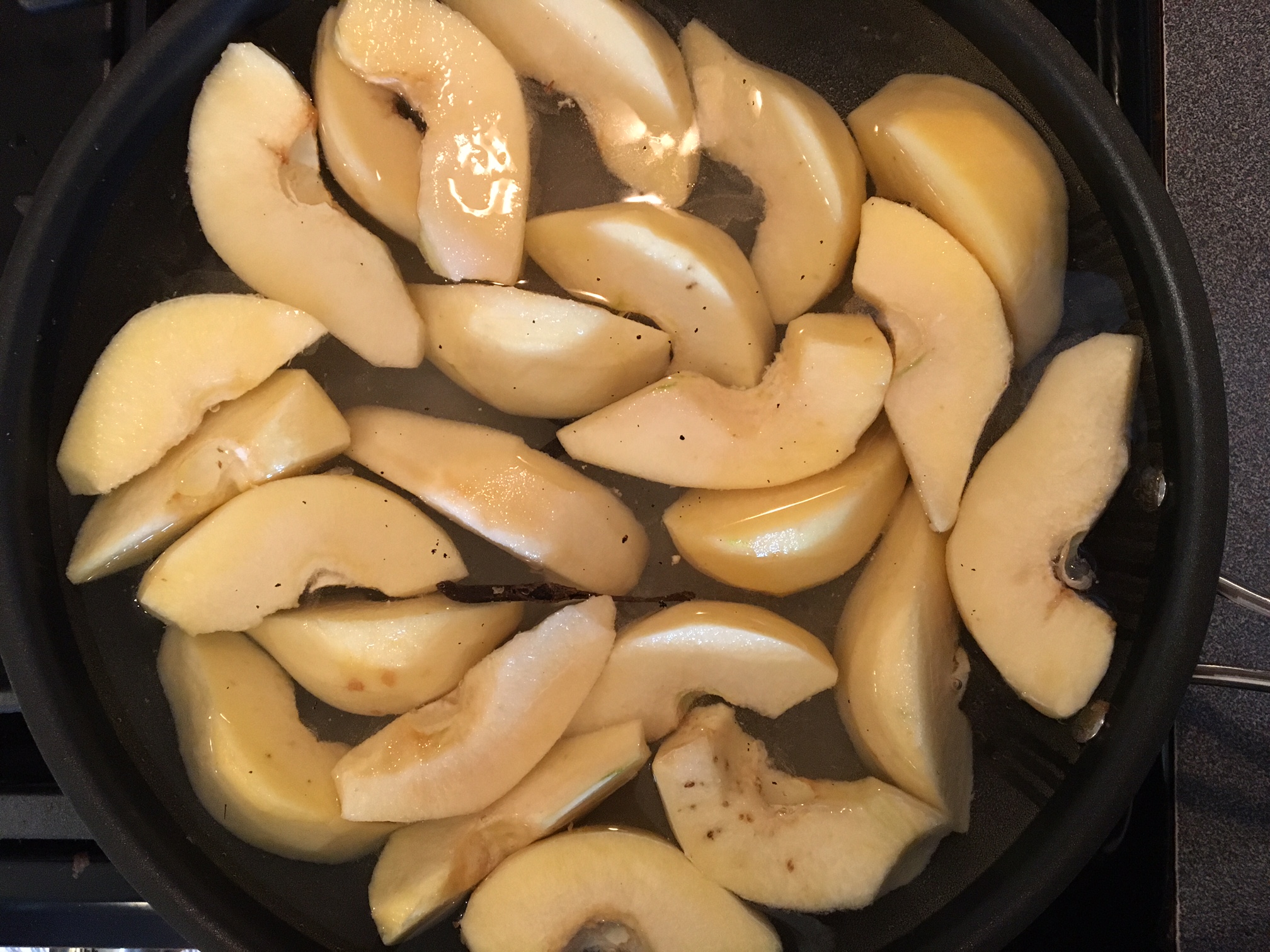 I halved and scraped half of a vanilla bean into the pan of water along with some sugar.
All my reading left me under the assumption that quince needed to simmer for over an hour before they would begin to soften. However, a mere five minutes after they came to a simmer, my daughter happened to walk past and said something to the effect of, "wow, are they supposed to grow that fast?" Panic struck and I quickly pulled them off the heat.
I'm not sure if the variety of quinces you use has something to do with the amount of cooking time needed, but be very alert when cooking yours as mine softened in almost no time! I drained off the sugar-water and separated the ones that were overly mushy, allowing them all to cool.
Curiosity once again got the best of me and I nibbled at the mushy ones.  They were delicious – a soft citrusy pear/green apple flavor with soft floral notes that almost seemed as if I had added honey to them when in fact I hadn't. After having a few more nibbles I gave the plate to my daughter to try.   She finished them off in no time!
The remaining slices were layered on a simple galette dough and drizzled with maple syrup.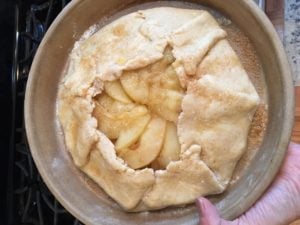 After baking, the galette is best served warm with whipped cream or vanilla ice cream. My guests all enjoyed sampling this unique fruit and my leftovers found their way in to work with me the next morning where our curious staff also agreed that quince, while unlike anything they had ever tasted, almost seemed familiar with its creative blend of fruity and floral.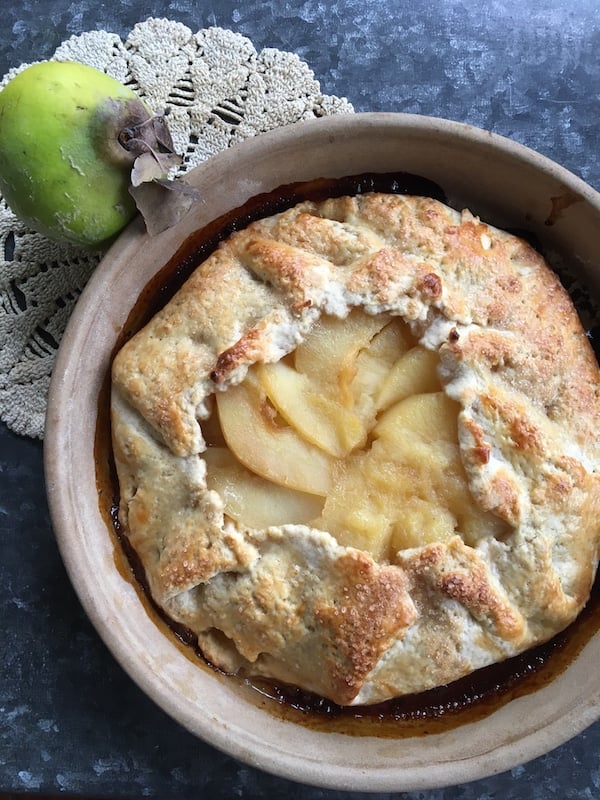 Print
Simple Quince Galette
Author:
Prep Time:

15 mins

Cook Time:

25 mins

Total Time:

40 mins
To make Galette Crust:
1¼ cups

flour

¼ cup

cornmeal

¼ cup

white sugar

¼ teaspoon

salt

½ cup

cold butter

¼ cup

buttermilk

¼ tsp

. maple flavoring
To cook quince:

3

large quinces, peeled, cored and sliced

1 cup

white sugar

4 ½ cups

water

½

vanilla bean, halved and scraped
Instructions
Mix dry ingredients. Using a pastry blender, cut in butter until pea-sized crumbs. Mix in buttermilk and flavoring until combined. Chill for at least a half hour. Remove from the refrigerator and roll into a circle on a lightly floured surface
Bring quince ingredients to a simmer on low heat and cook just long enough to soften. Pour off water and cool.
Layer quince on top of the galette circle. Drizzle with a 1/3 c. maple syrup and fold edges over. Brush with an egg wash (1 egg whisked with 1 T. of milk). Bake at 375 for 25-30 minutes or until golden.