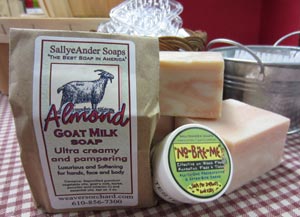 One harsh reality about country living I've discovered is– bugs! Pesky, nasty, ugly bugs! Whether it be black flies that sticking to my sweat on a hot summer day or blood thirsty mosquitoes and ticks feasting on my boys' tender skin—I hate them!
Our family's two favorite SallyeAnder products– Goat's Milk Soap and the No-Bite-Me products
Last year after tons of frustration with pulling ticks off my adventuresome boys and soothing itchy mosquito bites– I've finally discovered something that actually works at keeping those pesky critters away from my legs and off of my kids! I'll admit I was skeptical when Dwayne, our market manager introduced me to SallyeAnder Soaps which he started selling in our farm market last year. He encouraged me to give the "No-Bite-Me" soap a try.
I figured it wouldn't hurt to try it. I started using it on my boys for their nightly bath and was amazed to find that the ticks stopped biting them. I was still skeptical and I thought that we had just gotten past "tick season," until one evening while we were enjoying a quiet summer evening on our front porch. (The term "quiet" is relative when you have two little blonde haired boys running around spraying each other with the garden hose in the yard). As I sat chatting with my hubby these nasty black flies kept landing on our legs and chomping down. I was so irritated and wanted to go inside, but my husband wanted to try out "Dwayne's soap" to see if it would actually work.
So being the analytical person that he is, he went inside and washed one leg with SallyeAnder's No-Bite-Me soap and left the other one as is. The results were hilarious to watch– he continued to get bitten on the leg that wasn't washed but the leg he had washed in the soap was left alone. Needless to say we both skedaddled inside and put it on our legs! (We also became a fan of their No-Bite-Me cream during the two outdoor family weddings we had last summer—just put a little bit behind your ears and it keeps pesky knats from flying up your nose!)
As I read more about the company on their website I became more impressed with their philosophy. You can read more about their story here: http://sallyeander.com/about-us.aspx. The thing I love about them the most is that all their soaps are made from all natural edible ingredients—this comes in handy with a two year old in the house who likes to taste everything! We also love it since we like to camp and go for hikes—I know I can safely use their soaps outdoors without hurting the environment.
SallyeAnder has become a staple at our house—my boys beg me to wash them in the "goat soap" (Almond Goat Milk Soap) they love the smell of it.(The fact that there was a picture of a goat on the bag it came in—sealed the deal as well!)
This soap is a truly handy product that my family loves to use but don't just take my word for it check some out yourself at our farm market— I think you'll be as impressed as we are! Wishing you and your family a clean bug free summer!