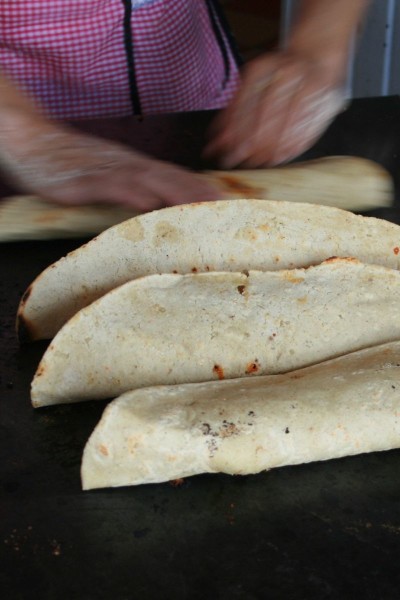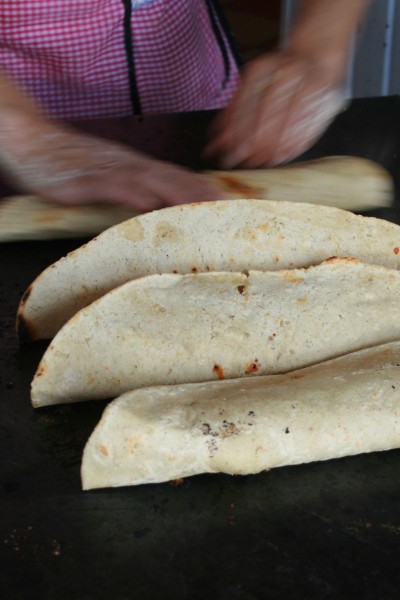 Quesadilla Perfection
Cheese. Queso. Fromage. Formaggio. Kase. Coztlatetzauhtli. Whatever you call it, it's delicious. Now, I realize not everyone loves cheese as much as I do, but I'm sure you know at least one person who will reap the benefits of this post.
My family has been looking forward to the fresh, handmade corn tortillas they gain from my visits (perhaps as much as they enjoy seeing me!). True Mexican food is a favorite for all of them, and I often try to replicate the delicious flavor for them on my visits (when I'm not stuffing my mouth with juicy fruit, that is). I would also like to share with you some of the delicious central Mexican cuisine that I have been learning while living here in Puebla. Some dishes are truly scrumptious, but difficult to make in Pennsylvania, due to hard-to-find ingredients or kitchen tools. Thus, we are starting with a simple dish, with an endless possibility of variations – the quesadilla!
First of all, we need to establish what a quesadilla is. Let's start with the obvious: "quesadilla" is derived from the Spanish word "queso", meaning cheese. Quesadillas originated in Mexico, where they are still widely popular; however, they are also enjoyed in many other parts of the world, including the United States.
Secondly – what exactly goes into making a quesadilla? Here is where there are many variations. In many parts of Mexico, including Puebla, a corn tortilla is preferred. In northern Mexico and the United States a flour tortilla is usually used. Take your pick!
As far as the filling, you must have cheese, of course. What type? In Puebla, the most commonly used cheese is "quesillo", a string-like cheese, also known as "queso Oaxaca", which is how it is normally labeled in the United States.  However, my favorite is a cheese made in the town where my mother-in-law is from. It is a stronger flavor cheese in block form. Basically, as long as it melts, it's good for quesadillas.
Is a true quesadilla just a tortilla and cheese? Only if you're a really picky eater. Some of the favorite fillings in Puebla are flor de calabaza (the flower of squash), bistec (thinly sliced steak), chorizo (spicy sausage), or, some of my least favorite, chicharron (fried pork rind) and huitlacoche (corn smut). Or there is the "sincronizada", a simple ham and cheese quesadilla.
I prefer not to be limited in my fillings, though. Why not stuff it full of some delicious meat or poultry and healthy, summer-fresh vegetables? Try this on for size: sizzling, grilled Lone Star Farm steak, grilled onion, green peppers, and zucchini (or your favorite vegetable) from the fresh produce, and some thick slices of your favorite cheese from the orchard deli. Getting the idea?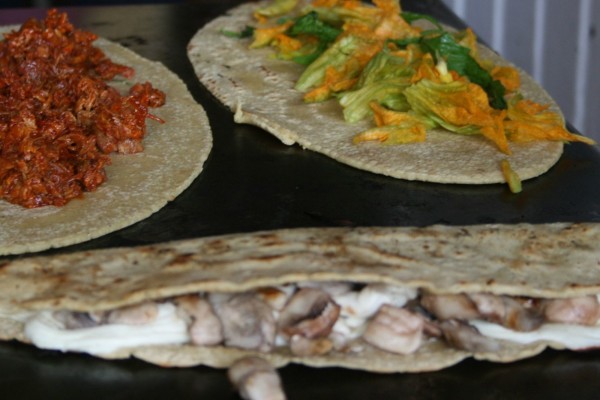 Although a quesadilla can be modified to your tastes, I have noticed a few things about the art of making quesadillas in Mexico that should not be ignored.
Make your quesadilla on a cast iron griddle or skillet. Both the flavor and texture are superior.
Always heat both sides of the tortilla before adding the filling, beginning with the "inside" of the tortilla, which has a thinner "skin". Once the inside is warm, flip it over to the outside, put in your filling, fold and then grill until the cheese is melted. (Make sure you have your heat on medium and that the quesadilla is flipped several times to create a nice crispy, browned tortilla, rather than a charred black piece of cardboard.)
Freshly made tortillas are always best! (This is actually very easy; perhaps I will share this art in another post.)
Use a fresh green or red salsa, Mexican style. (This is not the typical "pico de gallo", or fresh salsa, as it is often called.)
In closing, I would like to share with you one of the easiest Mexican salsa recipes I have learned. (Many salsas involve first scorching the skin of the pepper and peeling it before adding it the recipe, but this green salsa is raw, quick, and easy!)  Make your quesadilla, and while it is piping hot, open it up and slap on some of this salsa!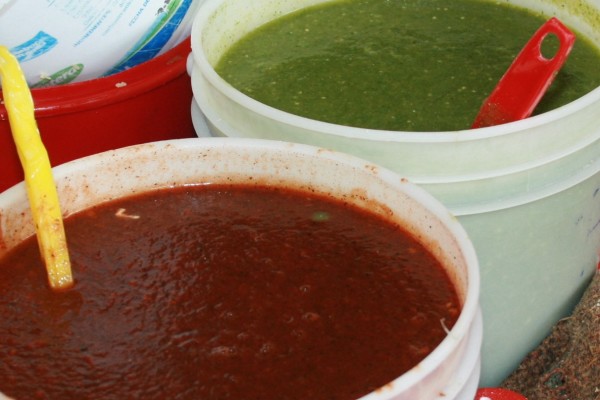 Print
Salsa Verde Cruda
1

pound of tomatillos, peeled and washed* (found in most supermarkets)

½

of a white onion (available year round at Weaver's)

1

garlic clove, peeled (Weaver's)

3

to

4

stems of cilantro, depending on your taste (ditto)

1

chile jalapeño or 2 chiles Serrano (Start with less, taste, THEN add more if you like it spicier. If you like it really spicy, leave in the seeds and membrane. Otherwise, always remove. You will be able to add more chile peppers and have a stronger flavor without as much fire!)
Sea salt to taste
Finely chopped avocado (optional)
Instructions
Wash all ingredients and place them in the blender or food processor.
Blend to a puree (depending on the strength of your blender, you may need to add a bit of water. Go slowly – you don't want a runny salsa), pour in bowl, add avocado, and serve.
When choosing tomatillos, pick those that are firm and have not shrunken away from their peel. When peeled, they have a sticky residue. Wash it off with a light dish soap to remove some of the acidity.
Most quesadillas in a Mexican restaurant are served with guacamole, sour cream, and "pico de gallo" salsa. This style is great. But I challenge you to try quesadillas Puebla-style sometime with this fresh salsa verde!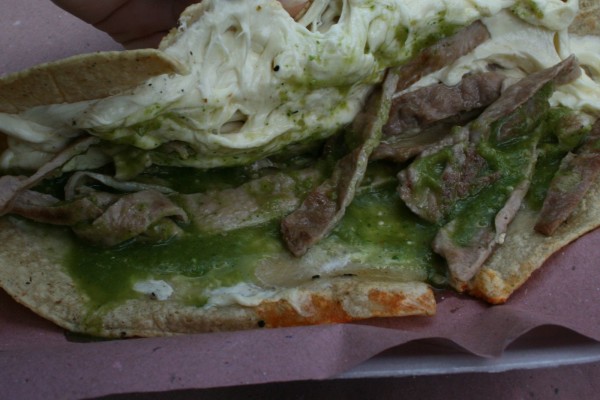 Side note: If you enjoy Mexican cuisine and have a favorite dish that you would like to learn how to make, please write and let me know! If I (or my mother-in-law) know how to make it, I would love to share the recipe with you!