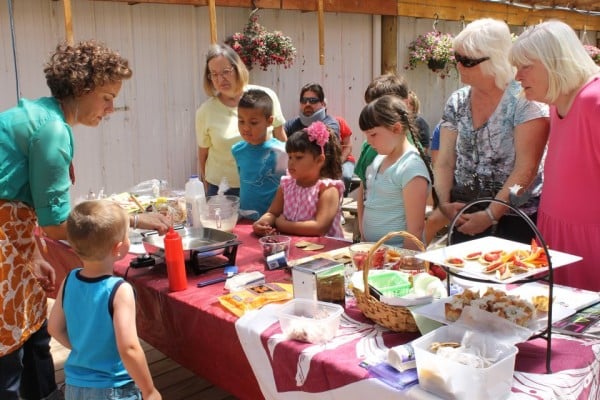 By Sara Miller and Jessica McCray
There are some people in life that tend to be the inventive type!  Those of us who are not so creative, can truly learn a thing or two from these crafty minds. Phoebe Canakis from Phoebe's Pure Foods is one of those skillful cooks we can glean from this upcoming Wednesday at her cooking class at 11a.m. on Making Pies in Mason Jars.
Phoebe's demonstration this Wednesday will take you through the careful process of putting pie crusts, filling and topping together in a jar. Once you learn how to make pies in this style you can prepare them, freeze them, and then pop them right in the oven for a homemade pie at the drop of a hat. This method is great for last minute guests, to take to a friend, or to keep on hand for your own private stash.
We got to chat with Phoebe to learn a bit more about the stories behind her delicious and healthy food, so we hope you enjoy hearing from her too!
When did your love for the culinary arts begin?
My earliest inspiration came from the parties my Aunt Margie would create.  She could give Martha Stewart a tip or two! She made food and the company that gathered around to enjoy it a glamorous occasion.  She still does!
Growing up we only ate "real" unprocessed foods because that is what worked for the family's budget. My father, with his Greek roots, only ate field to fork food and both of my parents are amazing cooks.  My dad has the creative Greek thing going on and my mom taught me how to whip up a feast from what could be shopped off our pantry shelf.
When did you begin to move in an organic, local direction for your creations?
I don't think it was a "move" to organic but when one learns about the journey of food from farm to plate you begin to respect the process and the many hands that make it all possible.  Organic, pesticide-free, local and whole foods are what is important to me.
Could you tell us about how Phoebe's Pure Foods began?
I began by baking things here and there and I sold vegan items at local events. Then I started my lunch delivery business with memories of how hard it was to eat well or at all when I worked 50+ hours a week in the office. However, as much savory work that I have done, I still love to bake… that stubborn sweet tooth of mine.
Where do you envision or hope to see your business become in the next 5-10 years?
Reaching more hungry mouths! I created an online pantry of curated, locally made small batch foods celebrating the best of Southeastern PA.  The Phoebe's Pure Food Magazine is a digital publication sharing the stories, DIY, and recipes of Southeastern PA.
What do you like about using local, farm fresh? What are your favorite items to pick up at Weaver's?
I like to support local farmers and their staff which helps keep money moving locally. Also, I like to make that human connection. Food is nutritionally dense when you eat it close to harvest rather than weeks after a trip on a boat and/or truck.  What's better than a freshly picked, fuzzy peach that dribbles sweet juice down your chin and hand with that first bite?! My favorite items to pick up at Weaver's are blueberries, cherries and peaches, local honey, zinnias, and goat cheese.
If you would like to learn more about Phoebe's Pure Foods check out the links below!
www.phoebespurefood.com
– Phoebe's Pure Food Pantry : curated locally made, small batch foods that celebrate the best of savory & sweet In SE PA
– Cooking classes & pure food soirées (tastier way of saying potluck) Info on website.
–  Customized & gorgeous food presentation for intimate events.  Email at nosh@phoebespurefood.com for a private consultation.
www.Phoebespurefoodmagazinc.com