Having grown up in the city until age nine, then living mostly in urban settings except for the last seven years, I am so thankful my kids can experience a taste of country living. I remember when my family first moved into a subdivision in Lancaster county; I was absolutely petrified of squirrels and the deer that randomly visited our back yard. I did not understand the joys of hiking until I married my husband. Now the outdoors is something I have begun to crave. Quiet walks through the orchard, sitting in the woods watching a woodpecker hacking away at a tree: these simple pleasures are so calming to the soul in the fast paced world we live in.
My husband and I seek to provide our kids with as much outdoor time as we can possibly squeeze into our frantic schedule. We were inspired by articles about European kindergartens and seek to follow suit and also teach our kids how to build campfires, use knifes, fishing poles, and to clean and prepare their catches for eating (in age-appropriate manners, of course).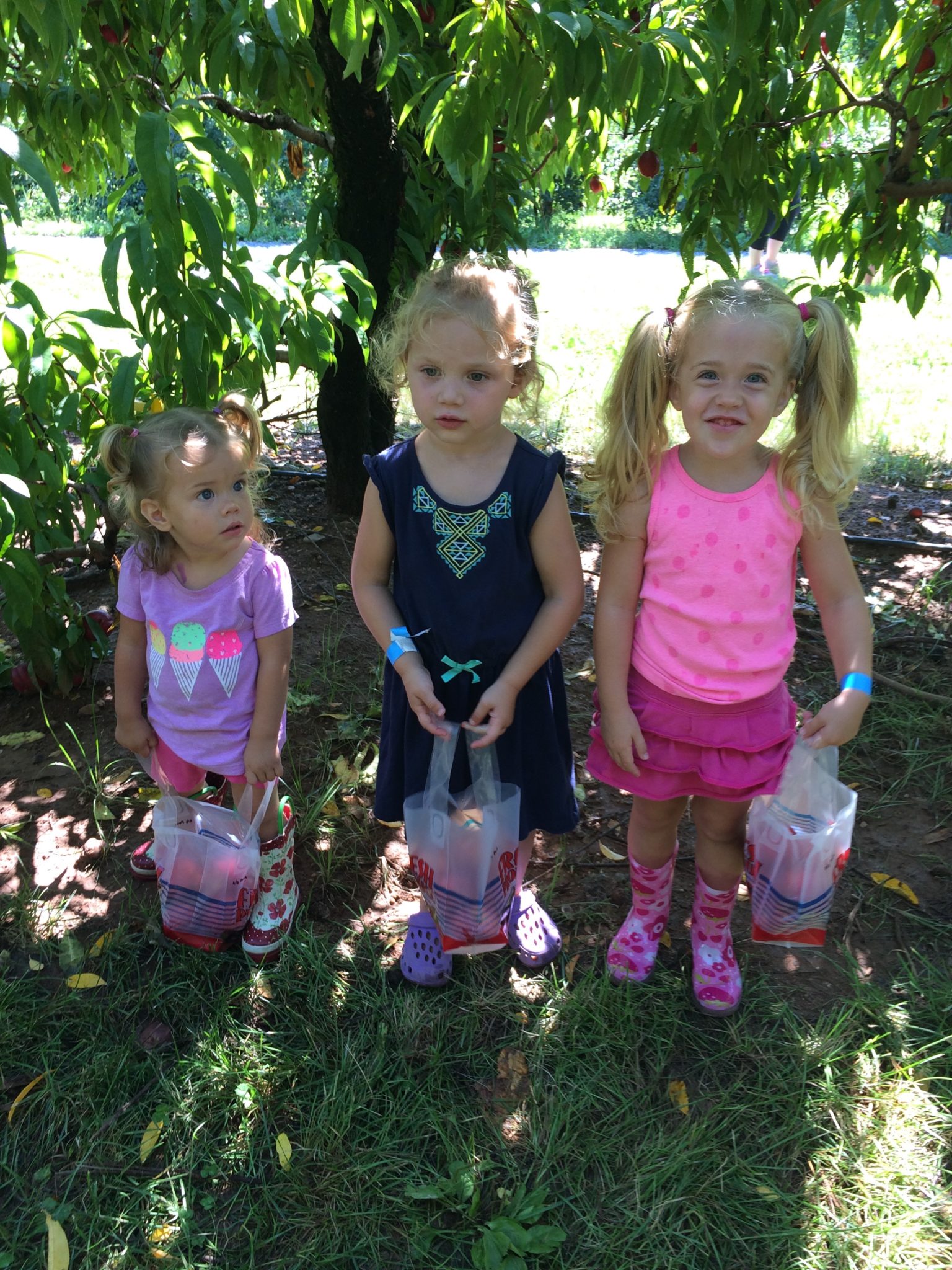 We talk to them about fruit growing and the process of getting the food they eat to their plates. They appreciate hard work, and these lessons are truly hitting home. This spring, my 10 year old and I were driving through farmland of Lancasater County, and he pointed out the roadside stand selling corn and cantaloupe.
"Mom," he said, "You know they didn't grow that produce themselves right? They must've brought it up from down south."
I was confused. "How do you know this?"
"Well," he pointed to the surrounding fields, "their corn isn't even knee high and I haven't seen a cantaloupe field for miles."
Sure, these aren't mind blowing observations, but I love that my kids are in tune with the growing seasons and know what produce should be local and when.
Time spent outdoors provides children with countless social and health benefits. (I'll list my sources at the end of this blog).
We are saddened by the fact that many of our nation's kids are growing up with no sense of what agriculture actually is. Having no understanding of how food is produced and brought to the table can have a lasting impact economically. For instance, legislators (who are honestly uninformed) draft bills that cause devastating consequences to our nation's agriculture community.
We have a sense in the United States that our food supply is unlimited. And mostly, it is. It is also "cheap" now because we have a large amount of farms. But what happens if our nation's farmers begin going out of business due to unreasonable legislation that drives up their production costs? What happens when all the farmers retire, if there is not a next generation to step up into their place to produce our country's food? What happens when it is a more viable option to sell your farm to a developer than to stick with it and keep farming?
Food sources in our country are only as strong as your agricultural community. But we're losing this connection between agriculture and the next generation.
That is why agriculture education is so important to my father-in-law and husband, who have committed to being lifetime farmers and preserving our farm to ensure that in future generations it does not become a development.
As a family, we are passionate about growing fruit, but we also want to educate and empower the next generation to understand what it takes to get food to their plates. Not only are outdoor activities extremely beneficial to our children, knowledge of the agriculture system is also empowering. After all, it is our kids who will eventually direct our nation's future.
Our vision is to start programs for children that give them a "behind the scenes" look at farming in their community. I'm so excited about our Read 'n' Pick Story Time and Orchard Explorers because when we see piles of kids running around our farm, they aren't just having a great time but hopefully picking up a lasting impression that farms are important. Perhaps they will even develop an emotional connection to where their fruit comes from and want to see local farms in their communities preserved and prospering.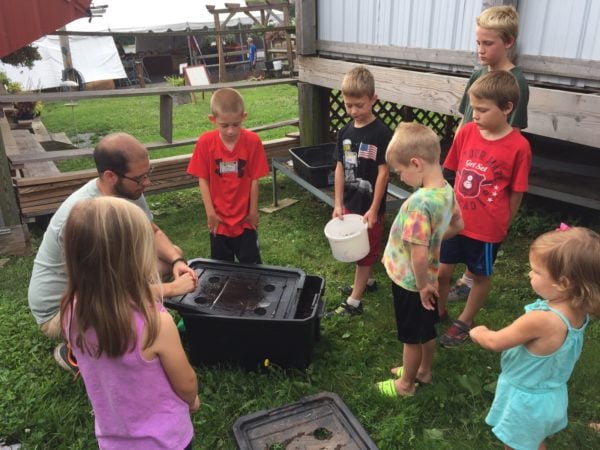 At Orchard Explorers so far, the kids have been given a behind-the-scenes look at how our irrigation systems work. They even had the chance to "develop" their own irrigation systems.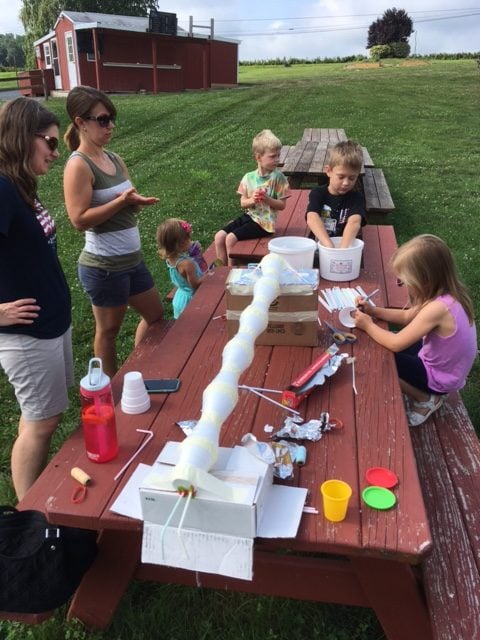 Last week they got a hands-on demonstration of how to prune cherry trees, with "real" pruners! (Don't worry, it was a highly supervised endeavor!) They have been growing a garden as a team and have an opportunity to harvest a little bit for themselves at the end of each session. I can tell you I've never seen my children as excited about kale as they were about the sample they brought home from the Orchard Explorers garden!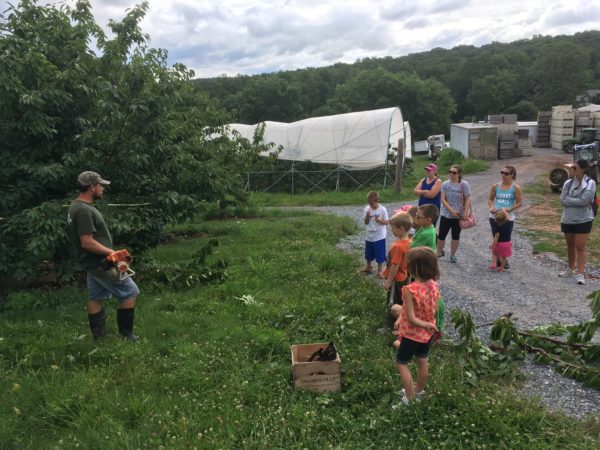 We have three more sessions this growing season of Orchard Explorers. If you have children in your life, bring them out to enjoy this fun and educational adventure!
Even if Orchard Explorers isn't the right fit for your family's schedule, we hope you take advantage of the opportunities we provide through pick-your-own, fall festivities, and other events to get your kids connected to a local farm.
If you're curious about learning more about the great outdoors and its benefits to children, check out these following resources:
A fascinating article from the National Wildlife Federation.
Home Grown by Ben Hewitt, an autobiography of a family that has chosen to grow much of their own food and raise their children immersed in nature.
Let Them be Eaten by Bears: A Fearless Guide to taking Our Kids Into the Great Outdoors by Peter Brown Hoffmeister. Despite the attention-catching title, this is a reassuring and empowering narrative of how outdoor programs empower kids.
SaveSave
SaveSave
SaveSave
SaveSave
SaveSave