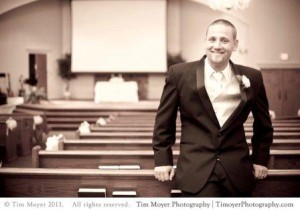 These days we hear a lot about "knowing your farmer" and being mindful of where your food is coming from. Every issue of the parenting magazine I read mentions something along these lines. Before I had children this was something I did not give much thought to.  Actually, before I married a fruit-growing health nut I didn't give much thought to most of what I put in my mouth.
I sometimes take knowing my grower for granted because I'm married to him! We've been married for five years now, and I think he's a pretty neat guy. Let me introduce you to him: his name is Justin Weaver and he's been working at his family's orchard since he was 4 – no lie! He is the fourth generation fruit grower on his family's farm, as his great-grandfather started the orchard in the 1930's.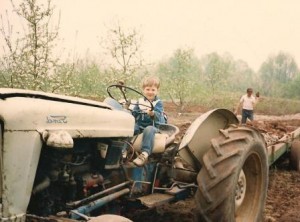 Justin's first time "working" at the orchard. Photo courtesy of Anne Weaver.
His dad loves to tell the story of how he set him on a tractor out in the orchard and set it to go real slow and how Justin "steered" it for him while he loaded some rocks onto the wagon he was "pulling". (This story ends with his mom and I usually saying something to my oldest son about him being too little to do this—I'm just waiting for him to catch on to the fact that he's four now!)
After high school and spending several months in Mexico to learn Spanish (a stipulation I had for him before he could marry me!) Justin dove right into the family business and began growing fruit full time. His official title now is "Production Manager" at Weaver's Orchard— a fancy term for the guy in charge of growing our fruit.
Justin is an amazing guy, he loves thinking of new solutions to problems and experimenting with new techniques in the industry. Some of his ideas may seem off the wall—like growing cherry trees side ways in our "UFO" block (he tells me that stands for Upright Fruiting Offshoots– I'd rather believe it stands for unidentified funky objects). Some of his ideas are slightly more normal, like doing some test plots for Penn State University.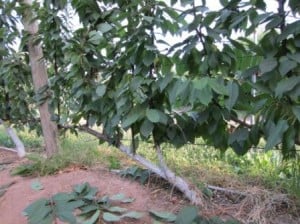 A "UFO" tree growing sideways, one of Justin's many experiments here at our orchard.
I appreciate Justin's knowledge of growing things here at home as well. He's always up to growing something and thinking of solutions to make it great!
Our little "salsa  garden" behind our house even has irrigation lines hooked up to it. And our "retirement plan" as we jokingly call it is our patch of table grapes growing on trellises in our back yard. These are just some of hobbies and his family appreciates the fruit of his labor!
Justin has also participated in extensive training and maintaining his pesticide usage license he is a Certified Private Pesticide Applicator Permit holder. He's concerned about keeping up on the latest trends in pesticide usage and research pertaining to how to use pesticides safely and only when absolutely needed.
With having two little boys he's concerned about their safety and wanting to be on top of what he's putting on our fruit. As a family we both want our kids to be able to walk out into the orchard and taste the fruit right off the tree without having to be concerned about what else is going into them and whether or not that would harm them.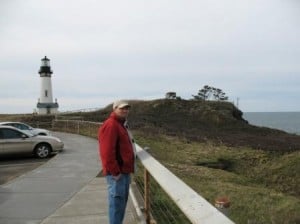 Justin standing by the oregon coastline on his trip out west to learn how to grow great fruit.
Justin has a passion for learning new growing techniques and traveling. Whenever he gets the chance, he combines these two passions much to my delight, as I love traveling with him! A recent highlight for him was our trip to Washington state that included a conference and fruit grower's tour of cherry and apple orchards. (I also made sure we sneaked in a tour of the Oregon Coastline, since we were also celebrating our wedding anniversary!)
He also enjoys exchanging information with and learning things from other growers at various conferences and tours throughout the year. He is a member of several farming research organizations, including the Young Grower's Alliance, the State Horticultural Association of Pennsylvania and the Association's Research Committee.
Thank you for giving me the opportunity to introduce you to my husband and your fruit grower! If you see him running around like a mad man this summer or fall at the orchard be sure to smile and wave—this is his busiest time of year! If you ever have any questions for him feel free to call the orchard and we'll get you some answers!
Hopefully soon I'll be able to introduce you to my father-in-law, Ed, and owner of Weaver's Orchard!