Weaver's Orchard president Ed Weaver considers growing blackberries a labor of love. You have to keep an eye out for heavy rains and hungry critters, while also making the berries easily accessible to consumers once they've ripened, not to mention Weaver's Orchard harvests and prunes them by hand.
"It's a challenge," Weaver said. "They do take quite a bit of work and I think sometimes the average consumer is unaware of that. It's really exciting when you have a nice crop."
This year the orchard has an excellent crop and several varieties of blackberries will be available at the farm, either in the market or Pick-Your-Own, for several weeks.
Varieties ripening now include:
Natchez, a large, long blackberry, is ready for picking now;
Caddo (cah-doh) is a sweeter, less acidic blackberry, and will be available to customers for the first time soon;
Ouchita (wash-i-tah), an attractive, round sweet blackberry, will be ready mid-July;
And later this summer expect to see Triple Crown (late July) and Chester (early-to-mid August).
Many of these varieties come from a fruit breeding program out of the Arkansas Agricultural Experiment Station, a research arm of the University of Arkansas System, which has spent decades creating blackberries that are tasty and easier to grow. In fact, researchers at the station have created blackberries that ripen sooner in the season, which has extended Weaver's blackberry season by several weeks.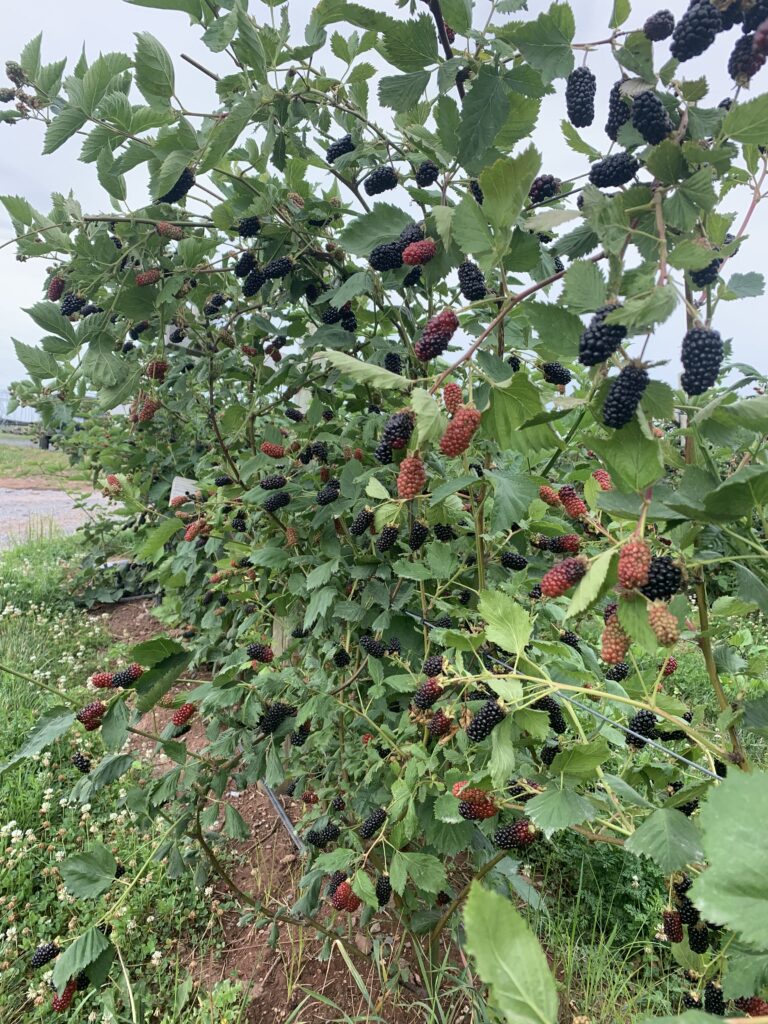 Dr. John Clark, a University of Arkansas Distinguished Professor of Horticulture, said the station has honed in on flavor as a way to improve the berries.
"A lot of the blackberries everyone has had are tart," he said. "Most people haven't had a good one."
The station has developed 43 blackberry varieties over the last 50 years and, according to their website, the program has emphasized unique traits including flavor and sweetness, firmness and thornlessness.
A newly released variety, the Ponca, is showing great promise because of its sweetness, Clark said. (Weaver's Orchard has already planted it and, if all goes well, it will be available next year.)
"It has the potential to be a game changer," Clark said. "This could really make a big difference in blackberries."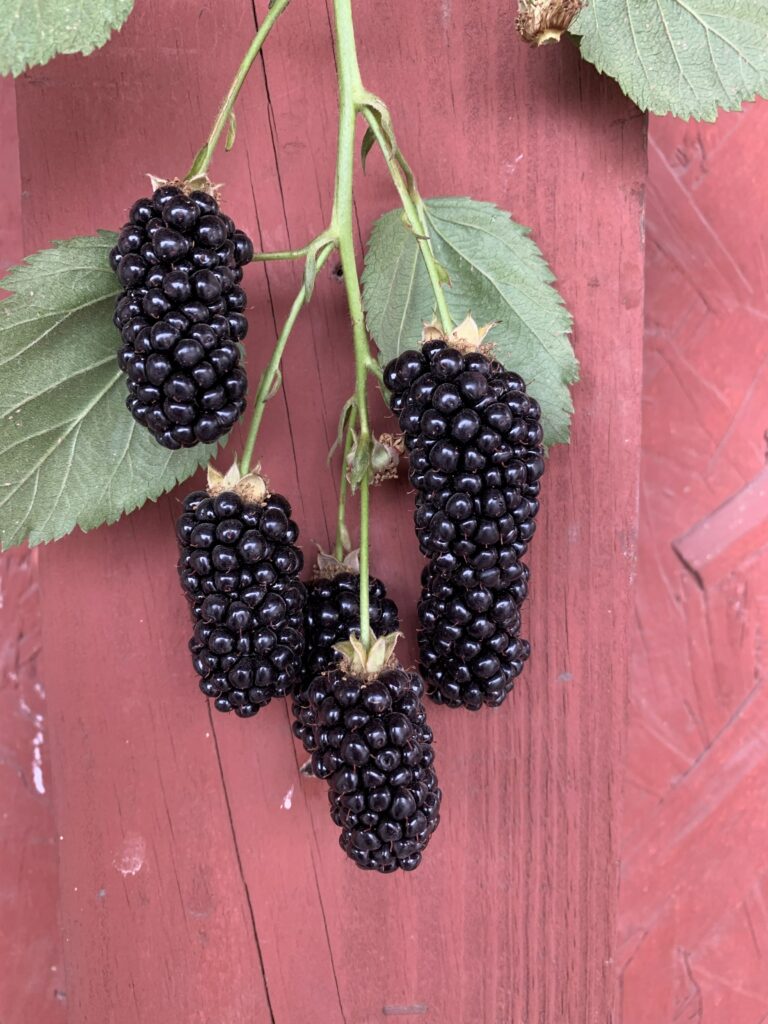 Blackberries deserve more attention from consumers, Clark said. Marketing for blackberries isn't as flashy as other berries, like blueberries, but they're just as important because of their high nutritional value: Blackberries are high in Vitamin C and K. They're also high in fiber and have antioxidant properties.
Weaver considers blackberries a superfood and prefers his blackberries with his morning yogurt and granola. But his family has also used them in cobblers. Or you can eat them as they are.
"I'm seeing more and more, people are adding them to salads," he said. "Or another thing that's become popular among the pick-your-own people is making blackberry wine, or adding the juice to other drinks as well for the nutritional aspect."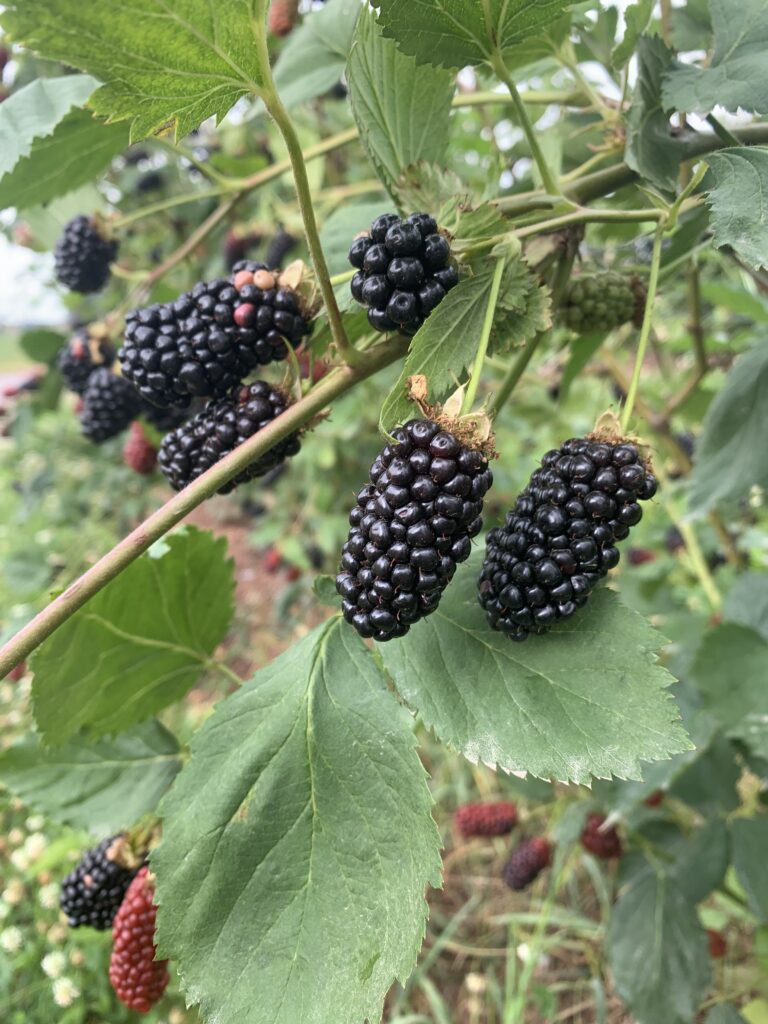 At Weaver's Orchard, blackberries are grown using Integrated Pest Management (IPM), which means the orchard uses several approaches to bring tasty blackberries to their customers, like planting in a specific way to try to avoid disease or pests and using insecticides when needed.
"It's really difficult to produce (blackberries) in this region organically because of the high humidity and lots of rain," he said. "For example, in California they only have five to 10 inches of rainfall and they irrigate. They don't have to be nearly as concerned with disease and rot. Here in the East, we do."
The insect Weaver is watching out for the most now is the spotted wing drosophila (SWD).
When you buy a blackberry at Weaver's Orchard, in a small way, you're actually helping researchers in Arkansas develop new and tastier varieties to be enjoyed around the world. That's because growers who use the University's varieties pay a royalty, which is then used to fund research.
Clark was happy to hear of Weaver's Orchard's success with blackberries.
"That's the idea," he said. "We work for growers in Arkansas primarily, but they're being grown across the country and the world. It's always exciting."
If you visit Weaver's Orchard to pick blackberries, here's some advice:
"With blackberries, and this is true of other berries as well, they develop a lot of their natural sugars in the last couple of days they're on the cane," Weaver said. "So you have to be careful. When you go to pick it off the cane, they should almost drop off into your hand. If you have to pull really hard, then it's not ready to pick."
Keep an eye on the orchard's website or social media for which blackberry varieties are available on the farm.