Giving Christmas gifts which feed bellies and stir smiles is a nice alternative to adding more "stuff" to our homes.
"Food gifts are a great idea because, well, we have to eat, right?" says Becky Talbot, communications director for VanDuzer Design & Marketing, which works regularly with Weaver's Orchard.  "And foods that you wouldn't normally make for yourself, like exquisite jams and marmalades, or that extra special homemade granola, are just perfect for sharing with other people. You're encouraging connections. I often think of friends when I see things they have given me, but food feels even more personal. Maybe because we all relied on our parents to feed us as kids–that idea of someone else providing for your nourishment feels personal and comforting."
Talbot's sister, Rachel VanDuzer, who serves as the marketing coordinator for Weaver's Orchard through VanDuzer Design & Marketing, agrees.
"It's an easy way for the giver to give something very personal," VanDuzer says. "Your special ingredient that they can't quite figure out at first can spark conversation and maybe even inspire them to follow your recipe another time. Food gifts are consumable, so they don't take up space for long."
Talbot considers herself a city dweller and notes that less stuff is better for her, and the same is true for VanDuzer who says she and her husband have lived in small spaces for all the years of their marriage. And while we don't usually need more "stuff," we do always need more food to eat.
VanDuzer has given away cards of her favorite recipes at holidays, and she's also been very grateful to receive similar gifts in return.
"Some of the recipes I've received are real treasures, too: my sister-in-law's slow-roasted turkey recipe, my sister's chimichangas, my mother-in-law's sticky buns and many more," VanDuzer says.
One recipe card VanDuzer has given away is for Apple-Stuffed, Maple-Pecan Chicken.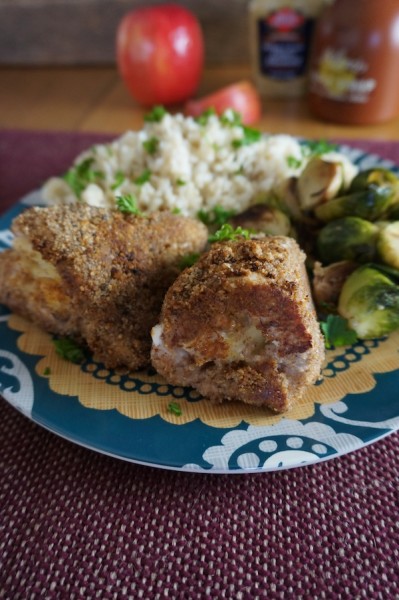 Another recipe card which she's gifted to others is for her Cranberry Chocolate Chip Oatmeal Cookies. But she's given the freshly baked cookies away as a gift, too.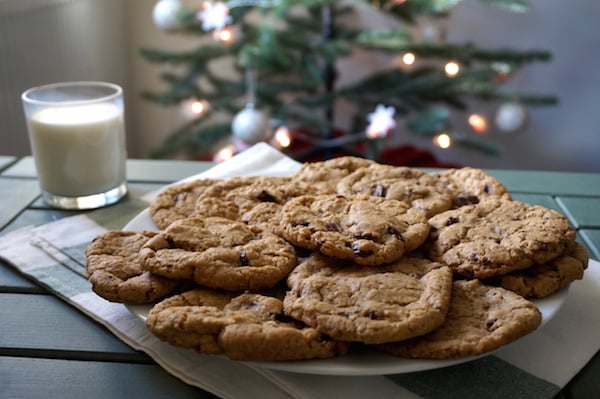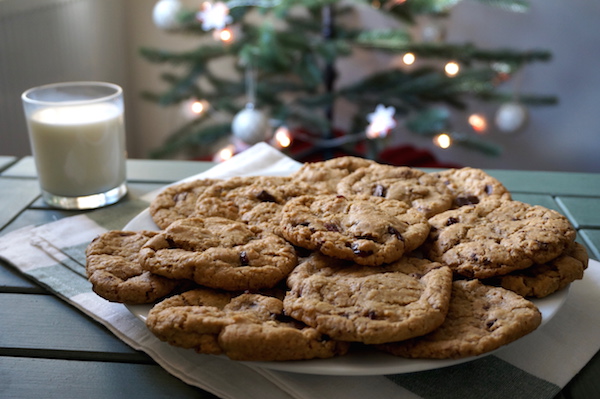 "I've made my oatmeal cookies layered in a jar, with instructions on how to assemble and bake them," VanDuzer says. "And one year, my mom made Becky's husband some peanut butter cookie dough to keep in the freezer and bake whenever he had a craving."
This summer, VanDuzer published a book of more than 25 recipes, called Easy Bruschetta Meals, which is for sale at Weaver's Orchard for $9.99. For those in the Delaware Valley, it's also available at Wolff's Apple House. She's given the cookbook away as a gift to others and plans to do this again around Christmastime.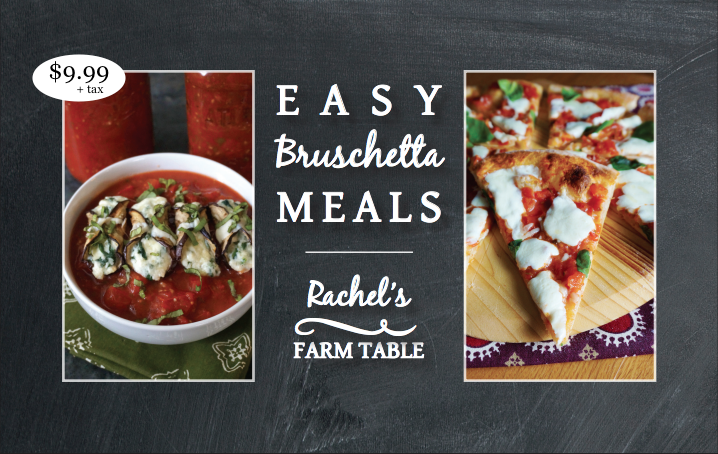 "One thing I've done is give my bruschetta with my bruschetta cookbook," VanDuzer adds. "Before I had a cookbook to give, I would just give a few recipe cards with a jar of bruschetta. Bruschetta is the perfect solution! It can be used in any recipe that calls for diced tomatoes or marinara sauce. It's so versatile. It can be used as a marinara type sauce, but it doesn't have to be limited to just that. It can become tomato-basil bisque, or make the best paninis and grilled cheese. So often I find myself wanting to make a panini but lacking tomatoes or basil."
Jams are another idea VanDuzer offers as a gift.
"Our friends gave us some fig jam, which actually works nicely on a pizza with goat cheese and caramelized onions," VanDuzer notes. "We gave those same friends a jar of crunchy dill pickles, which they and their kids devoured quite quickly. Dehydrated soups, spiced nuts and all sorts of gourmet jams are also a great gift. It's especially nice if you can tie on some suggestions on how to serve them, if what you're giving is something a little bit unique. My sister makes amazing homemade lemon curd. However, you have to eat it within a few weeks, so even though I was eating as much as I could quickly, toward its expiration date, I made the rest of it into lemon bars. I followed a recipe for a lemon bar crust, spread the lemon curd on top once the crust had baked and sprinkled it with powdered sugar. I think I returned it to the oven for just a few minutes to let it harden."
Talbot explains that the original lemon curd recipe is from Barefoot Contessa on Food Network.
"My dad and sister-in-law are crazy about lemon desserts, so now I make it any year when I'm traveling to see them and can stick it right into their fridge," Talbot says. "It tastes like the lemon filling part of a lemon meringue pie."
The recipe makes three cups, and here are a few tips Talbot offers so that making it goes well.
Keep it at a VERY low temperature, as low as your stovetop will allow.
Sometimes the lemon juice makes the butter curdle, but as you stir it, it will come together again.
Keep stirring constantly until it gets really thick. It'll probably take longer than the time given in this recipe. Also, keep in mind that it will get even thicker as it cools in the fridge.
Set aside enough time and create a peaceful environment as you work on this. You have to have some patience and peace as you stir…and stir… and wait for it to thicken.
Talbot puts the lemon curd in a small Ball jar, but any jar with a lid will do.
"Just make sure that if you put it in a canning jar, people know that it's not actually canned, so it should go in the fridge and be used within two weeks or so. And it's okay to freeze it," Talbot says.
Since VanDuzer enjoys the lemon curd recipe, she offered these tips for serving suggestions, tied to a tag:
Delicious on bread, croissants, scones and crepes
Consume within 2 weeks of opening
Can't finish it all in time? Make lemon bars!
Applesauce and mixed nuts are some other gifts Talbot recommends.
"I like putting these in Ball jars or other fun jars because it looks so pretty, and the jars can be reused," Talbot says. "I decorate the top with a fabric square and ribbons."
And like her sister, Talbot likes receiving recipe cards as gifts.
"Eight years ago, my mother-in-law gave me a recipe box filled with her best dessert recipes," Talbot says. "I keep working through them and trying new recipes. It's a gift I've been exploring for eight years."
Keeping in mind food allergies of gift recipients is an important point from Talbot, as is remembering food safety.
"If you are canning food to give as gifts, check the most current USDA guidelines," Talbot says.