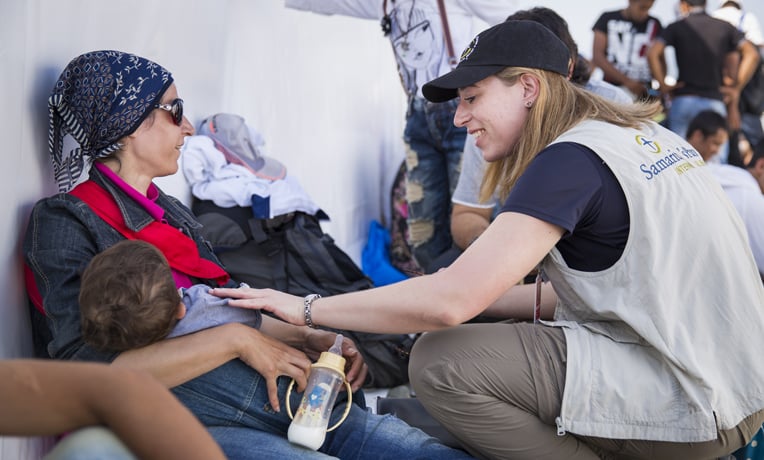 This Christmas season, we have been pondering how to respond to the refugee crisis as hundreds of thousands of displaced men, women and children from war-torn countries seek safety. We have decided to contribute 5% of all sales in our Farm Market from December 14-31, 2015 to European Refugee Relief through Samaritan's Purse, a nondenominational evangelical Christian organization providing spiritual and physical aid to hurting people around the world. We are also encouraging anyone interested to make additional contributions directly to Samaritan's Purse.
The desire to help came from a realization of how fortunate we are. We are truly blessed. It has been a good year at the orchard, and this impresses upon me that we have a responsibility to help those in need. The refugee crisis is now right in front of us in the daily headlines and I value the chance to assist Samaritan's Purse in its efforts.
Two years ago, when another crisis was right in front of us, we launched a similar fundraiser, this time to help those rebuilding after the typhoon struck the Philippines. This one was even closer to home, as Neth Castner from our bakery had lived in the Philippines. Her father's crops had been wiped out by the typhoon, and several of her relatives lost their homes and their livelihoods.
That fundraiser was also through Samaritan's Purse, and we are eager to support this organization again as it cares for the physical and spiritual needs of the refugees coming to Europe. Samaritan's Purse ranks very high in transparency and keeps a very low overhead so that nearly 90% of its funds go directly to programs and services for those in need.
Seeing Samaritan's Purse's videos of the refugees and their needs–seeing pictures of parents and children, and thinking about how parents struggled to provide safety for their children–motivated me to start this fundraiser. The refugees coming to Europe face difficult conditions are are very vulnerable.
As we head into the Christmas season, we hope that this fundraiser will not only raise significant funds to help the refugees through Samaritan's Purse, but that it will also make all of us more aware and sensitive to the needs of people around the world and in our own region. We hope that this fundraiser will be larger than just one effort and will have us all looking out for others around us, to see how we can help them.
As I get older, I have begun to reflect even more on how we really are fortunate. The majority of the world is not living in this kind of safe, comfortable environment. Those of us who have been blessed in this way have a responsibility to keep our eyes open for opportunities to care for the needs of others.