Weaver's Orchard has one vendor whose work is literally on the road. Doorstep Dairy is run by Daryl Mast. It's a farm-to-table delivery service with routes spanning across Berks, Lancaster, Chester and Montgomery counties.
Daryl's efforts are a nostalgic reminder of old days blended with the built-in convenience of getting our food sooner and more easily in the modern world.
Glass-bottled Guernsey milk, grass-fed organic milk, cheese, yogurt, coffee, meat, Amish baked goods, handmade pierogies, old-fashioned soda, fruits, vegetables, soup and snacks are examples of what Daryl and his employees drop off onto front porches in metal milk boxes or ice chests for their customers.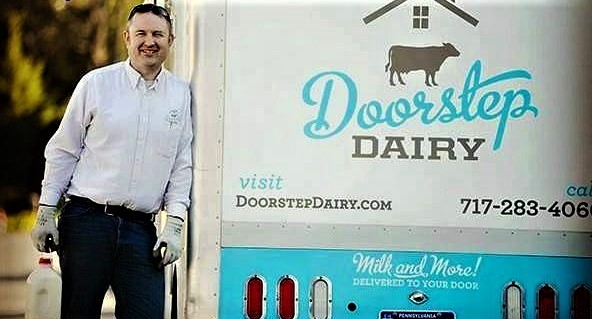 These shoppers place orders through his website, choosing products from a number of local food producers whose operations are not necessarily close to each other, let alone close to where the customers work and live. And that's part of why, in a continually busier world, this convenience is all the more valuable.
Weaver's Orchard and Doorstep Dairy support each other in a number of ways.
While Weaver's Orchard's apple cider and fresh fruit boxes are available right now by delivery through Daryl's business, he also sources their homegrown fruit and non-local fruit, like citrus, from Weaver's Orchard for his seasonal CSA shares for his customers.
Apples, strawberries, plums, apricots, cherries and peaches are some of what he uses from Weaver's Orchard for his CSA members.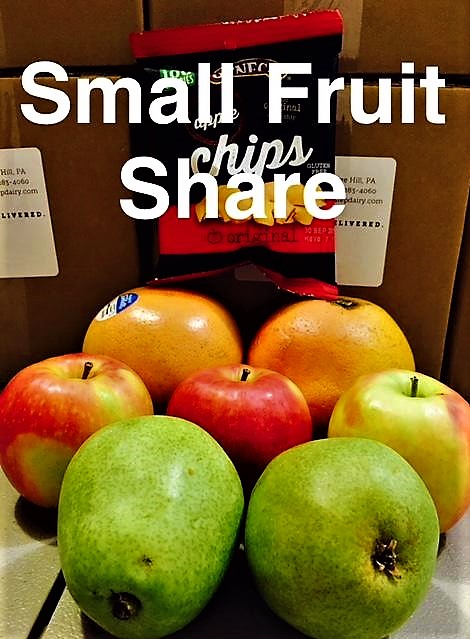 And Daryl supplies eggs and yogurt year-round to Weaver's Orchard for its market shelves. These include Nature's Yoke Eggs and yogurt made by Fiddle Creek Dairy and Pequea Valley Farm.
"Weavers Orchard is a well-known and respected brand in our community," Daryl says, reflecting on this uniquely beneficial working partnership. "They are known for quality. Many people have visited the orchard and have enjoyed many of the other things Weaver's offers, a.k.a.: Fall Festival, Kids' Story Time, Pick-Your-Own, etc. The positive influence Weaver's is making in the community is an asset to us as we market their products to our customers."
Daryl notes that whenever he reaches out to Dwayne Musser, the market manager for Weaver's Orchard, Dwayne is always happy to help. It always means a lot to Daryl when Ed Weaver, president of the orchard, expresses appreciation for what Daryl does, too.
And for Daryl, whose wife Karen Mast also helps with the family-owned operation, his work is following a legacy from long before this all began. He labored as a dairy farmer and owned and operated a livestock transport business before starting Doorstep Dairy in 2010.
In the 1950s and 1960s, his grandparents on his mother's side, Wayne and Mary Martin, ran a mom-and-pop grocery store in the Narvon, Lancaster County area, on the property where A and H Harness & Tack Co. is now located. Wayne delivered groceries door-to-door, including meat.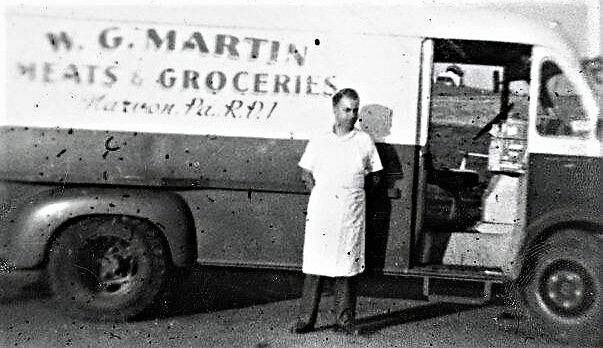 "My grandpa said a small section in the back of his delivery truck was refrigerated," Daryl adds. "He had a butcher's block in the back, and he would cut your meat to order."
Wayne's father, Daryl's great-grandfather, Peter Martin, worked as a butcher, and here is a picture of them working on pigs.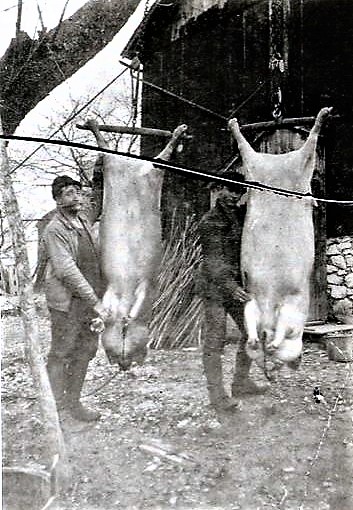 "They would go to your home and butcher onsite," Daryl explains.
"It was a joy to visit with him and hear about his work," he says of his grandfather. "And he also enjoyed hearing about what was happening at Doorstep Dairy."
Sadly, Wayne passed away last year. He wanted to visit a newly leased warehouse and office space near Adamstown, Lancaster County, which Daryl opened for the business, but this wasn't able to happen.
His grandmother Mary, however, did visit the property last November, using her walker to tour the space and reflect on how nicely it had been set up, which literally made Daryl's week.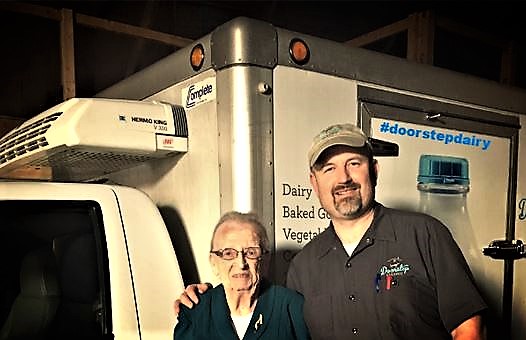 As a curious tie-in to this heritage-braided story, one of Daryl's delivery customers is an Amish woman who worked for his grandparents in her earlier years.
On his father's side of the family, strong roots in farming were weaved into the picture, too.
His great-grandfather, Christian Zook Mast, known as C.Z. for short, grew tomatoes on the Mast Family Farm in Morgantown.
"Campbell's Soup Co. bought the tomatoes," Daryl says. During World War II, there were German prisoners of war in Reading. Some of these young Germans were allowed to go out and work. This picture shows a group of POWs at the farm in Morgantown where they helped pick tomatoes in the summer of 1945." C.Z. is the leftmost man in this black and white photograph.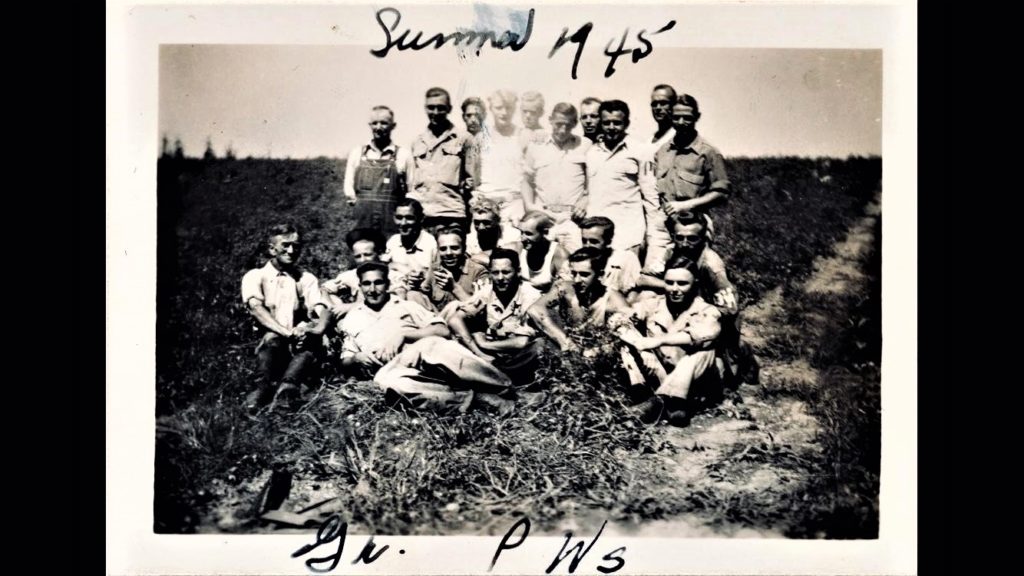 As someone who appreciates history and the invisible lines linked across lives in the older stories of farming translating into agriculture and food of our existence today, Daryl gleans the deeper value in lessons learned out in open land, and the lessons learned while delivering nourishment one order at a time.
SaveSave