My youngest son is 15 months old and he is crazy about berries! I never knew a kid his age could polish down half a quart of strawberries in one sitting.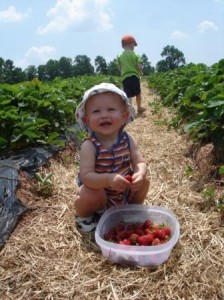 He's sneaky and fast too, often swiping the strawberries off of my kitchen counter and gobbling them up while my back is turned.
Because he is so passionate about berries, I thought it would be entertaining to see how he would react to the bountiful supply of berries in the strawberry patch.  So we decided to take a family golf cart ride out to the patch on Sunday night and let our boys loose in the patch.  Our little strawberry guy took one look at the millions of berries surrounding him and promptly plopped down in middle of the patch and began eating every berry with in sight– stems and all!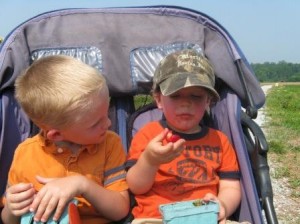 My oldest three year old was also fun to watch.  He has more refined tastes and enjoyed walking through the patch inspecting each berry on the plant before picking it to make sure it met his criteria for redness and size.
Afternoons like this are what memories are made of.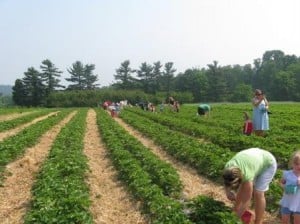 I would like to extend the invitation to bring your family out to our strawberry patch and make some of your own memories.
Check out our website for picking times. (It's a good idea to call or check the website before you leave home to make sure the patch is open; sometimes weather conditions and demand can affect the availability).
And, if you're wondering what to do with all those strawberries you've picked, here is a family recipe I'd love to share with you; it's a classic Weaver Family favorite:
Cottage Pudding ( Strawberry Shortcake)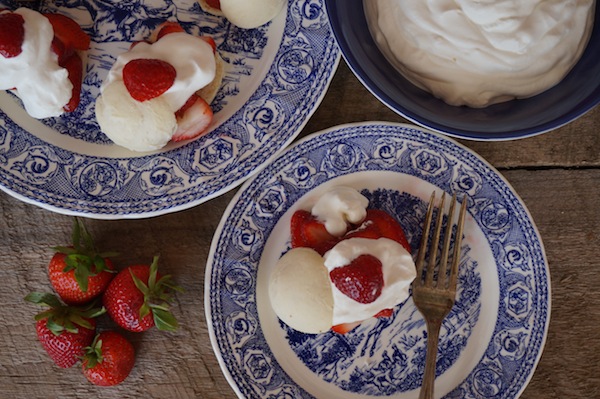 Print
Mom Weaver's Cottage Pudding Shortcake
Adapted from Mennonite Community Cookbook by Mary Emma Showalter
1/3 cup

butter

1 cup

sugar

2

eggs

1 1/2 cups

flour

1/2 teaspoon

salt

2 teaspoons

baking powder

1/2 cup

milk

2/3 teaspoon

vanilla
Instructions
Cream together butter and sugar. Add and beat in eggs.
In a separate bowl, mix flour, salt and baking powder. Add to egg and sugar mixture. Mix well, then add milk and vanilla.
Stir only enough to blend ingredients together. Pour into a greased 8 x 8-inch baking pan. Bake at 375˚F for about 25 minutes.
Serve with fresh strawberries and milk.
Or, on days that it's too hot to bake, let baker Heidi do the work! We've got shortcakes for sale in our Market– Fresh from our ovens to your table!