When I'm asked to bring a dish to a holiday gathering, I like to make sure the recipe doesn't just taste good but also is beautiful to look at. It's a huge plus if it can also be made the night before as well as transport easily as we travel to visit relatives. This cranberry curd tart checks all four of those boxes.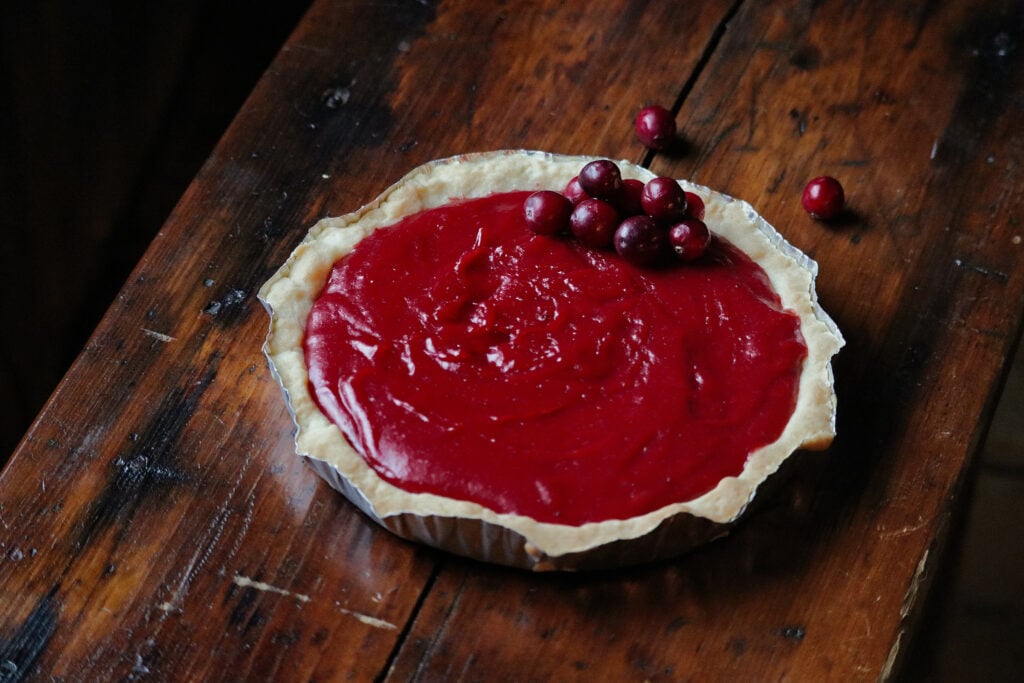 The stunning red color of the cranberries is perfect for the holiday season, and it's sure to be a crowd-pleaser! Even my dad (who normally doesn't like cranberry) told me he loved his slice during our family gathering yesterday.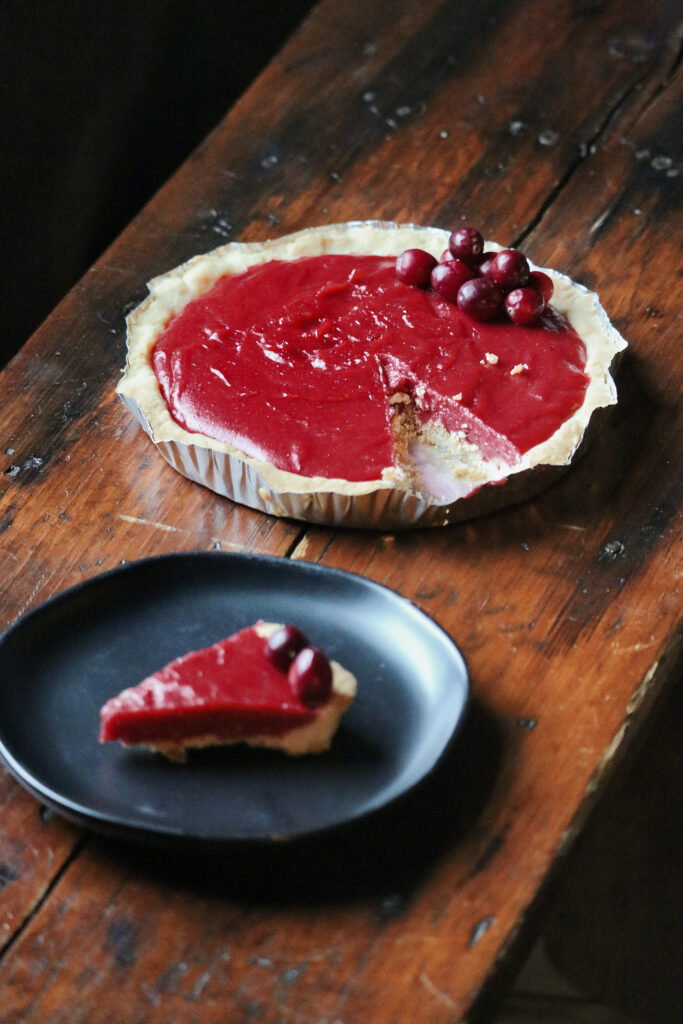 The tart flavor of the cranberries pairs perfectly with the sweet and buttery short bread crust, creating a balanced and light finale to a holiday dinner.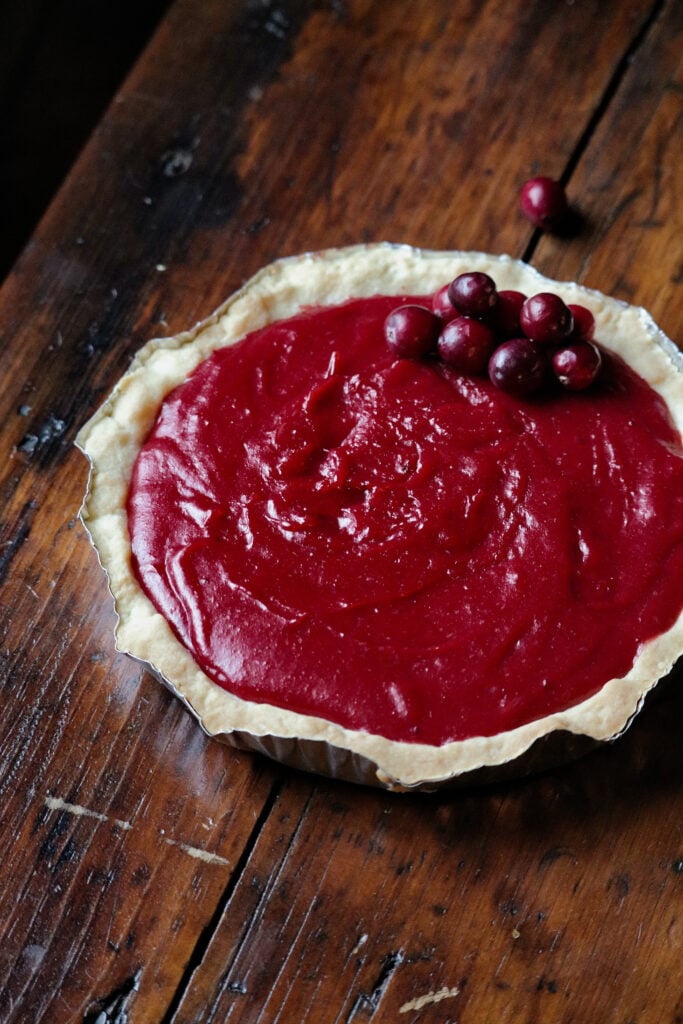 The hardest part of this recipe lies in getting the texture right, but thankfully, it's fairly easy to fix any mistakes: add some cranberry juice to thin it, or some cornstartch slurry to thicken.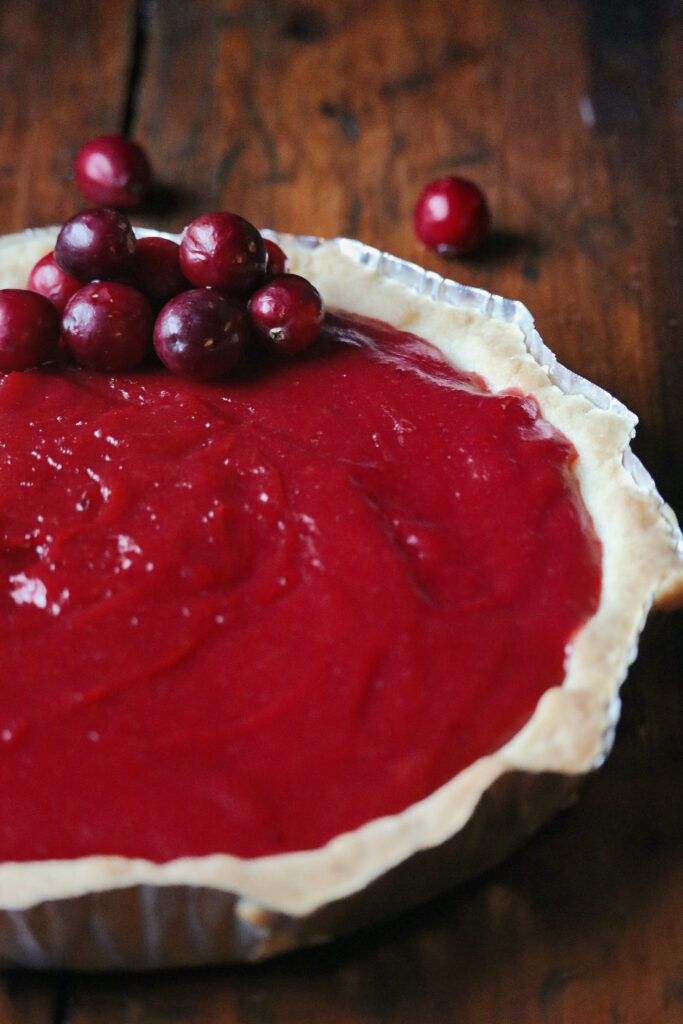 It's also important to whisk the filling constantly as it's on the stove to keep a smooth texture.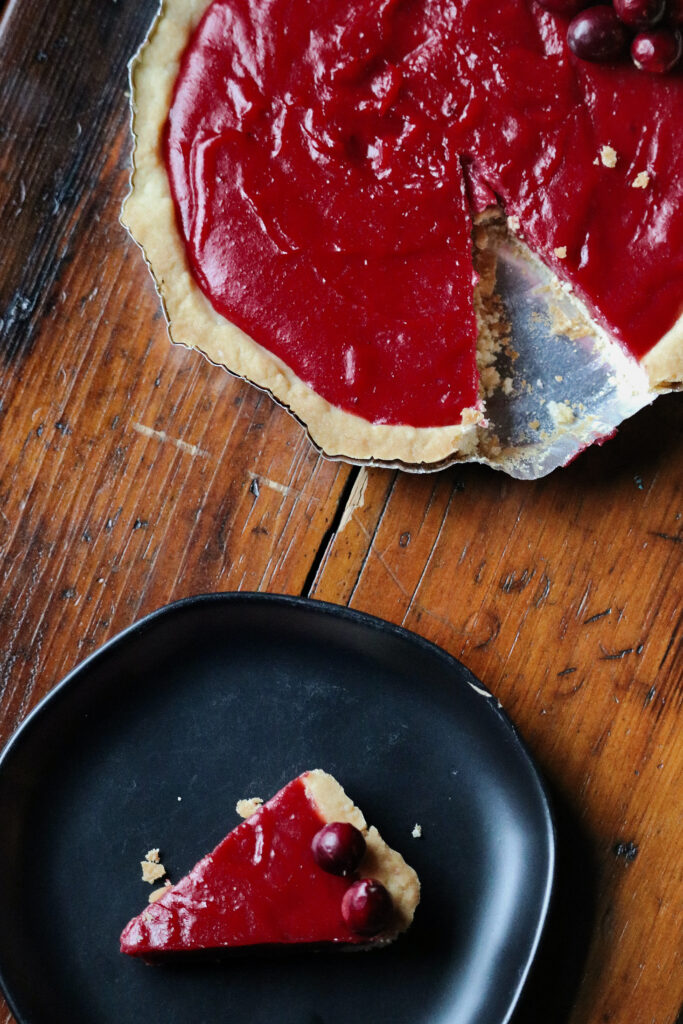 Using fresh cranberries is what really makes this recipe so good; the flavor of the berries comes through strongly, matched with the sweetness of the brown sugar. Topped with some sugared cranberries and whipped cream, this delicious tart is sure to bring some festive flair to your holiday table.
Print
Cranberry Curd Tart
Shortbread Crust:
2/3 cup

unsalted butter, softened

1 1/2 cups

all-purpose flour

1/3 cup

powdered sugar

1/8 teaspoon

salt
Curd Filling:
3 cups

(

340 grams

) fresh cranberries

1/2 cup

water

1/2 cup

cranberry juice (or more as needed)

1/4 cup

lemon juice

3 tablespoons

cornstarch

1 1/2 cup

brown sugar, packed

5

egg yolks

1/4 cup

butter, softened

2 teaspoon

vanilla extract
Instructions
Preheat oven to 350 degrees F.
In a medium bowl, mix together the softened butter, flour, powdered sugar, vanilla, and salt until completely combined. Dump the crumb-like mixture into the 9-inch tart pan. Start with the edge, and firmly press the crumbs together to form about 1/2 inch thick edge. Pierce the bottom with a fork to create a few vent holes.
Bake for 17-20 minutes, or until golden brown and firm.  Set aside to cool completely. In a medium saucepan, simmer the cranberries on medium heat with 1/2 cup of water until cranberries have burst, about 10-15 minutes. Unless the pot is very deep, you may want to place a lid on top.
Place mixture into a high speed mixer, and blend until smooth. Add the quarter cup cranberry juice to bring the mixture to the desired texture. It should be the consistency of a thin jam.
Strain through a sieve to catch any pieces of cranberry skin that may be left. You may need to push the mixture through the sieve with a spatula. This step is important to create a smooth texture in the curd. Place mixture back into the saucepan.
Stir the brown sugar and egg yolks into the cranberry mixture in the saucepan, and continue to heat on medium heat, whisking constantly.. In a small bowl, stir together lemon juice and cornstarch until smooth. Add to the saucepan, and whisk until incorporated. Cook until thickened, whisking constantly. Remove from heat, and whisk in the butter, one tablespoon at a time until smooth, and then the vanilla. Mix until everything is smooth and incorporated, and pour into the cooled tart shell.
Place in the fridge and chill for 4 hours, or overnight. Top with whipped cream or sugared cranberries.
Store in an airtight container in the fridge for a few days.