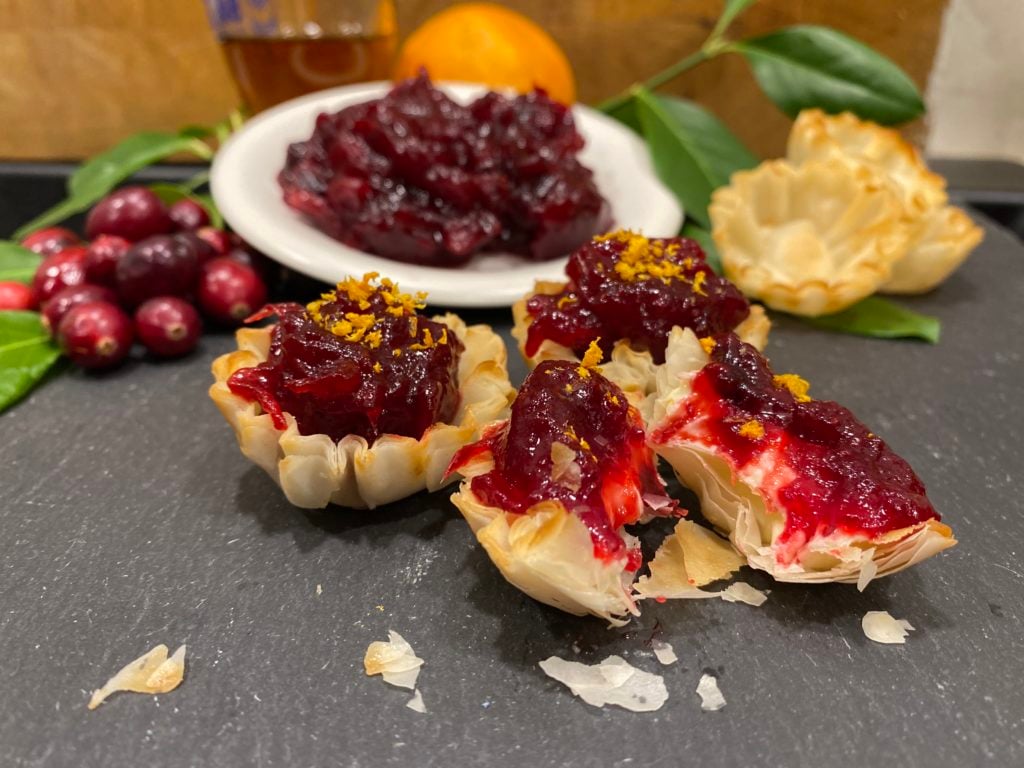 We, like many other families this year, made the choice to stay home for Thanksgiving, but this was no excuse to miss any of the hallmark dishes that define the annual feast.
With that, however, came plenty of leftovers. A Google Search of "Thanksgiving Leftover Ideas" can quickly take you down a rabbit hole of culinary excitement and innovation. Exciting possibilities included everything from a Day-After Thanksgiving Casserole, to a set of Post Thanksgiving Day Skewers, and not to be outdone by Thanksgiving Leftover 3 Cheese Quesadillas.
One component of the holiday spread I often saw missing from the leftover masterpieces was cranberry sauce. I set out to come up with something fast and easy that made this side that we now had in abundance a star. This recipe combines the delectably tart, bright flavors of cranberry and orange with bourbon to add some depth. Set atop a phyllo shell with cheesecake filling and garnished with orange zest, this leftover side dish is good enough to make as an appetizer for your next round of holiday gatherings!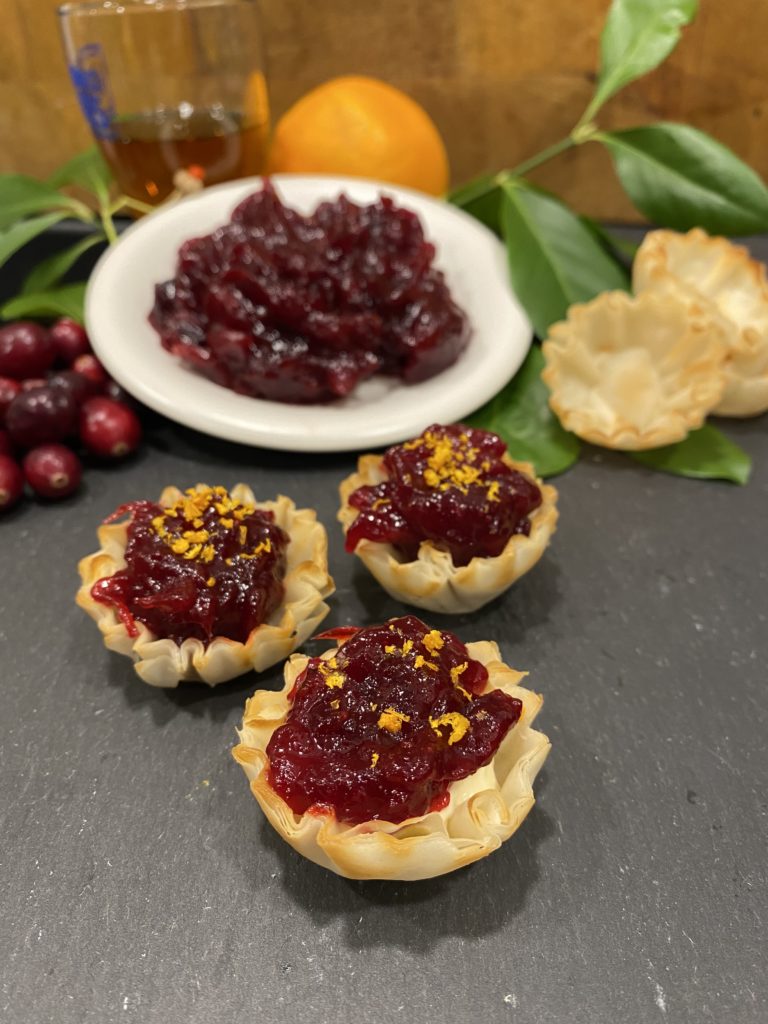 Print
Cranberry Bourbon Tartlet
For the Compote
8 oz

. fresh cranberries, whole

½

c. brown sugar

⅓

c. white sugar

⅓

c. freshly squeezed orange juice

2

–

4

Tbsp. water

2 oz

. bourbon (or more to taste)

½

Zest of an orange + more for garnish
Other Ingredients:
2

packets of Athens Phyllo Shells
Whipped topping: "Time is a precious commodity" types of hosts/hostesses can go for a tub of Philadelphia No Bake Original Cheesecake Filling and a can of Whipped Cream. "I wanna go all out and do this" types of hosts/hostesses can follow my recipe for the cheesecake base at  https://www.weaversorchard.com/blackberry-cheesecake/ and grab some heavy whipping cream to make your own whipped cream.
Instructions
Start the cranberry filling by adding all ingredients other than the reserved orange zest for garnishing in a medium saucepan over medium/low heat. When you begin, the cranberries should be just covered with water and juice, add more orange juice if needed.
Stir occasionally and cook for 15-20 minutes or until the majority of the liquid has reduced. Be careful to not boil the mixture, keep it no higher than a gentle simmer. * Prepare the phyllo shells as directed while you wait.
Once most of the cranberries have popped, remove from heat adding in your orange liquor if using. Let rest until cool.
To assemble the tartlets, distribute the crisped and cooled phyllo shells out over your workspace with enough space in-between to allow for easy work.
Add your cheesecake filling to a piping bag (a large plastic bag with a hole cut out of one edge will work) and pipe in until each phyllo shell is ½ of the way full.
Add a dollop of the cooled cranberry orange bourbon compote.
Top with cream if desired and a garnish of orange zest.
Keep in the fridge until ready to serve.
Check back next week for a Cherry Amaretto Tartlet recipe!