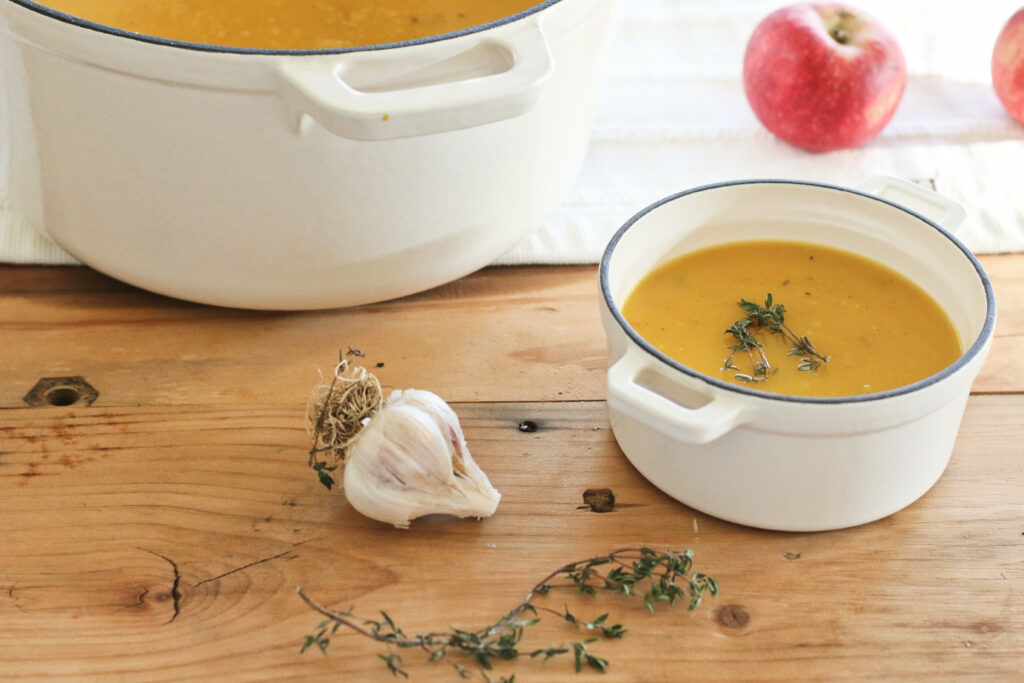 Nothing hits the spot quite like warm soup on a cold day. There's a reason that fall is considered soup season, and this recipe combines the flavors of autumn into a favorite comfort food.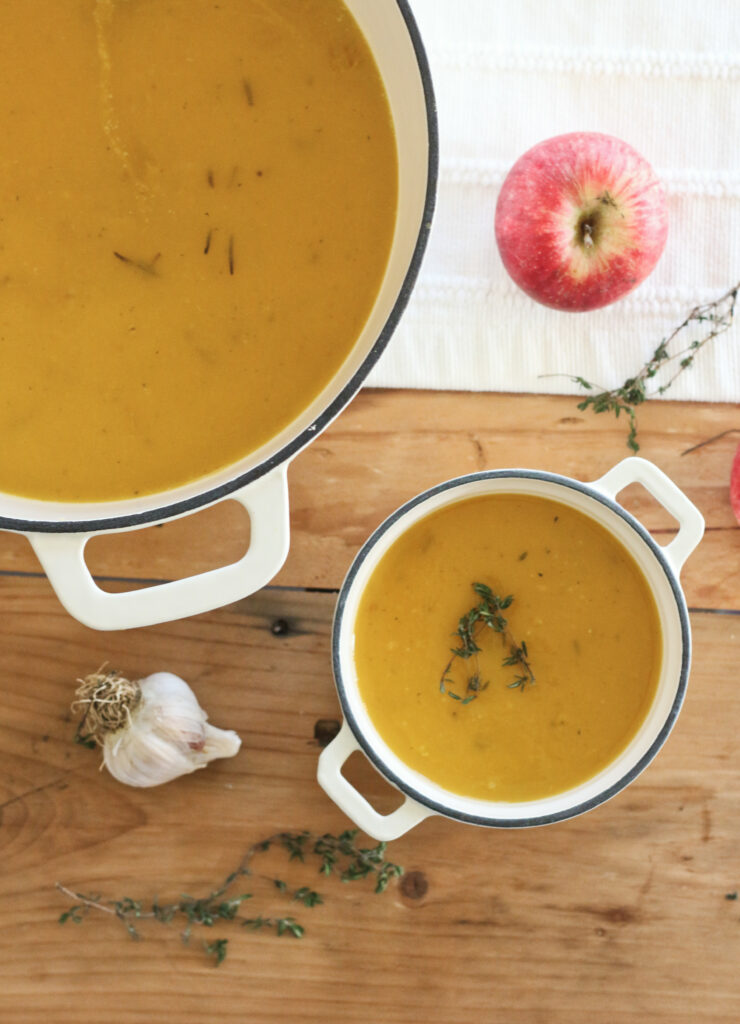 This dish is perfect for serving alongside sandwiches and a fresh salad like I did for an early dinner party last week. Even the pickiest eaters loved it! With a soft orange color and smooth texture, the soup plates nicely and looks fantastic with some rosemary and thyme as a garnish. Using fresh herbs, while not necessary, makes all the difference as far as flavor.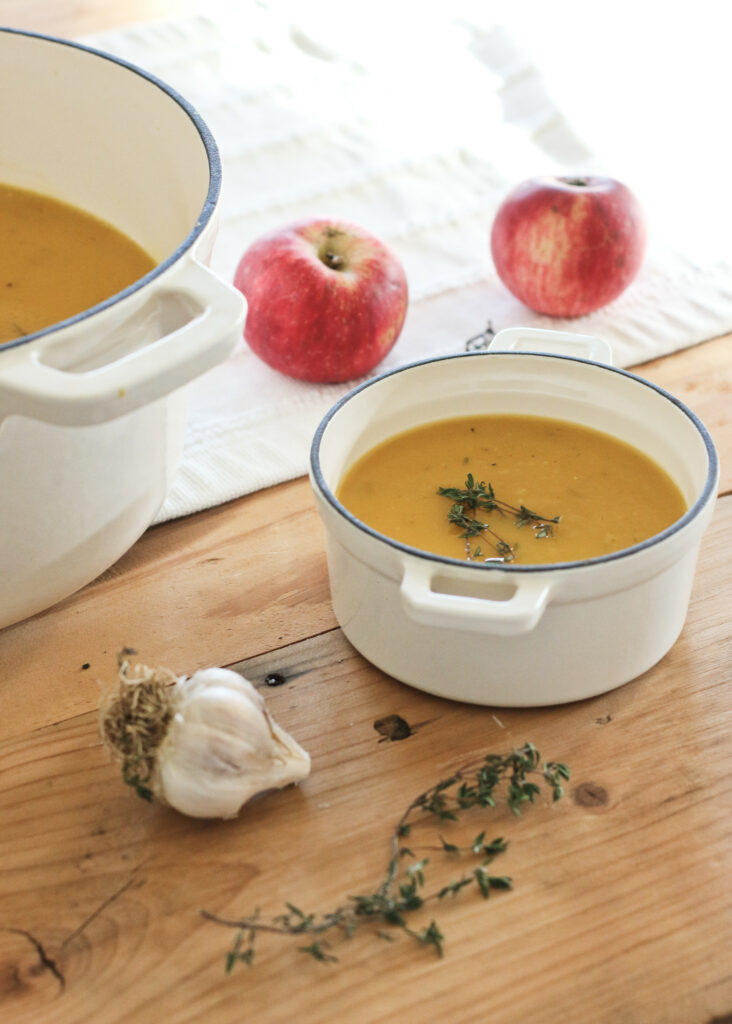 The ingredients require a fair amount of prep work, but the soup comes together in under an hour and fills the house with the most delicious smell as it simmers. If you want to make it ahead of time, I recommend waiting to stir in the cream until right before you serve it, as milk heated for too long often curdles. Save this recipe and you too can enjoy a bowl of autumn-flavored comfort on the next blustery fall day.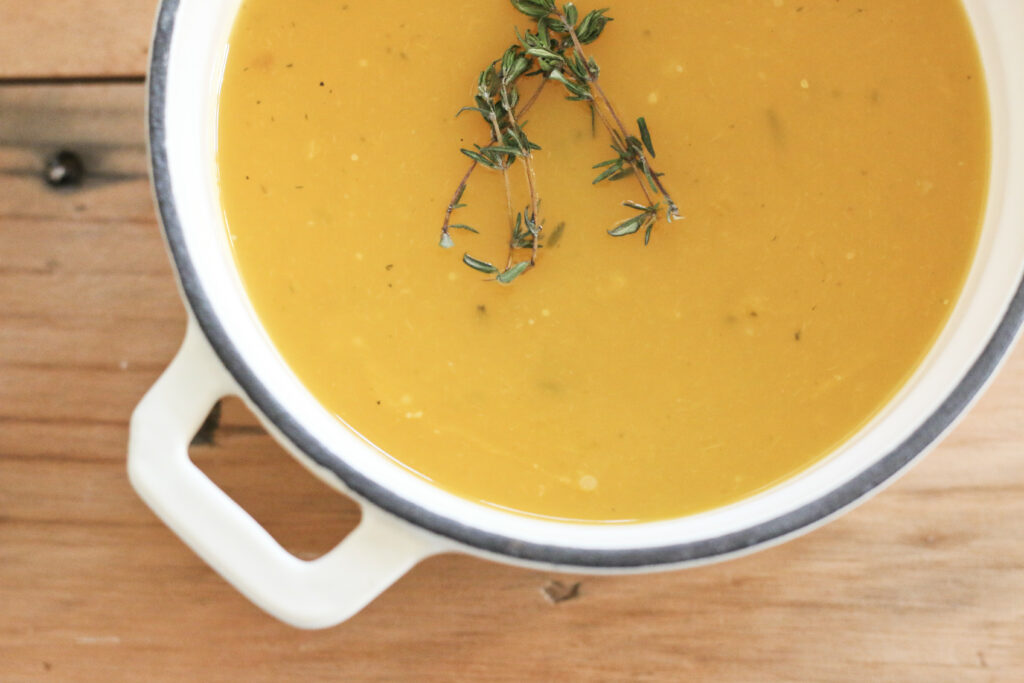 Print
Apple Squash Harvest Soup
Makes six to eight servings
2 tbsp unsalted butter
1 large Spanish onion, finely chopped
2 apples, peeled, cored, and cubed
1 butternut squash (2lbs), peeled, seeded, and cubed
6 cups chicken stock
1 tsp chopped fresh rosemary
2 tsp chopped fresh thyme
1/2 cup half-and-half
Salt and pepper to taste
Instructions
Directions
Sautée the onion in the butter in a soup pot until tender over medium-high heat.
Add the apples and squash and continue to cook about 3 minutes longer.
Add the stock and bring to a simmer.
Add the rosemary and thyme and reduce to medium heat. Cover and simmer for about 25 minutes until the vegetables are tender.
Remove from heat and puree until smooth using an immersion blender.
Stir in half-and-half and season with salt and pepper. Use low heat to warm the soup to a serving temperature, but be careful not to overcook it because the milk will curdle.