I was never much one for fruit on salads, mostly because that fruit was usually raisins or craisins, options to which I inherited an aversion from my father. I had a bag of pecans sitting in my pantry and a request to bring a salad to the dinner party I was attending that night, but I knew I needed just a few other ingredients to round out the recipe. Musing through the different options, I finally hit upon the combination found here, and it turned out better than I could have imagined. It's a salad that includes all my favorite things! The tart apples were the perfect complement to the sweet glazed pecans, and the larger pieces of sliced fruit provided a much better ratio and texture to the greens than craisins would have. I added cheese to round the topping trio out, choosing goat cheese over feta for its creamier texture which pairs perfectly with apples. Once I had all these ingredients, I couldn't just throw ranch over the top, so I mixed up this apple vinaigrette to match the existing flavors. The layered ingredients combine to give the salad a fresh, fall theme, perfect for an Autumn dinner party. Altogether, the salad is both beautiful to look at and delicious to eat—the perfect combination.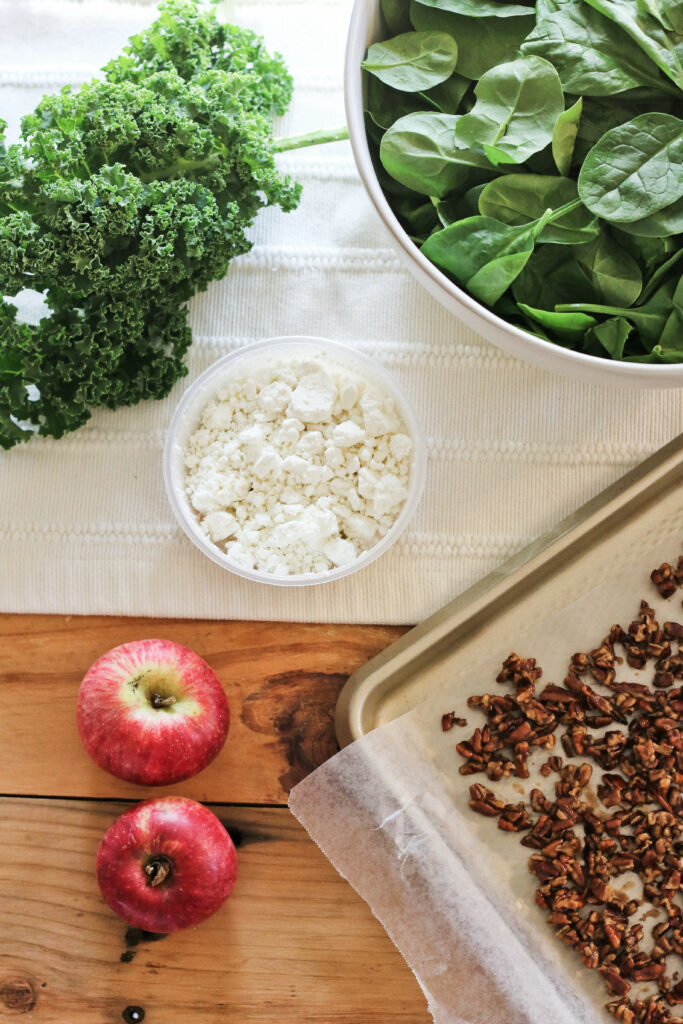 Print
Apple Pecan Salad
Glazed Pecans:
2 cups halved pecans
2 tbsp water
1/2 cup brown sugar
Vinaigrette
1/2 cup olive oil
1/4 cup apple cider vinegar
5 tbsp apple juice
1 tsp Dijon mustard
1 tbsp poppy seeds
4 apples
4 oz crumbled goat cheese
Your desired amount of mixed  kale and spinach
Instructions
To make the glazed pecans: Melt the water and brown sugar in a saucepan over medium heat until just bubbling. Add the pecans and stir until the nuts are covered in the sugar and caramelized, but don't burn. Place the nuts on a piece of wax paper to harden until completely cool, about two hours.
To make the vinaigrette: place the olive oil, apple cider vinegar, apple juice, Dijon mustard, and poppy seeds into a jar with a tight lid and shake until combined. Wait to pour the dressing over the salad until just before serving.
Wash the apples and slice them into thin slices. Wash and dry the spinach and kale mixture.
When ready to serve, top the salad with the glazed pecans, goat cheese, and sliced apples. Pour the vinaigrette over top and toss lightly.